#HealthBytes: 7 amazing health benefits of cycling
#HealthBytes: 7 amazing health benefits of cycling
Sep 01, 2018, 12:07 pm
3 min read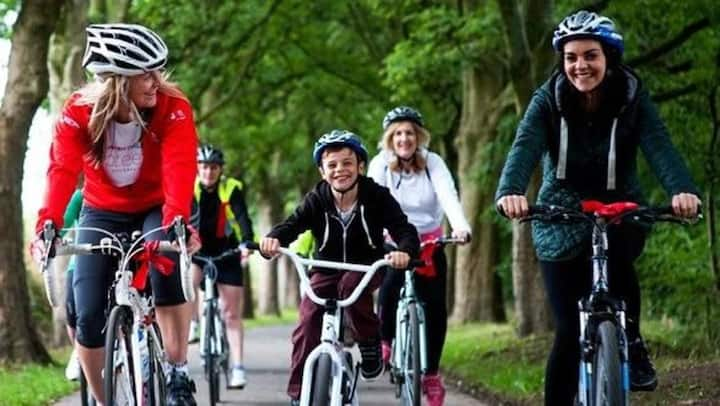 There are many perks that come with biking as a form of exercise- you don't need a dedicated time slot for it, you can literally ride to work, market, school etc; it's light on pocket, helps protect the environment, and is superbly fun. What's more? It offers a plethora of health benefits too. Here are 7 health benefits of pedalling on a regular basis.
Cycling will help you attain and manage a healthy weight
The basic formula for losing weight is- more calories out, lesser in. Talking about cycling, it helps shed unwanted pounds by improving your metabolic rate, building muscle, and burning body fat. Steady-paced cycling for about an hour can help you burn nearly 300 calories. Increasing intensity and duration may help burn even more. Couple your cycling regimen with a healthy diet, for better results.
Biking helps improve cardiovascular health; reduces risk of cancer
Heart heath: Large-scale studies suggest that cycling helps lower risk of cardiovascular diseases such as stroke, high BP, and heart attack. That's because, cycling strengthens our heart muscles, lowers resting pulse, and reduces blood fat levels. Cancer protection: Scattered but reliable studies have shown that cycling reduces risk of many cancers, such as bowel cancer, breast cancer, and colon cancer.
Regular cycling strengthens your bones and muscles
Because of the pedalling involved, regular cycling helps strengthen your leg muscles, and joints in the knee and hips. Further, it's also good for your upper body muscles groups like arms, shoulders, and abdomen. This way, cycling improves your body's overall strength, balance, and co-ordination. All this ultimately helps prevent risk of falls, fractures, and other problems such as arthritis, and bone injuries.
Riding a bike will boost your mental health
Physical good health brings with it, positive impact on our mental well-being. Cycling helps improve mental health by releasing feel-good hormones like adrenalin and endorphins, improving confidence levels, and boosting mood. Cycling in a group may even improve your social life and companionship, which are good for your emotional well-being. All these factors help fight mental health issues like stress, anxiety and depression.
Riding regularly shall enhance your brainpower and sleep quality
Brainpower: Research suggests that by increasing blood flow to the brain area, both in the short-term and long-term, biking improves our cognitive ability, memory, and overall brainpower. Better Sleep: Riding a bike, by enhancing your mood, reducing stress, and tiring and relaxing your muscles, helps you in getting a satisfying night-time rest, so you're ready to hit the bike again in the morning.