Every fourth coronavirus-case in India is linked to Tablighi Jamaat
Every fourth coronavirus-case in India is linked to Tablighi Jamaat
Apr 03, 2020, 05:37 pm
3 min read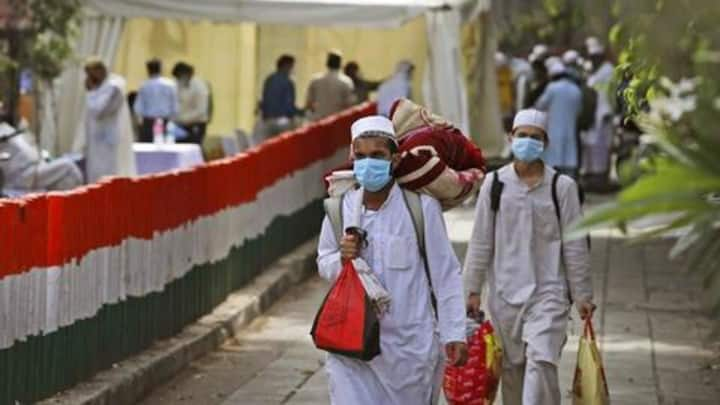 For the maximum time in March, India was focusing on lockdown, isolating suspected coronavirus patients, and the plight of migrant workers. And then the repercussions of a congregation of Tablighi Jamaat came to light. As it turns out, the congregation was indeed India's super-spreader as every fourth coronavirus patient is linked to the event, data complied using Health Ministry's numbers suggest. Here's more.
Of 2,301 cases, 647 have links to the event
The number of cases saw a sharp rise after officials started singling out attendees and mapping their contacts. The latest data by Health Ministry suggests that of 2,301 positive cases in India, 647 are linked to the event. Approximately every fourth infected person either visited the event or contracted the infection from the attendees. At least six deaths in India are linked to it.
Tamil Nadu was the worst-affected
Among states, the worst-affected is Tamil Nadu where more than 180 COVID-19 cases were connected to the event. It was followed by Andhra Pradesh, Telangana, and Delhi. Due to this event, cases were reported in Andaman and Nicobar Islands and also in Jharkhand. The attendees who have been contacted have been put in quarantine facilities, but reports show it hasn't been easier either.
Finding them has become a mammoth task
The administration is concerned that this number might just be the tip of the iceberg. As cops, bureaucrats, and Home Ministry officials are dedicating their time towards finding the attendees, one person told HT, "It is a nightmare... a logistical nightmare and one that stares India right in the face." The first priority is to trace the 960 foreign nationals, the official said.
Tracing the Indian members is another challenge
A Home Ministry official said that the Jamaat did maintain a register but in a large number of cases the passport number or name has been misspelled. The other big challenge is to trace Indian members, as the Jamaat rarely documents them. "How do you trace them, figure out who came in contact with suspected or confirmed cases," a person in the know asked.
Lion's share of Malaysia's infections were also linked to Jamaat
Now, Tablighi Jamaat is also blamed for nearly two-thirds of infections in Malaysia. In late February, the organization held a similar event in Sri Petaling mosque complex which was attended by 16,000 people, including 1,500 foreigners. Berating the event, Singapore diplomat Bilahari Kausikan said the meet shouldn't have been allowed in the first place and called it extremely irresponsible, according to Reuters.
Indonesia and Pakistan didn't remain untouched either
Similarly in Indonesia, an event of Jamaat, scheduled for March 19, was canceled in the eleventh hour. But by then nearly 8,000 preachers from 10 nations had arrived in Gowa. They shared plates and lived in tents. Another event in Lahore, to be possibly attended by 150,000 people, was also canceled. But since the attendees had gathered, the infection wasn't contained.