Swaraj: Evacuation plans from South Sudan underway
Swaraj: Evacuation plans from South Sudan underway
India is setting up a plan to evacuate its countrymen from South Sudan witnessing extreme violence because of the clashes between anti and pro government forces. External Affairs Minister Sushma Swaraj tweeted that, ''South Sudan - I am aware of the developments in South Sudan. We are planning evacuation of Indian nationals.'' The External Affairs Ministry ensured the safety and security of Indian nationals.
Operation Rahat: The great Yemen escape
The civil war in Yemen began in 2015, between forces loyal to President Abdrabbuh Mansour Hadi and the Houthi rebels, who forced Mr. Hadi to flee the capital Sanaa in February 2015. India evacuated more than 5,600 displaced persons from Yemen under Operation 'Rahat.'
The world's newest nation
Where is South Sudan?
South Sudan is a landlocked country located in Central Africa bordering Sudan, Ethiopia, Kenya, Uganda, Democratic Republic of Congo and the Central African Republic. It got freedom from Sudan on July 9, 2011 and became the youngest African country. The country is rich in oil, but continuing disputes between Khartoum and opposition elements in the South have created considerable turmoil in the country.
Conflict, hunger, and the threats
Sudan: What is the fighting about?
The crisis in South Sudan started in 2013 amid a power struggle between President Kiir and his deputy. The control of oil-rich regions which contribute more than 95% of the country's economy is at stake. Due to mass killings and extreme violence, people are in immediate need of shelter and are under protection from U.N. forces in Juba.
International Reactions on the Sudan crisis
UN Secretary-General Ban Ki-moon said, "I urge President Kiir and former president Machar to put an immediate end to the ongoing fighting, discipline the military leaders responsible for the violence." US Secretary of State John Kerry requested Kiir to initiate peace talks and dispatched his mediator to Sudan and South Sudan. South Sudan's President Kiir declared a ceasefire and end of hostilities.
The political conflict in Sudan created a crisis in which 6.1 million people out of population of 11.8 million are in need of urgent aid. Children are most at risk for malnutrition and disease.
Gun battles in South Sudan's capital
Clashes took place in South Sudan's capital, Juba, on the eve of the fifth anniversary (9 July) of the country's independence. Violence killed more than 100 people, especially soldiers from different armed factions, after gun battles broke out. One aid worker at a U.N. base tweeted that, "heavy shooting is happening right outside our windows, house keeps shaking with RPGs and tanks firing."
Situation of Indians in a war-torn country
Indians stranded in Sudan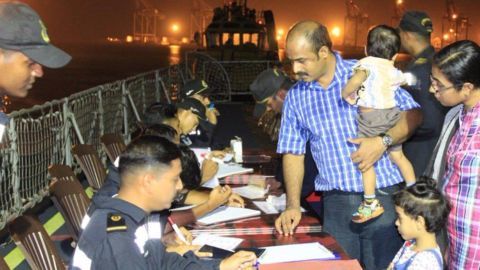 According to External Affairs Minister Sushma Swaraj, there are around 600 Indians in South Sudan, of which 450 are in Juba (capital of South Sudan) and nearly 150 are outside Juba, where the fighting is currently taking place. Many of them have settled down with their businesses in Juba and rest of them are working for different companies.