#DefenseDiaries: India successfully test-fires indigenous nuclear-capable missile Agni-I
#DefenseDiaries: India successfully test-fires indigenous nuclear-capable missile Agni-I
Feb 06, 2018, 01:23 pm
3 min read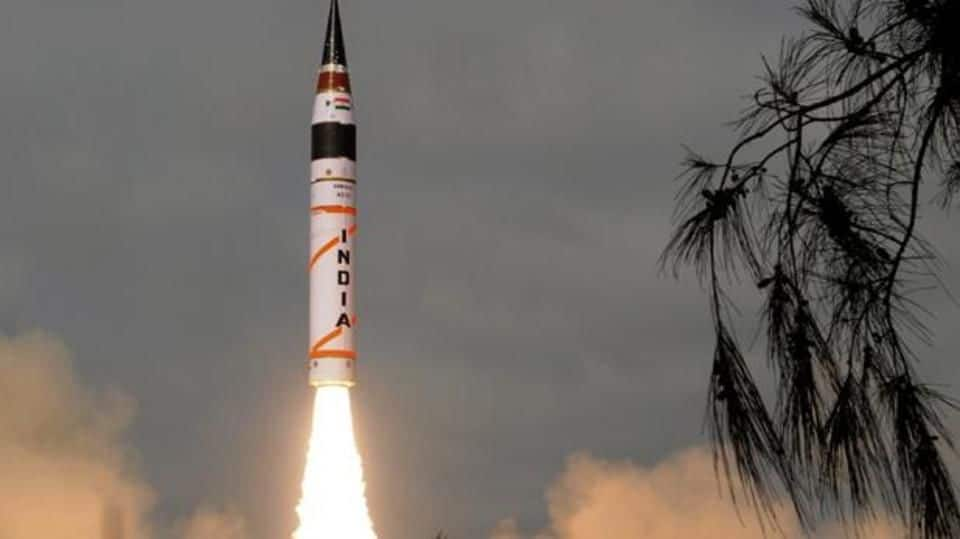 India test-fired the indigenous nuclear-capable Agni-I missile today from the test range at Abdul Kalam Island, off the Odisha coast. It was part of a periodic training task by the army's Strategic Forces Command (SFC). This was the 18th version of the 700km-range Agni-I, which was inducted in 2004. The trial has reconfirmed the army's preparedness to fire it at short notice.
All about the nuclear-capable Agni-I missile
The Agni-I is a 15m-long, 12-tonne surface-to-surface, single-stage missile which can carry payloads of up to 1,000kg including nuclear warheads. A solid rocket propellant system and a specialized navigation system help it reach the target with high accuracy and precision levels. The last trial was conducted successfully on November 22, 2016, from the same test range at Abdul Kalam Island.
All mission objectives met in the latest test, sources say
In the latest test, an attempt to consolidate the army's operational readiness, the Agni-I was launched at 8:30am from Pad 4 of the ITR. It was a "complete success," sources said, adding all mission objectives had been met. "The trajectory was tracked by sophisticated radars, telemetry-observation stations, electro-optic instruments and ships, right from launch till it hit the target with pinpoint accuracy," they said.
Not all missile trials have been as successful
India test-fired its Agni-II missile in May'17, but it failed to meet the desired parameters. In December'16, the Air Force's home-grown beyond-visual-range air-to-air missile failed its trial; it erupted soon after being fired. Subsequently, the nuclear-capable Nirbhay missile too proved to be unsuccessful. Test-fired in December, this was the third time that a Nirbhay missile trial had failed since March'13.
India's Ballistic Missile Defense Program intercepts missiles launched 5,000km away
India's Ballistic Missile Defense Program is basically an initiative to protect itself from ballistic missile attacks from hostile neighbors. The double-tiered system, which also includes Prithvi and the Advanced Air Defense missiles, can intercept any incoming enemy missile launched 5,000km away.
India's ballistic missile arsenal by range
For short-range ballistic missiles with ranges between 300-1,000km, India has Prithvi with a range of 350-600km. In the medium-range category (1,000-3,500km), there's Agni-I (700-1,250km), Agni-II (2,000km) and Agni-III (3,000km), suitable for targeting Pakistan. The 4,000km Agni-IV falls in the intermediate category (3,500-5,000km). And finally, in intercontinental category (greater than 5,500km) comes Agni-V with a range of 5,500-5,800km, widely considered a deterrent for China.
India to join a super-exclusive club with Agni-V's induction
SFC was established in 2003 to supervise India's nuclear arsenal. It's responsible for several services, from delivering nuclear weapons to target selection. Almost all tasks require Nuclear Command Authority's approval. The induction of Agni-V, which was tested in its final configuration last month, will make India one of few countries with intercontinental ballistic missiles. Only US, Russia, China, France and UK possess similar weapons.