Taking U-turn, JNU says cops have mob attack's CCTV footage
Taking U-turn, JNU says cops have mob attack's CCTV footage
Jan 28, 2020, 09:37 am
3 min read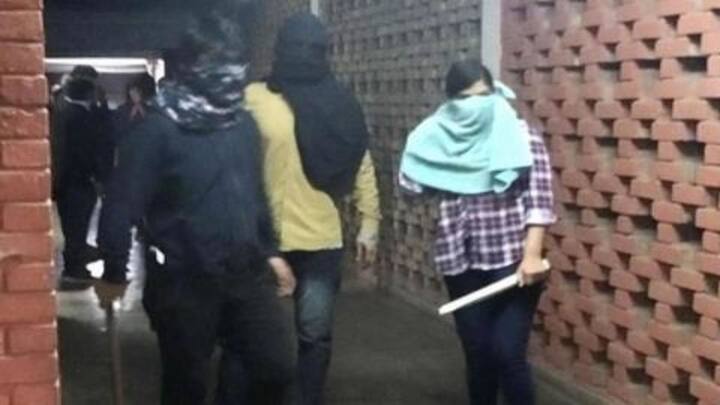 Weeks have passed since the Jawaharlal Nehru University (JNU) was targeted by an organized mob, leaving over 30, including teachers and students injured. While police have not arrested anyone, showing how "serious" they are about the crime, the varsity's administration is no better. After earlier saying CCTV footage of the attack was "unavailable", the administration has now said that "it is with the cops".
This month, JNU students bled after mob attacked them
On January 5, JNU, spread over nearly 1,000 acres, witnessed abnormal scenes. Masked goons, whose number varies from 70 to 100, stormed into the campus carrying rods, sledgehammers, and broken glass bottles. For three hours, they thrashed students and vandalized the campus. Calls to Delhi Police didn't make a difference as cops remained stationed outside. By the time they entered, the rampage had ended.
Delhi Police said students largely affiliated to Left were involved
As clamor grew to arrest the miscreants, Delhi Police said it identified nine people who contributed towards the violence. Seven of them belonged to Left-leaning organizations and two were members of ABVP, the student's wing of RSS. The President of JNU Students' Union, Aishe Ghosh, was also named and subsequently grilled. Ghosh was hurt in the violence and got multiple stitches too.
On two RTI queries, JNU filed contradictory responses
In the meantime, some activists sought answers from JNU. On January 9, RTI activist Saurav Das asked about the CCTV footage from North and Main gates from 3-11 pm, and the administration replied it was "unavailable". Contradicting its own statements, JNU replied to an RTI query, filed by activist Anjali Bhardwaj on January 17, that law enforcement agencies were in possession of the footage.
On question of vandalism, administration gave surprising answer
According to NDTV, JNU told Anjali that footage from North Gate on January 5, between 3 pm and midnight, was unavailable because it was "withheld with law & enforcement agencies for undergoing investigation into recent incidents at JNU". In fact, when Das asked JNU if North/Main gate server room was vandalized between December 30, 2019, and January 9, 2020, the varsity answered in negative.
Damage to server room affected CCTV surveillance, claimed JNU
This assumes significance because Delhi Police had said lack of CCTV footage and the "damage" caused to the server room hampered its investigation, making it difficult to nab the guilty. JNU administration also claimed that server rooms were allegedly compromised on January 3 and 4, affecting CCTV surveillance. For this, the varsity filed a complaint against students, including Aishe Ghosh.
V-C and students' union have been sparring for weeks
The administration, led by Vice-Chancellor M Jagadesh Kumar, claimed Left-groups wanted to throw normal operations under the bus and used different methods for it. But the students' union refuted this saying it was only opposing the controversial fee hike. The union also blamed Delhi Police for not doing its job properly and siding with the administration on a number of matters.