Engineering students develop low-cost water-purifier, cartridge costs just Rs. 60
Engineering students develop low-cost water-purifier, cartridge costs just Rs. 60
Written by
Ayushi Chamoli
Apr 16, 2019, 08:40 pm
4 min read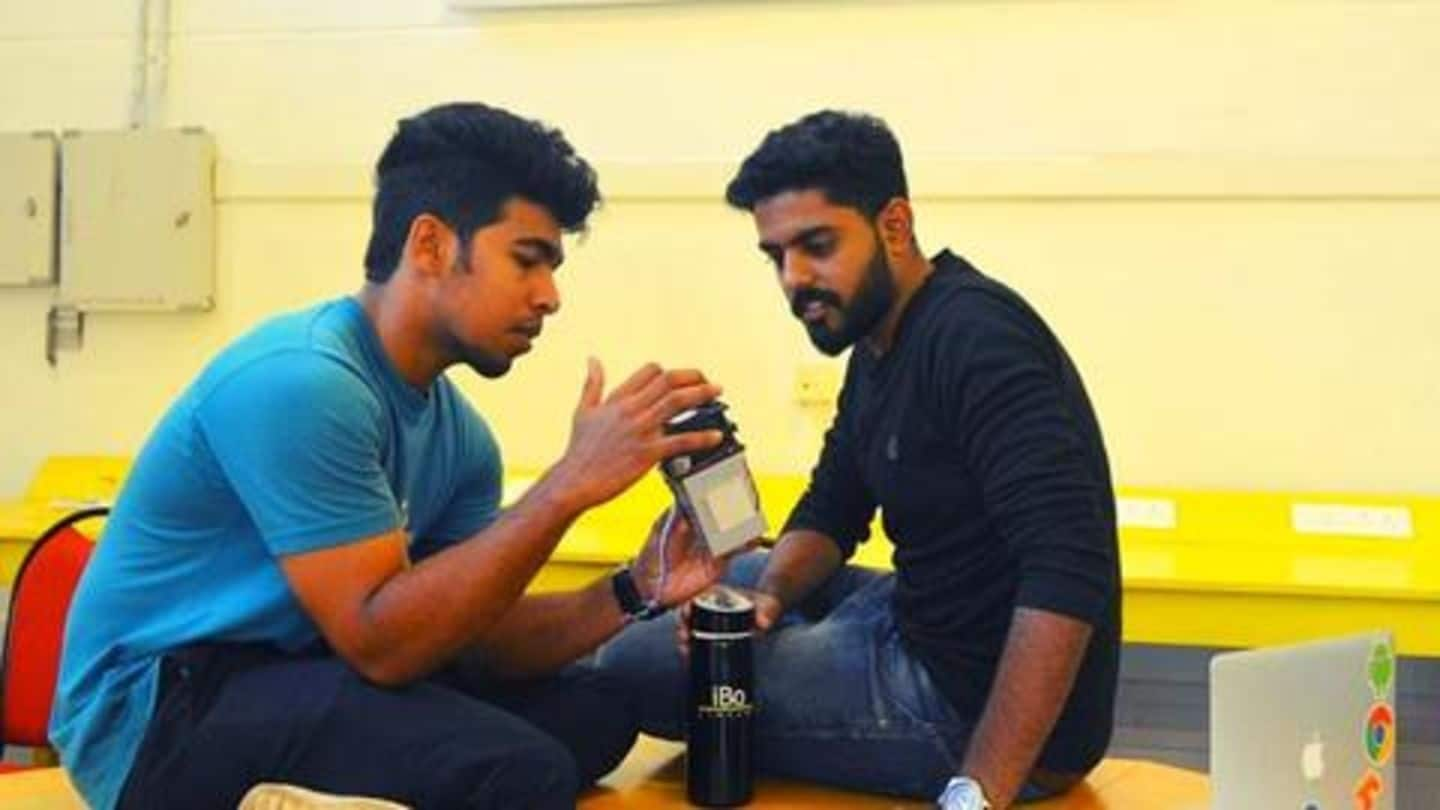 Two engineering students from Kerala, Anto P Biju, and Thomas Cyriac have developed a low-cost, organic water purifier. The technology developed by the duo can purify around 30 liters of impure water within hours. Moreover, the cost of replacing the cartridge every five years is just Rs. 60. The Bureau of Indian Standards (BIS) has already given it a green signal.
84.4 crore people worldwide deprived of safe drinking water
According to the WaterAid report, the Water Gap, out of 84.4 crore people in the world, who are deprived of clean and safe drinking water, 19% live in India. Lack of sewage management, water pollution, and growing industrialization, among other reasons, have made access to clean and safe drinking water difficult. 60% of the global population currently lives in the areas of water stress.
Biju and Cyriac became victims to unclean water in 2017
The duo hatched the idea when they came across the bad state of water while on some trip in 2017. Biju told The Better India, "We were traveling to another city on a bike and at one point, we took a break at a food joint on the highway. We had some refreshments and while consuming water, we could see its dirty brown color."
Engineering duo first invented a pen to fight filthy water
The two students of St Joseph's College of Engineering and Technology then decided to put together their engineering minds to tackle the issue of filthy water. Initially, they developed a pen, which when put inside water could detect the elements present in it. Moreover, it would tell if the water is fit for consumption or not and lists all the impurities present.
Pen didn't solve the problem, just identified it, says Biju
Although the two garnered a lot of appreciation for their invention, it was not enough for them. Biju said, "After we designed the special pen, we realized it wasn't solving the problem. It only identified it. We needed to build something more concrete. So we embarked on another project." For almost two years, the duo worked hard towards developing the final product.
Final product came after 60 rejected prototypes
They took inspiration from the scientists at the Institute of Minerals and Materials Technology, Bhubaneswar, and developed mini-cartridges using activated carbon to filter impure water. After immense hard work, sleepless nights and 60 rejected prototypes, a cost-efficient water purifier was ready. In 2018, they registered their start-up 'Lamaara Technologies Private Ltd' and got funding from the Kerala Startup Mission worth Rs. 2L.
Using activated carbon proved extremely economical, says Cyriac
Cyriac told TBI, "Using activated carbon proved extremely economical for us as the manufacturing cost is merely Rs. 10. The USP of this water purifier is that it is cost-effective and unlike other purifiers that are made from synthetic fibre, this one is organic."
200 purifiers were donated to Kerala relief camps during floods
Around the same time, Kerala witnessed devastating floods. Cyriac said, "After relentless rains, people were falling ill from drinking unclean water. We wanted to contribute and prepared a container and fixed the cartridge inside it." During that time, around 200 purifiers, which need no electricity to function, costing around Rs. 2,000 were donated to the relief camps of Kottayam district.
How does the technology works?
Interestingly, the water purifier is of the size of an index finger. The technology filters harmful micro-organisms and adds minerals to it. The disc fixed inside the cartridge has pores, which act as micro-reservoirs and eliminates harmful metals, foul smell, and colors from water.
Duo has sold 200 purifiers, received Rs. 4.5 crore funding
Later, the news about the revolutionary product spread and people got interested in buying such purifiers. Meanwhile, the duo also got investors who were willing to fund it. Cyriac said, "We received an investment of Rs. 4.5 crore to develop more such water purifiers and are currently working on multiple projects." Apart from the ones donated, they have sold 200 purifiers.
They are ready with their next product - a bottle
After a successful water purifier, the pair, now final year students, is ready with an Intelligent Bottle or iBo. The silicon bottle has an inbuilt filter cartridge, which removes all impurities. "The conventional purifiers are known for producing waste water post purification process. The iBo can be carried everywhere and it comes to people's rescue when they do not get clean water," said Biju.
Difficult to balance college grades and keep working on products
Meanwhile, the two are finding it hard to balance college and continuing working on the products. Biju said, "One of our biggest learnings was to develop an efficient team or to outsource the work. We had received an order of one lakh purifiers from a reputed bank but we were unable to distribute due to logistics. So, from then, we've outsourced the manufacturing process."