Kerala floods: IAF saves baby in dramatic rescue operation
Kerala floods: IAF saves baby in dramatic rescue operation
Written by
Shiladitya Ray
Aug 19, 2018, 06:10 pm
2 min read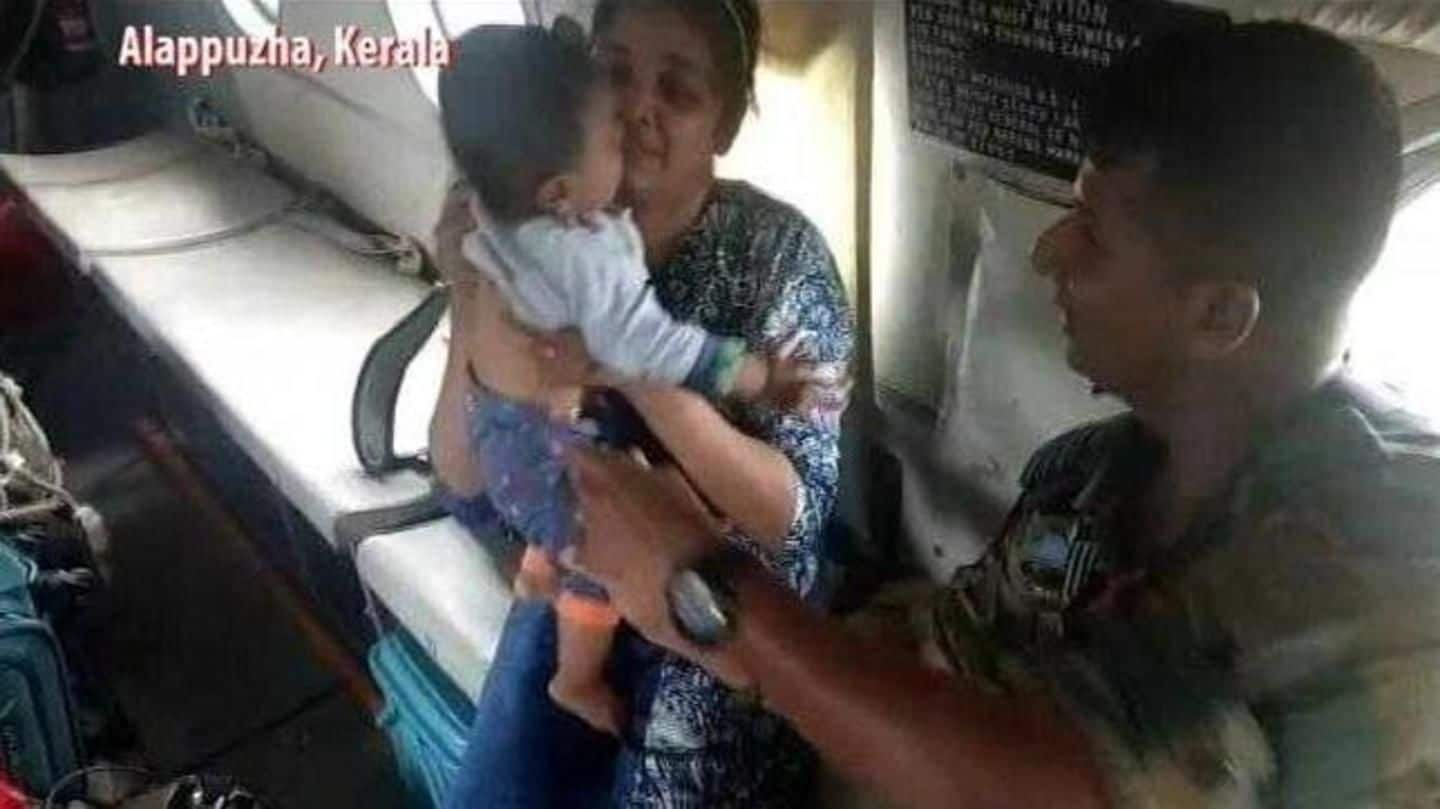 In a heroic and dramatic rescue operation, Indian Air Force (IAF) personnel saved a toddler and his mother from a rooftop in the flood-ravaged district of Alappuzha in Kerala. The operation, which has been caught on camera, saw Wing Commander Prasanth of the IAF's Garud Special Force descend from a helicopter and winch the boy up. Meanwhile, rescue operations are in full swing.
The video showing the dramatic rescue operation
Reports of heroic rescues coming in from across Kerala
The successful rescue by Wing Commander Prasanth saw the toddler reunited with his mother, who had been rescued earlier. Earlier, on Friday, Coast Guard and Army personnel conducted a night-long operation to save a newborn and his mother near the Idukki dam. Notably, several such reports of heroic rescues by IAF, Navy, and NDRF personnel have been coming in from across Kerala.
Hundreds of teams, 90+ aircraft, 500+ boats involved in rescue-ops
Rescue operations are being carried out night and day in Kerala, in a bid to bring flood-affected victims to safety. As of now, hundreds of rescue teams, over 90 aircraft, and more than 500 boats are involved in pan-state rescue operations. However, both victims, and rescuers are facing challenging circumstances owing to rain-induced low visibility and landslides.
The latest developments in relief and rescue operations
Meanwhile, the National Crisis Management Committee has met thrice in as many days to review ongoing operations. Cabinet Secretary PK Sinha has also held a video conference with Kerala's Chief Secretary to discuss relief operations and the status of deployment of rescue teams. Currently, five more choppers are en route Kerala, while the government tries to restore electricity and communication lines in flood-hit areas.