#KeralaFloods: Kochi Airport resumes operations, 15 days after being shut
#KeralaFloods: Kochi Airport resumes operations, 15 days after being shut
Aug 29, 2018, 10:43 am
2 min read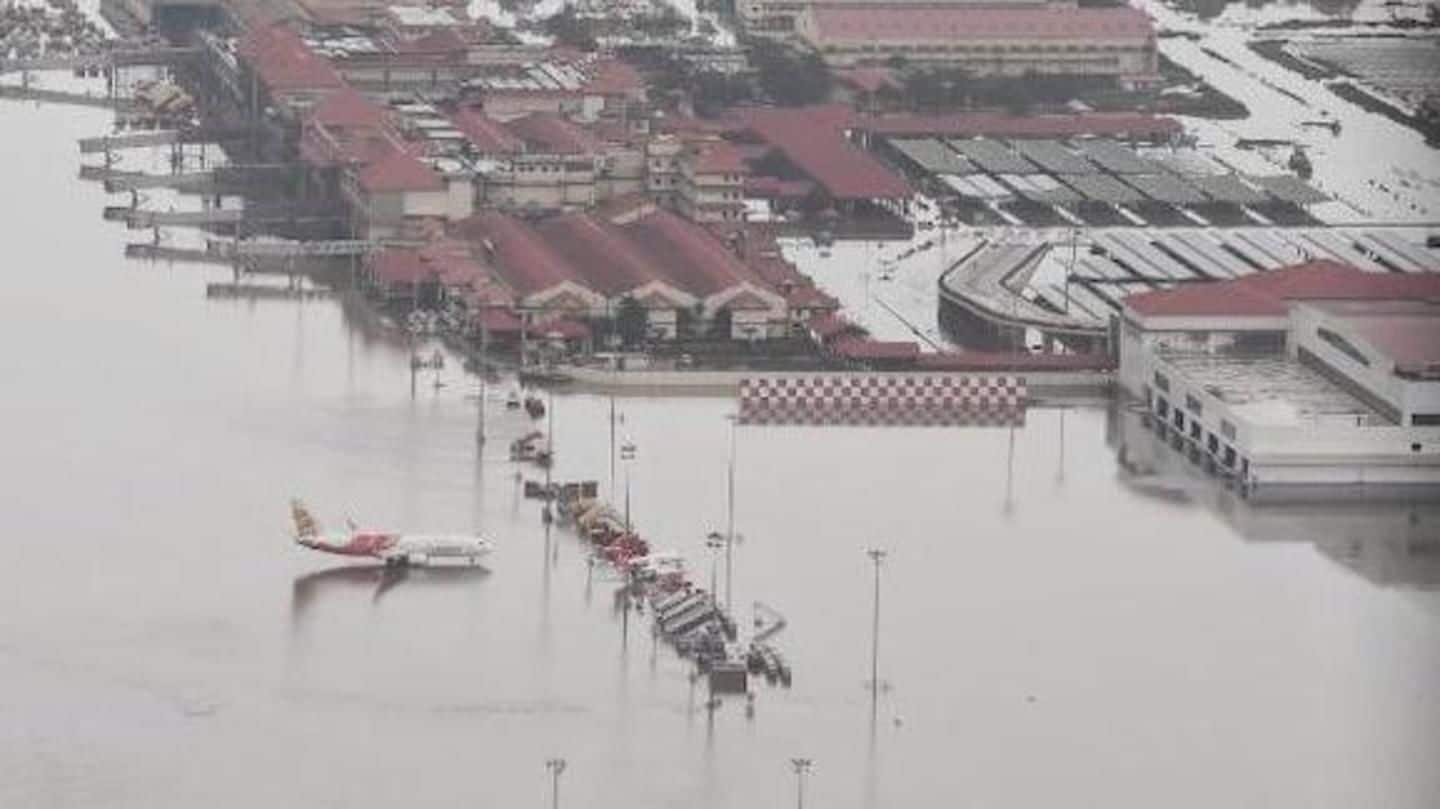 The Kochi Airport, one of the busiest in the country, will resume operations today at 2 PM, 15 days after it was shut as incessant rains swept Kerala. On August 9, the airport was shut for few hours, and then again on August 15, for days, as its key areas were submerged in water. Notably, Jet and IndiGo have now confirmed about restarting operations.
Kochi Airport suffered losses of Rs. 220 crore
The airport suffered huge damages due to floods. Water from the Periyar river and its tributaries entered the complex, and a 2.5 km long airport wall was demolished. The runway, taxi bay, duty-free shops, etc. were also submerged. Electrical equipments, including runway lights, were damaged. A Rs. 60 crore solar power system was also devastated. The airport suffered losses worth approximately Rs. 220 crore.
Jet, IndiGo confirm they'll resume operations today
It was speculated operations will restart from August 26, but ground handling agencies weren't able to mobilize manpower by then. Hence, the date was extended. Confirming the same, Jet Airways' statement read, "The airline's first flight to Kochi (9W 0403 from Mumbai) is scheduled to arrive at 15:50 hrs (3.50 pm)." Indigo, in a tweet, confirmed it will start services at 2 PM.
If you are a Jet passenger, here're few details
Meanwhile, Jet Airways has also extended waiver for its passengers (traveling into and out of Kochi Airport) who have confirmed tickets till Thursday. They can also change dates of boarding up to September 15.
Kerala struggling to find its feet again after deluge
The worst floods in nearly a century devastated the state. NDRF, Navy and Indian Army took over the task of rescuing people and reportedly 20,000 people were rescued. The state suffered losses to the tune of Rs. 20,000 crore and hundreds lost their lives. The Centre announced Rs. 600 crore aid for Kerala. With water receding, Kerala is now struggling back to normalcy.