1,701 test positive at Kumbh Mela, 50% of force withdrawn
1,701 test positive at Kumbh Mela, 50% of force withdrawn
Apr 15, 2021, 04:14 pm
3 min read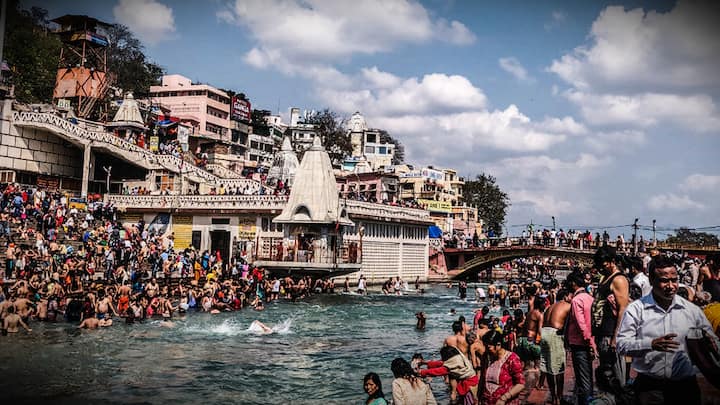 The massive crowds at the Kumbh Mela have been sparking concerns amid the second dangerous wave of coronavirus. But the government has no plans of cutting the religious gathering short. Instead, it has withdrawn 50% of total force from the Mela as the main part of the event has concluded, an official said. In the meantime, over 1,700 people have contracted coronavirus there.
In just five days, worrying uptick in cases was reported
Between April 10 and 14, a total of 1,701 people tested positive in the Kumbh Mela area. Haridwar Chief Medical Officer Shambhu Kumar Jha said today that devotees and seers of different akhadas were tested in the entire Mela Kshetra, from Haridwar to Devprayag. More RT-PCR reports are awaited and the trend hints the number of infected persons could cross 2,000, he added.
COVID-related behavior was ignored at third 'shahi snan'
Yesterday, the coronavirus-related protocols went for a toss, once again, during the third shahi snan. Though officials expected 2.5 million to turn up, 1.35 million took a dip in the holy Ganges. The security personnel handed out challans to some people but despite that, a large chunk of devotees ignored the coronavirus norms. In the previous shahi snan, 3.12 million had taken a dip.
Personnel will be withdrawn from Mela in phases
Since a couple of shahi snans have ended, the force's strength will be reduced. "50% of the total force deployed there has been withdrawn. The rest of the force will also be withdrawn in phases. Extensive COVID-19 testing of security personnel has been done," said Uttarakhand DGP Ashok Kumar. Yesterday, security personnel were seen struggling to impose the standard operating procedures (SOPs).
Akhadas were given time slots for 'snans'
A total of 13 akhadas were scheduled to take a dip at Har ki Paudi and were also given time slots. Yet, the police and paramilitary personnel faced difficulties in ensuring that each akhada vacates the place before the arrival of the next. Jha admitted that seers were reluctant in getting themselves tested but added that testing will be expanded soon.
Kumbh returnees asked to isolate, get themselves tested in Karnataka
On a related note, the Karnataka government has asked Kumbh Mela returnees to quarantine themselves and get tested. "I urge pilgrims to continue with their regular activities only after their COVID-19 negative test report," Karnataka Health Minister Dr. K Sudhakar tweeted. A circular underlining the same has been marked to municipal commissioners, district deputy commissioners, chief executive officers of the Zilla Parishads, etc.