Kumbh Mela to continue, say officials; over 1,000 test COVID-positive
Kumbh Mela to continue, say officials; over 1,000 test COVID-positive
Written by
Siddhant Pandey
Apr 15, 2021, 12:24 am
2 min read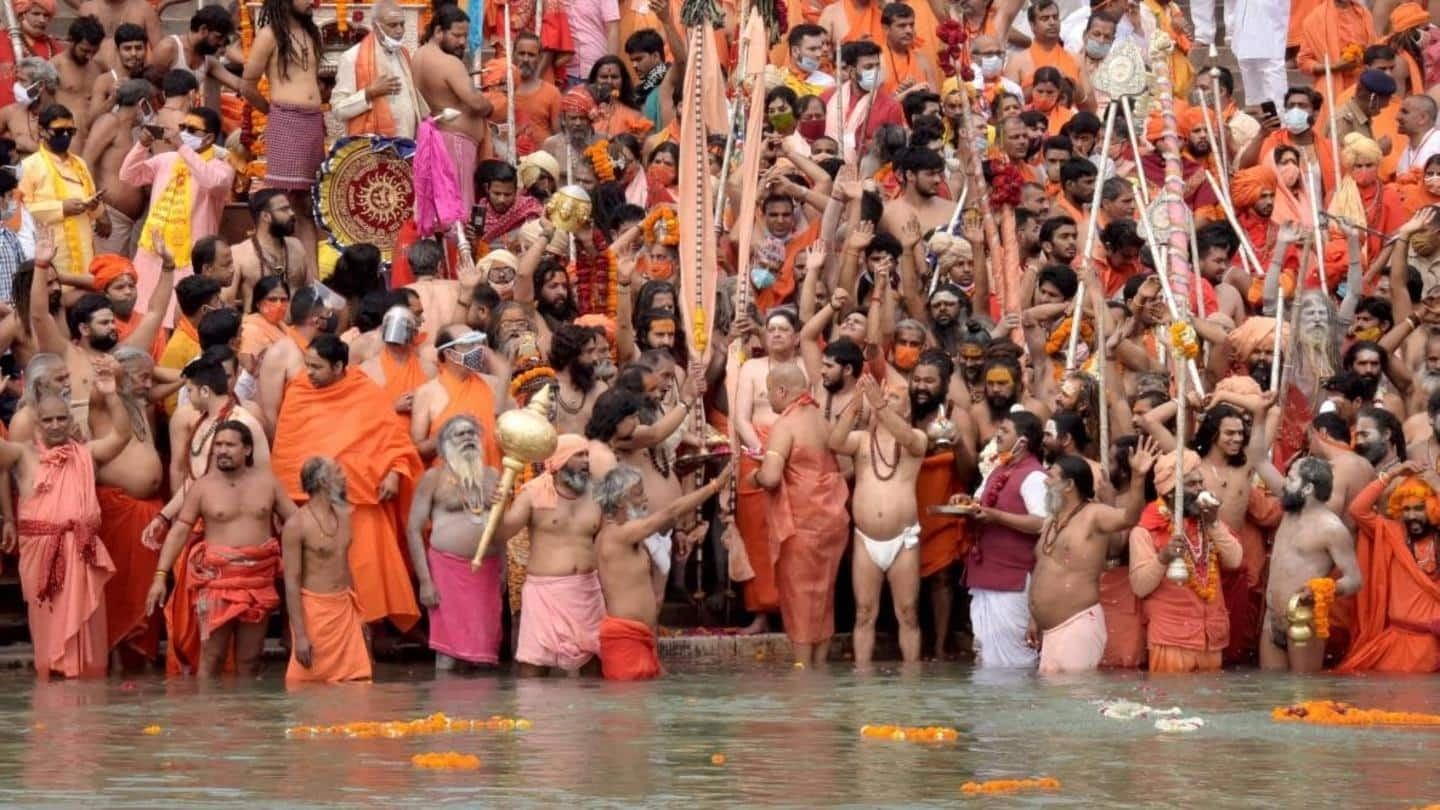 There are no plans to wrap up the Kumbh Mela at Haridwar, Uttarakhand, early even as concerns of a COVID-19 super-spreader remain, officials said Wednesday. Despite India reporting a slew of record spikes in coronavirus infections, lakhs of devotees have gathered at the Kumbh Mela to participate in the holy celebration. Reportedly, over 1,000 people tested positive at the Kumbh Mela between April 11-13.
Officials say no plans to wrap up Kumbh
NDTV quoted officials as saying that the Kumbh Mela at Haridwar will continue till April 30. There has been no discussion to wrap up the event two weeks early on account of the COVID-19 situation, they said. Earlier in the day, there were reports of discussions between the Uttarakhand government and religious leaders who continue to object to the premature cancellation of the event.
Lakhs of devotees gathered for 'Shahi Snan' today
Lakhs of devotees have been gathering for the Kumbh Mela on the banks of the river Ganga for a holy dip. On Wednesday, large crowds—mostly maskless—gathered at the main ghat Har Ki Pauri, for the "Shahi Snan" (royal dip) on the third major bathing day of the week-long festival. Records show 9,43,452 devotees had taken a dip till 2 pm on Wednesday.
Hard to fine people in crowded ghats: Police officer
Police officer Sanjay Gunjyal told Reuters, "People are being fined for not following social distancing in non-crowded ghats, but it is very hard to fine people in the main ghats, which are very crowded." The next significant Kumbh day is set for April 27.
Over 1,000 people test positive for COVID-19
Between April 10 and 4 pm on April 13, 1,086 people tested positive for COVID-19 in the Kumbh Mela area, News18 reported. Officials told AFP on Wednesday that more than 1,000 people tested positive within 48 hours in Haridwar city. The devotees believe that the holy river will save them from COVID-19, Siddharth Chakrapani—a member of the event's organizing committees—told AFP.
No physical distancing, no masks, Kumbh invites criticism
The Kumbh Mela has drawn immense criticism as visuals of large crowd gatherings, where many were seen without masks, went viral. There was no physical distancing and hardly any masks were seen at Har Ki Pauri on Wednesday. Reportedly, police officers deployed to manage the crowds and ensuring compliance with COVID-19 appropriate behavior were also seen wading into the river for the holy dip.