Decade's last Solar Eclipse today, people see 'ring of fire'
Decade's last Solar Eclipse today, people see 'ring of fire'
Edited by
Siddhant Pandey
Dec 26, 2019, 11:27 am
2 min read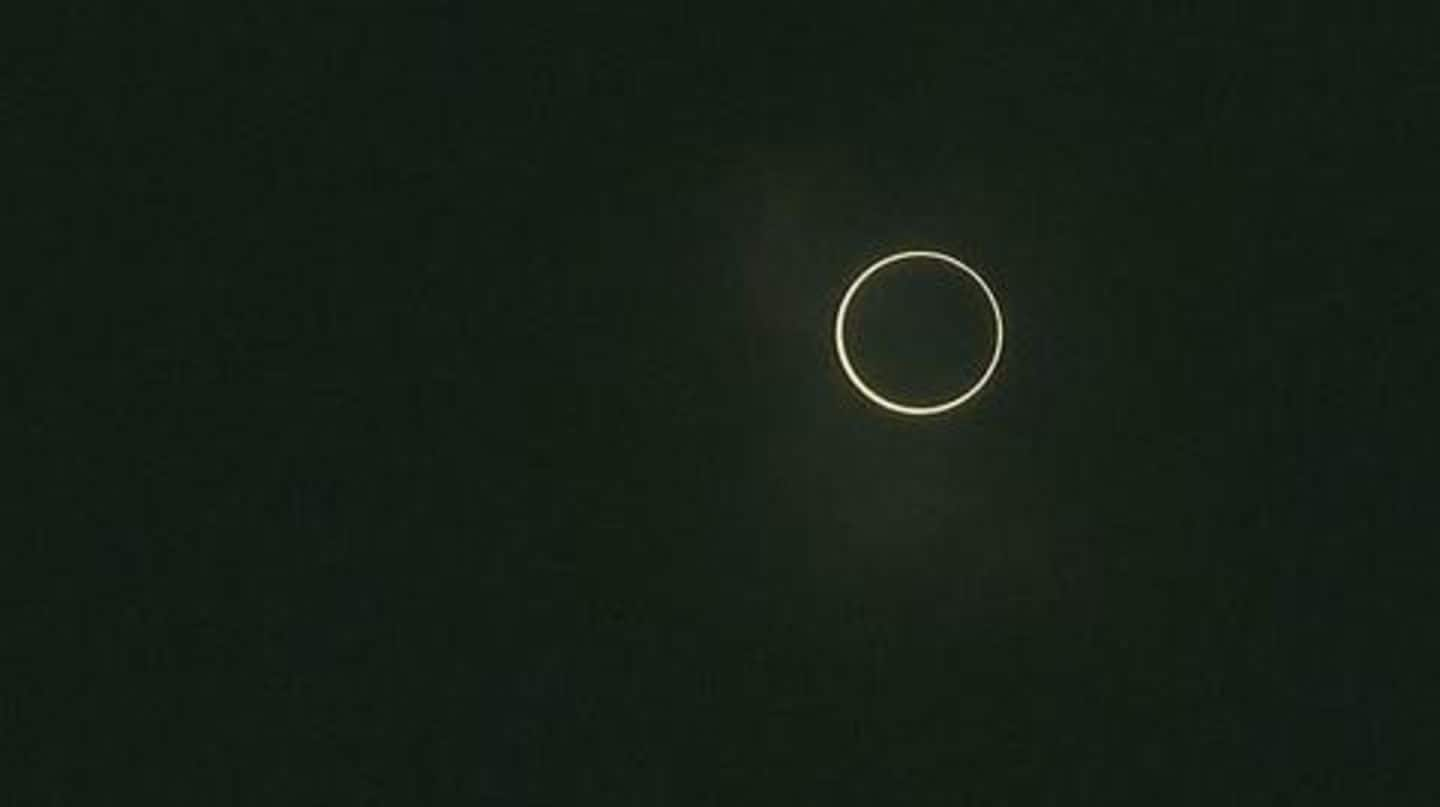 A rare celestial spectacle started at 8:17 am in India today, as the moon covered the Sun for the last solar eclipse of the decade. This solar eclipse falls in the annular category, which occurs when the new moon is farther away from the Earth in its elliptical orbit. Subsequently, the Sun's edges shine causing "ring of fire". The eclipse ended at 10:57 am.
The 'ring of fire' was visible from Southern India
The eclipse was first viewed from Saudi Arabia's Riyadh. In India, only regions along the southern coast were fortunate enough to catch a glimpse. In most parts of North India, cold weather made it impossible to witness the "ring of fire". Other countries where the eclipse was visible are Qatar, United Arab Emirates, Oman, Sri Lanka, Malaysia, Indonesia, Singapore, Northern Mariana Islands, and Guam.
Prime Minister Modi couldn't view the eclipse, either
Like many Indians, I was enthusiastic about #solareclipse2019.

Unfortunately, I could not see the Sun due to cloud cover but I did catch glimpses of the eclipse in Kozhikode and other parts on live stream. Also enriched my knowledge on the subject by interacting with experts. pic.twitter.com/EI1dcIWRIz

— Narendra Modi (@narendramodi) December 26, 2019
During eclipse's duration, temples were shut across the country
Solar eclipse, or surya grahan, as it is known in India is not considered auspicious. Many believe the Sun emits negative radiation during this time. And to save deities from this, famous temples like Kerala's Sabarimala Temple, Andhra Pradesh's Tirumala Tirupati Balaji Temple, and Madurai's Meenakshi Temple were shut. Once the eclipse ends, temples' gates will open for purification purposes.
People were advised not to look at the Sun directly
Before the eclipse, astronomers released a set of rules one should follow. Director of MP Birla Planetarium, Debiprosad Duari, said that one shouldn't look at the Sun directly. "Even when 99 percent of the surface of the Sun is covered by the moon during a partial eclipse, the remaining light is still intense enough to damage the eye," he told PTI.
Duari said people should use solar filters
"Proper solar filters with certified appropriate optical density against radiation which are safe to the eyes should be used in front optical devices and the naked eye," Duari added.
You can watch the eclipse next year too
It should be noted that most years have two solar eclipses, but in rare cases, the count can go to as high as seven. If you happen to miss this one, you can catch an even rarer 99% annular solar eclipse on June 21, 2020. On January 10, 2020, India will be able to observe the upcoming year's first penumbral lunar eclipse.