Sangh sees all Indians as Hindus, regardless of religion: Bhagwat
Sangh sees all Indians as Hindus, regardless of religion: Bhagwat
Dec 26, 2019, 09:25 am
2 min read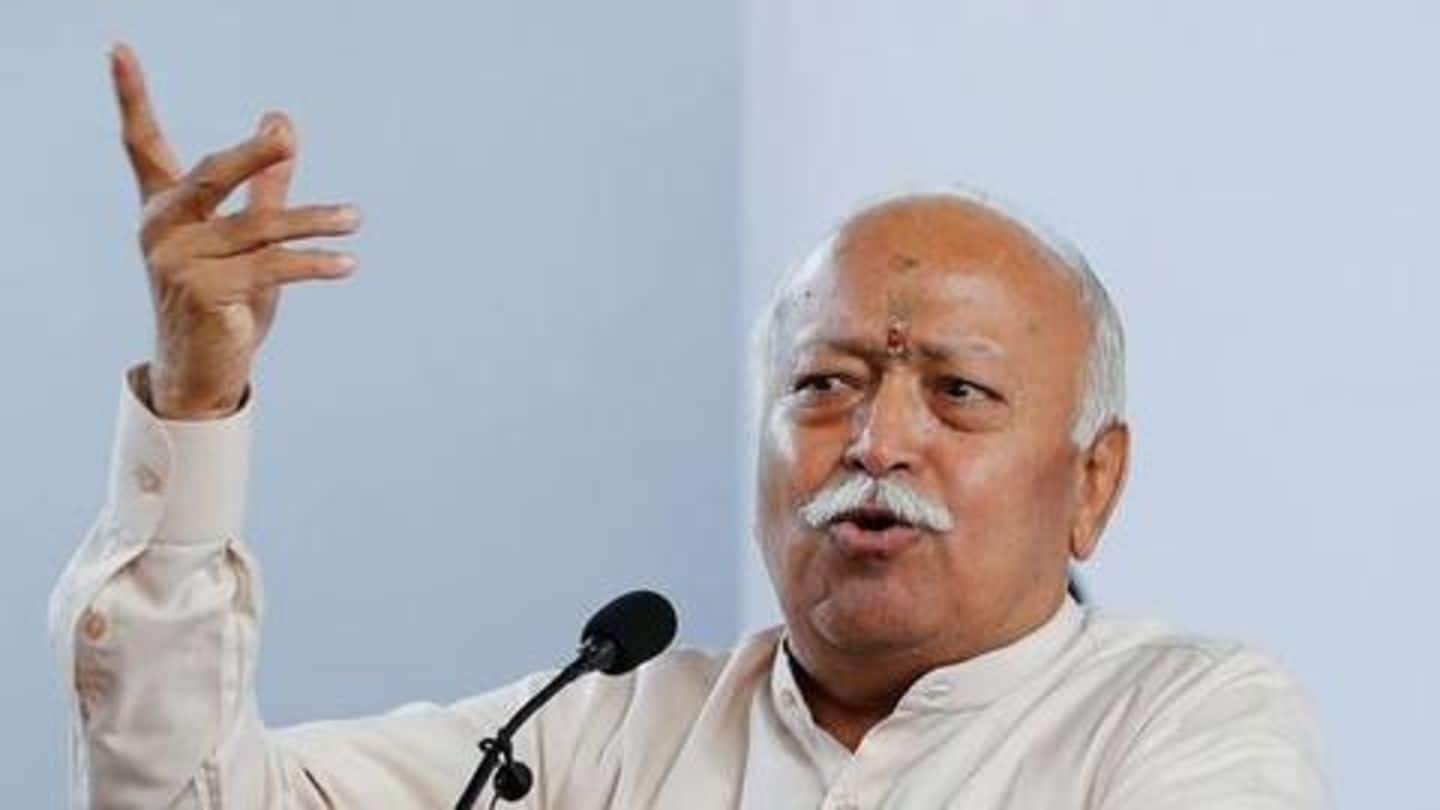 On Wednesday, the chief of Rashtriya Swayamsewak Sangh (RSS), Mohan Bhagwat said the organization sees all 130 crore Indians as Hindus, irrespective of their religion and region. Bhagwat was speaking at an event organized by Telangana RSS. As per reports, Bhagwat also said India's salvation will not happen through politics or politicians but by following the principles of Hindutva. Here are more details.
Bhagwat quoted Rabindranath Tagore to support his claim
The event hosted at Sharoornagar Stadium in Hyderabad was attended by nearly 20,000 workers. To support his all "Indians are Hindus" claim, he also reminded what Nobel laureate Rabindranath Tagore wrote in "Swadeshi Samaj". "Despite some inherent contradictions between Hindus and Muslims, the Hindu society is capable of finding solutions in a Hindu way to unite the nation," Tagore had written, said Bhagwat.
Those who have nationalistic spirit are Hindus: Bhagwat
Further, Bhagwat explained who is a Hindu by saying, "Irrespective of religion and culture, people who have nationalistic spirit and respect Bharat's culture and heritage are Hindus. The RSS considers 130 crore people of the country as Hindus... Sangh aims to build such united society."
He also said India has traditionally been Hindutvawadi
The 69-year-old said people call RSS "Hindutvawadi", but India has traditionally been "Hindutvawadi". "There is a famous saying that there's unity in diversity. But our country goes a step ahead. Here we have not just unity in diversity, but also diversity of unity. We are searching for the unity from which the diversity comes and there are different ways to achieve unity," he said.
Swayamsewaks work selflessly, RSS wants to strengthen society: Bhagwat
Further, the head honcho of RSS, which is the ideological mentor of BJP, said the organization wants to "strengthen the society with the right kind of values". "People always look towards great leaders and governments for development, but it is our responsibility to work for the nation with dedication," he added. He also said swayamsewaks work towards the nation's development without any selfish motives.
According to Bhagwat, Bharatiya-culture is capable of achieving 'dharma vijay'
"Our Bharatiya culture alone is capable of achieving 'dharma vijay', and such an organized Hindu society can guide the world as a vishwa guru. People of sattvik nature are positive and work for society with a constructive approach," he underlined.