Loco-pilots stop train to let herd of elephants pass by
Loco-pilots stop train to let herd of elephants pass by
Aug 27, 2018, 08:42 pm
2 min read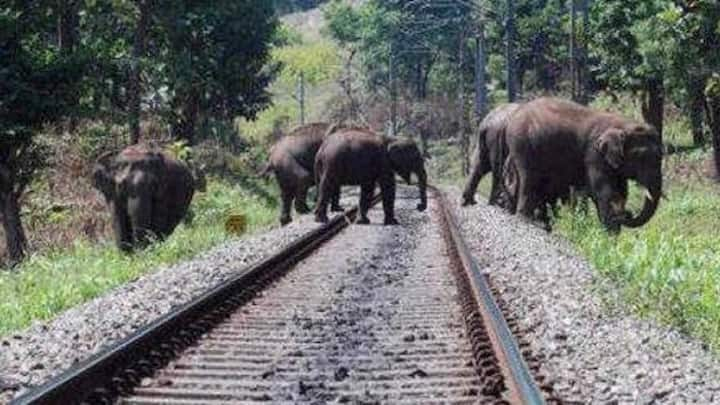 Two locomotive pilots Amar Nath Bhagat and Pawan Kumar stopped the train in northern West Bengal for a noble gesture- they allowed a herd of elephants to pass by. The herd was traveling on the track between Sivok and Gumla stations on Bamanhat-Siliguri Jn. passenger train's route on Saturday. On spotting them, the pilots did what many don't- halted the train and saved lives.
On seeing animals, driver alerted senior, he applied brakes
The passenger train was traveling at speed of 25 kmph. Kumar spotted the animals about 250 meters away and alerted his senior Bhagat. Bhagat said he couldn't see the herd as there was a bend in the track, but when Kumar shouted he applied brakes. After moving for 10 more meters, he was able to stop the train.
Loco pilots' alertness impresses officials
Bhagat said they waited for 10 minutes for the elephants to cross the tracks and disappear into forests. This thoughtful action of the pilots didn't go unnoticed. "Such alert loco pilots help improve the image of the railways, particularly the NFR (Northeast Frontier Railway) that has many elephant corridors," NFR spokesman Pranav Jyoti Sharma said. This particular section comes under NFR's Alipurduar Division.
As many as 30 elephants have died recently
A 2017 study conducted by Wildlife Trust of India, Project Elephant and UK-based NGO Elephant Family concluded that elephants used 86% and 66% of Northern West Bengal and Northeast corridors respectively. Reportedly, 30 elephants lost their lives since last five years till December 2017, after being hit by trains. In this scenario, what the pilots have done is commendable.