This IIT-KGP graduate left Singapore job to teach underprivileged children
This IIT-KGP graduate left Singapore job to teach underprivileged children
Mar 26, 2019, 04:56 pm
4 min read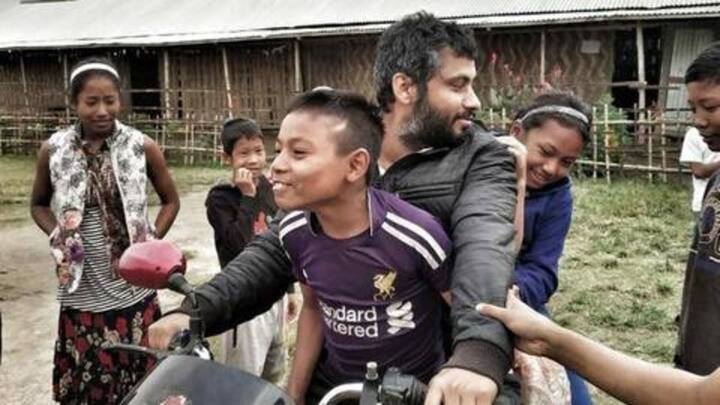 In 2015, Bipin Dhane, a 2013 IIT-Kharagpur graduate in Naval Architecture, quit his job in Singapore to teach underprivileged children in Assam's flood-affected villages. While his parents weren't happy with his decision, he aspired to work in education and never wanted the corporate life. Today, Bipin is successfully running The Hummingbird School in Majuli, a remote island in Assam. Here's more on him.
The Hummingbird School for children of indigenous Mising tribe
Bipin who felt there was no fulfillment in the corporate life had been thinking about quitting his job. He then connected with his friend who was teaching in Majuli and came to know of the opportunities there. In 2017, he established The Hummingbird School for underprivileged children of the indigenous Mising tribal community; today, it has 240 kids, including 70 hostellers, from 11 villages.
Today my father is a proud man, says Bipin
"They (his parents) already knew of my desire to quit, but they were unhappy, particularly my father, who was angry," Bipin told TheBetterIndia. However, he added, "Today my father is a proud man, and he shares my story with everyone."
Bipin and his team also founded Ayang Trust in 2017
Apart from the school, Bipin and his team founded the Ayang Trust to extend their work with the community in November 2017. The school and the trust are currently working on transforming five government schools and running a community library for children from five villages. Ayang Trust is also improving locals' livelihood by promoting a producers' group and working with Majuli's women weavers.
Local families donated land for the school
When Bipin had no money, locals came to his help. While three families donated land, some residents built the school for free. By early-2017, the school with 120 students from 11 villages of Majuli was established. Initially, dealing with the annual floods was a major challenge. But now, using modern and traditional techniques, some of the school's buildings are above a certain water level.
The school doesn't burden kids with a fixed curriculum
Ayang's Program Manager, Rituparna Neog, said the school has students until Class-5. It isn't affiliated to any school board currently. The school doesn't burden kids with a fixed curriculum; the curriculum is set within the local context. Students are taught basic language and computational skills, life skills, agriculture/farming practices, bamboo craft, art, music, self-defense, folk dance and storytelling; they also have a football coach.
Curriculum inculcates the cultural elements of the Mising tribe
The curriculum also inculcates the cultural elements of the Mising tribe. The school imparts lessons on the tribal community's traditional means of dealing with natural disasters and building resilience. Students are also taught about hygiene, water sanitation, and avoiding skin diseases prevalent during floods. "When we teach these life skills to children, they go home back to their parents and discuss it," said Rituparna.
School doesn't charge fee for many, but encourages community participation
The Hummingbird School essentially sponsors all of its students. While the monthly cost per child adds up to Rs. 1,200, of the 240 students, the families of 100 kids pay a subsidized fee of only Rs. 250/month; the rest, including 70 hostellers, aren't charged any fees. The fee is waived off for such students in exchange for their parents' non-monetary contributions and services.
Bengaluru-based Sunbird Trust funds the students' tuition
Bengaluru-based Sunbird Trust funds the school students' tuition; the school recently received funding from Pune's Rotary Club of Poona Downtown. The teachers are chosen from within the village community as the school, in the future, will be under the local community's leadership. The selected candidates undergo training for three months before being employed as teaching assistants to the existing senior teachers.
How do Bipin and his team maintain the school?
While the school staff and local villagers take care of food and other things, the school needs money for essential items like clothes and medicine. The school and villagers are trying to raise money by promoting eco-tourism. Tourists staying for over 10 days pay an amount that can fund 1-2 students' yearly tuition fees. "We are still struggling for funds and volunteers," said Bipin.