#NagalandFloods: Rs. 800cr required for restoration, state needs basic items
#NagalandFloods: Rs. 800cr required for restoration, state needs basic items
Sep 02, 2018, 04:43 pm
2 min read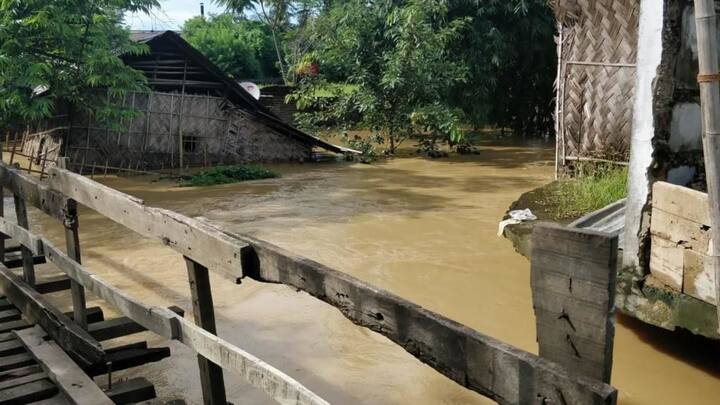 Nagaland is finding it difficult to find its feet after floods wreaked havoc on the state. 12 people have lost their lives and lakhs have been displaced. Notably, Rs. 800 crore is required for the restoration, the state government said in a statement. Prime Minister Narendra Modi assured Chief Minister Neiphiu Rio of support, and the latter expressed his gratitude.
Extent of damage: 5,000 houses destroyed, 2.6 lakh people displaced
The floods have affected 532 villages and 2.6 lakh people, which makes for 13% of the state's population. 5,000 acres of agricultural land has been impacted and nearly 5,000 houses have been damaged. Johny Ruangmei, an officer on special duty, state disaster management authority said people needed basic items like rice and urged engineering agencies to help in rebuilding Nagaland.
Despite deficit rainfall, Nagaland is facing deluge
According to the Regional Meteorological Center, the NorthEast faced deficit rainfall. Till August 29, Nagaland, Assam, Meghalaya, Manipur, Arunachal Pradesh, Tripura and Mizoram saw 26%, 30%, 43%, 68%, 46%, 17% and 6% deficit rainfall respectively. But this condition is due to disruptive rainfall, Johnny Asin, an officer on special duty in Nagaland's disaster management, explained. "It pours 100 mm in one hour," he added.
We will overcome this situation, CM says after PM's tweet
I thank Hon'ble Prime Minister @narendramodi ji for his call and words of support. It means a lot for the people of Nagaland. I am confident that with the support of Government of India, we will overcome the challenging situation caused due to heavy rains and landslides. https://t.co/raGZ6MEn8N

— Neiphiu Rio (@Neiphiu_Rio) September 1, 2018
Just like you helped Kerala, do for Nagaland too
Kerala floods, the worst in a century, united the nation and it's time to do the same for Nagaland. You can donate money to CM's relief fund. The account number is 10530527879 and IFSC Code is SBIN0000214.