Wife murdered ND Tiwari's son Rohit, erased evidence: Police
Wife murdered ND Tiwari's son Rohit, erased evidence: Police
Apr 24, 2019, 03:04 pm
2 min read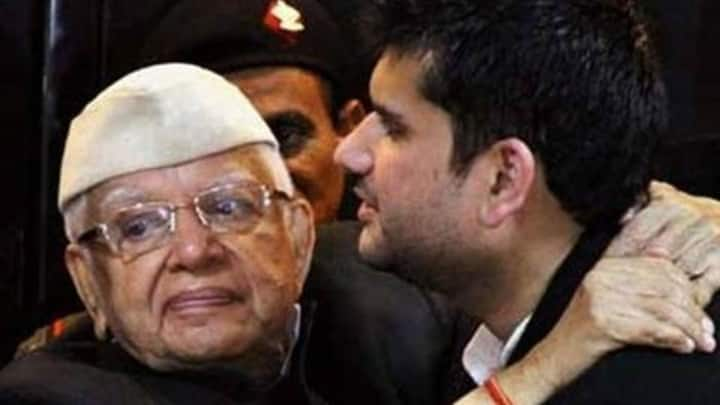 Late Uttar Pradesh Chief Minister ND Tiwari's son Rohit Shekhar was murdered by his wife Apoorva Shukla Tiwari, Delhi police said on Wednesday. Earlier in the day, Apoorva was arrested for his murder. Senior police officer Rajiv Ranjan told IANS that she confessed to the murder and cited "unhappy marriage" as the reason. Reportedly, Apoorva also erased all the evidence in 90 minutes.
Backstory: Rohit came to Delhi from Haldwani, was reportedly murdered
Rohit came in news in 2007 when he filed a paternity suit against Tiwari Sr. In 2014, Delhi High Court agreed that he was indeed the celebrated politician's son. Thereafter, Tiwari accepted Rohit as his son. Last week, Rohit came to Delhi from Haldwani and stayed at his residence in Defence Colony. Autopsy report confirmed Rohit's death wasn't natural and Crime Branch took over.
Apoorva deleted the evidence in 90 minutes: Ranjan
Speaking on the new development, Ranjan said Apoorva entered Rohit's room on April 16 and executed the crime. "She later destroyed the pieces of evidence. All this happened within one-and-half hours," he said. Ranjan added Apoorva tried to mislead the crime branch initially. Earlier, probing officers said Rohit was smothered. Since he didn't fight during the crime, they assumed he was drugged as well.
Apoorva was questioned for three days
Reports suggested that there were seven CCTV cameras installed on the premises, but two of them weren't working on the day of the murder. Rohit's fingers and limbs had turned blue probably due to lack of oxygen. The needle of suspicion pointed towards Apoorva. Along with two domestic servants, Apoorva was picked for interrogation on Saturday. She was grilled on Sunday and Monday too.
According to Rohit's mother Ujjwala, Apoorva wanted money
Rohit's mother Ujjwala claimed Apoorva and her kin were interested in Rohit's money. Apoorva wanted the house near Supreme Court because she practises law there. But Rohit's brother Siddharth wanted to give it to family relative Rajiv's son Karthik. Rajiv also served as OSD to ND Tiwari. Ujjwala dismissed speculations that Rohit had an extra-marital affair and remained convinced that Apoorva is the culprit.