Students vacate #NITSrinagar after advisory; but district-administration denies ordering closure
Students vacate #NITSrinagar after advisory; but district-administration denies ordering closure
Written by
Ramya Patelkhana
Aug 03, 2019, 10:26 pm
3 min read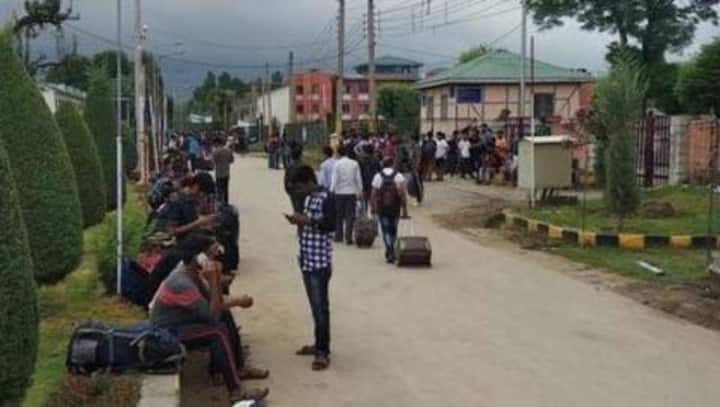 A day after tourists and Amarnath pilgrims were asked to leave Kashmir in wake of terror threat, evacuation of NIT Srinagar's non-Kashmiri students sparked a controversy on Saturday. The evacuation began after the NIT's administration notified Friday that classes were suspended until further orders, as per Srinagar district administration's instructions. However, denying the same, the district administration said it did not order the closure.
Notice issued in accordance with instructions from district administration: NIT
Suspending classes, the NIT issued a notice on Friday that stated, "The above notice stands issued in accordance with instructions received from the district administration, Srinagar." The institute also reportedly began evacuating non-Kashmiri students. After the notice was issued, hundreds of non-local students started leaving the NIT and scrambled to catch buses to move out of the Kashmir Valley.
Buses were arranged by the administration: NIT official
An NIT Srinagar official said the district administration instructed them to send non-Kashmiri students home. "The buses were arranged by the administration. We don't know why this decision has been taken," the official said. "We were informed to leave the Valley..," said a student from Uttar Pradesh. Out of around 800 students enrolled in NIT Srinagar, nearly half -about 400 students- are non-locals.
Srinagar Deputy Commissioner denies the district administration ordered NIT's closure
However, on Saturday, Srinagar's Deputy Commissioner Shahid Iqbal Choudhary denied that the district administration ordered NIT's closure. He said NIT authorities approached them, seeking directions on whether the institute should be kept functional or not. He was quoted by KashmirNewsObserver as saying, "We simply told them that government has announced summer vacation for colleges, but divisional administration has not ordered for closure of schools."
NIT officials suspended classes after a misunderstanding: District administration
District administration authorities claimed that NIT officials suspended classes after "misunderstanding" their advice to be alert amid intelligence reports of terror threat. "We asked them to take precautions. They [NIT] were assured of every possible support in every possible situation. I had not issued any such [closure or suspension] directions," Choudhary said. "The NIT has [now] withdrawn its order from the website," he added.
We notify when we issue closure order: Choudhary
Choudhary tweeted, "We notify when we issue closure order. Our 900-plus schools/Kendriya Vidyalayas are open today." "Objected to NIT claim of district administration directions to close institution. Citing SM triggered panic among parents they sought transportation help for limited numbers. We assured full security in campus too. That is all," he posted on Twitter.
Here's what Choudhary tweeted following the closure of NIT
We notify when we issue closure order. Our 900+ schools/KVs are open today. Objected to NIT claim of Dist Adm directions to close instt. Citing SM triggered panic among parents they sought transportation help for limited numbers. We assured full security in campus too. That's all https://t.co/Xr1ykenWMf

— Shahid Choudhary (@listenshahid) August 3, 2019