#NewsBytesExplainer: What are Articles 370 and 35A of Indian Constitution
#NewsBytesExplainer: What are Articles 370 and 35A of Indian Constitution
Aug 03, 2019, 06:46 pm
4 min read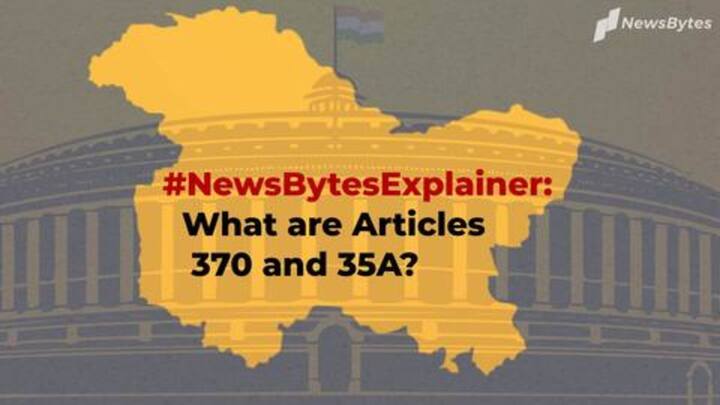 Jammu and Kashmir is on the edge. Indian Army said Pakistan Army-backed terrorists are looking to infiltrate the valley and disrupt peace. Soon, the state government led by Governor Satya Pal Malik asked tourists to head home. The notification, coupled with heavy deployment of forces, sparked rumors that Centre could be laying the groundwork for abolishing Article 370 and 35A. But, what are these Articles?
First, let's understand what's happening in Kashmir
After sending 10,000 troops to Kashmir, the Centre sent another 25,000 personnel. Apart from this, personnel deployed on now-suspended Amarnath yatra, are also likely to be sent to Kashmir. Parties, including PDP and NC, saw red at Centre's move suggesting that BJP wants to abrogate the aforementioned Articles. However, Malik urged politicians to not believe in rumors and said troops were sent for security purposes.
Is government really pulling out the big guns?
Now, Malik may have rushed to quell doubts about abolishing Article 370 and 35A, but the mood in the valley is still tense. So, what exactly is Article 370? Well, this particular section of the Constitution allows the state of J&K to have special powers.
Did you know Kashmir had a separate PM in 1948?
When princely states were asked to join India after independence, some did so willingly, and others reluctantly. Kashmir, which was ruled by Maharaja Hari Singh, joined India by signing Instrument of Accession. Under this provision, Kashmir had a separate Prime Minister. In 1948, the post was held by NC leader Sheikh Abdullah. A year later, Abdullah and three of his colleagues negotiated special status for J&K, giving birth to Article 370.
Under 370, Centre can't apply laws unilaterally
To note, Article 370 is drafted in Amendment of the Constitution section, in Part XXI, under Temporary and Transitional Provisions. Under Article 370, the Centre needs permission from the state government before applying laws in J&K, barring defense, foreign affairs, finance, and communications. Centre can't declare a financial emergency there either.
Separately, Article 35A deals with "citizenship" in J&K
Article 370 is not the only one which grants J&K a special status, Article 35A does so too. According to Article 35A, the state legislature has full rights to decide who is a "permanent resident" of J&K and who isn't. "Permanent residents" get benefits in government jobs, acquisition of property, etc. Further, the Article also empowers the legislature to impose "penalties" on "non-permanent residents".
Local parties believe Centre is playing with fire
Notably, local parties have been urging BJP to not do anything with these Articles. They opine J&K, which is a Muslim majority state, agreed to join India only because of these special conditions. Once they cease to exist, there will be a massive uprising, they believe. In fact, PDP Chief Mehbooba Mufti equated this idea to setting a powder keg on fire.
So, why does BJP want to abolish these Articles?
Abolishing Articles 370 and 35A is one of the core ideologies of BJP, whose parent body is RSS. In any case, these Articles were supposed to be "temporary solutions". But even after 70 years of independence, ruling parties didn't do anything about it. This time, with 303 seats in Lok Sabha, BJP has all the support it needs to achieve its dream.
Before going for it, Centre has a lot to consider
With Pakistan fuelling insurgency in the valley and ISIS attempting to radicalize locals, Modi-Shah has already been put on notice. But, there are high hopes from Shah, who has tightened security structure in the state and is constantly cracking down on separatists.
All eyes are set on Modi-Shah now
Meanwhile, some Kashmiris have had enough of this bloodbath and corruption. They know the fight isn't taking them anywhere but only keeping them away from development. Some, however, still believe in the "cause". It's now up to Modi-Shah to decide whether they will keep their poll promise, or let J&K remain as it is- part of India but still afar.