J&K: After government's advisory, tourists rush to Srinagar Airport
J&K: After government's advisory, tourists rush to Srinagar Airport
Aug 03, 2019, 02:10 pm
3 min read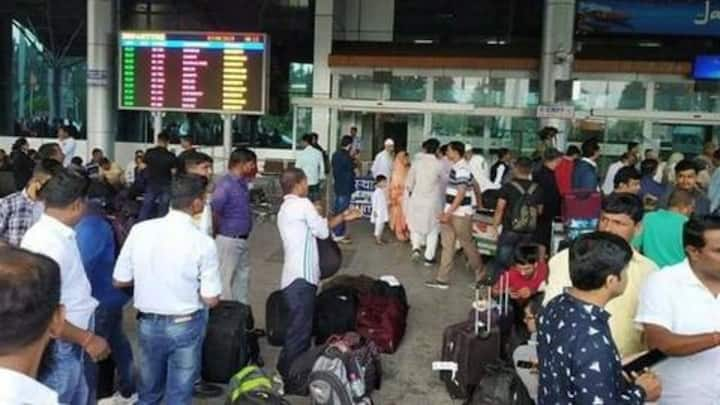 A sense of uncertainty and panic has taken over Jammu and Kashmir after the government on Friday suspended Amarnath Yatra and asked tourists to leave in wake of terror threats, about which the Army spoke about. An estimated 11,000 tourists are present in the valley and many of them rushed to Srinagar Airport to fly out but tickets' scarcity foiled their plans. Here's more.
Background: Considering terror threats, government issued advisory
The state government's message came after the Indian Army, CRPF, and J&K Police in a joint press conference revealed terrorists, aided by Pakistani Army, planned to attack the Amarnath Yatra. Though Lieutenant-General KJS Dhillon assured no one would be allowed to disrupt the valley's peace, the government asked tourists to leave. Sensing something big, locals too stocked their homes and lined up at ATMs.
Something was wrong: Tourist said after cutting short her visit
On hearing about the government's notice, tourists went to Srinagar Airport, and the scenes were frenzied, to say the least. A woman who is awaiting tickets for Mumbai told NDTV, "We felt that something was wrong here. So we decided to return. We were planning to stay here for two more days." Meanwhile, several vehicles drove out of valley carrying Amarnath pilgrims.
Never seen anything like this before, another pilgrim said
"We had helicopter tickets to Amaranth today. But after the panic attack by the media last evening, our family back home told us to return as soon as possible," a pilgrim told the channel. A regular pilgrim said he never saw something like this before.
Meanwhile, DGCA asked airlines to keep extra flights ready
Hours after the security notification, Aviation regulator DGCA (Directorate General of Civil Aviation) asked airlines to operate additional flights from Srinagar "if need be". To note, airlines like Air India, IndiGo and Vistara have said they won't charge cancellation or rescheduling charges for flights to and from Srinagar. Moreover, outstation students of NIT Srinagar are also reportedly leaving the valley.
Further, the annual Machail Mata yatra was also suspended
Apart from Amarnath Yatra, the government has also suspended the annual Machail Mata pilgrimage which happens in Kishtwar area, said reports. Thousands of pilgrims from Jammu visit the Goddess Kaali temple, situated at 9.795 ft above the sea-level. The pilgrimage started last month and was scheduled to continue till September 5. "We have suspended it till further order," a senior official said.
Meanwhile, Omar Abdullah met Malik to "get clarity"
As hysteria gripped the valley, Governor Satya Pal Malik told a delegation of political leaders to remain calm and not believe in rumors. He advised against linking security concern with other issues. A short while ago, NC leader Omar Abdullah met Malik to gather information about the ongoing situation in Kashmir. Abdullah said Malik assured him no announcement would be made about special status.
Here's what Abdullah said after the meeting
"We spoke about Article 370 and even Trifurcation with Governor. He has assured us that nothing of this sort is going to happen, no announcement as such are to be made. The Governor has assured no announcement on Article 370, 35A and Trifurcation," Abdullah said.