J&K: Amarnath Yatris, tourists asked to return amid terror threats
J&K: Amarnath Yatris, tourists asked to return amid terror threats
Aug 02, 2019, 05:06 pm
3 min read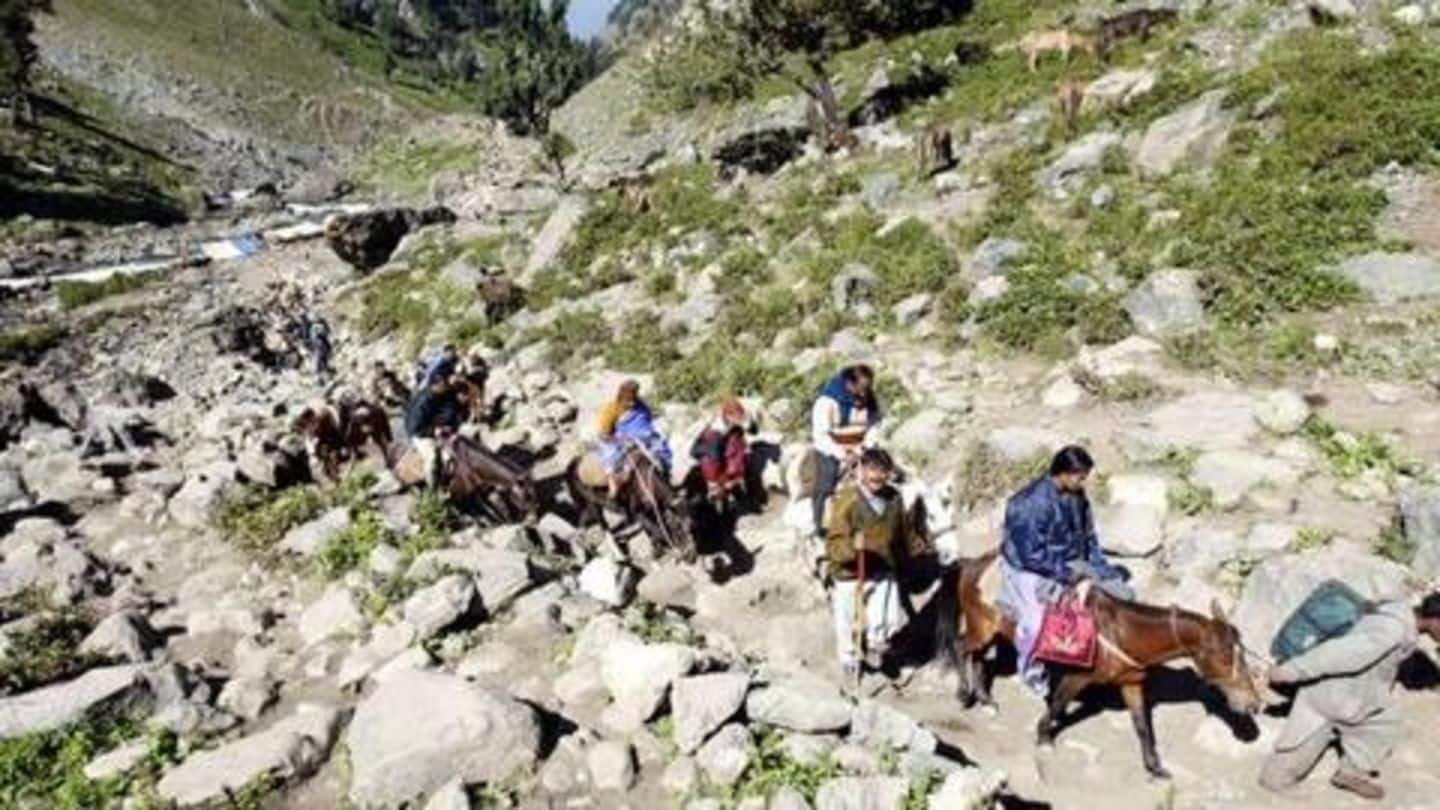 The Jammu and Kashmir government has asked pilgrims of Amarnath Yatra and tourists to cut short their visit to the valley, citing terror threats. The advisory on Friday came shortly after the Indian Army told media that Pakistan Army-backed terrorists were planning to attack the annual pilgrimage. The press meet was attended by top officials of J&K Police and CRPF. Here are more details.
Return as soon as possible: Government told tourists and Yatris
In a statement, the state government, led by Governor Satya Pal Malik, spoke about the impending threats on Amarnath Yatra. "In the interest of safety and security of the tourists and Amarnath Yatris, it is advised that they may curtail their stay in the valley immediately and take necessary measures to return as soon as possible," the statement said.
Yatra from Jammu route suspended till August 4
To recall, the 46-day-long Amarnath Yatra started in the first week of July and was supposed to end on Rakshabandhan, August 15. But the administration has decided to suspend Amarnath Yatra from Jammu route till August 4.
Have intelligence reports about a possible attack: Dhillon
Notably, earlier in the day, Lieutenant-General KJS Dhillon revealed troops have recovered a rifle and mine belonging to Pakistani Army from terrorist caches. "In the last three-four days, there were confirmed intelligence reports that terrorists backed by Pakistan and its army are trying to disrupt Amarnath Yatra. Based on that a search was conducted," the senior officer said while urging people to not panic.
Disclosing Pakistan's intentions, Dhillon said Kashmir's peace wont be disrupted
Further, Dhillon revealed the Yatra was "being sanitized" for three days. He added there was "a massive threat of IEDs or crude bombs" and bombs were found along the Amarnath Yatra route. "The searches are still going on. The Pakistan Army is desperate to disrupt peace. This will not be allowed to happen," Dhillon said, sending a stern message to the neighboring country.
Two years ago, terrorists attacked Amarnath Yatra
The advisory from the government can be seen as a precautionary measure, more so after Amarnath yatris became a victim of terrorism not long ago. In July 2017, a bus carrying pilgrims (mostly from Gujarat) was attacked by terrorists, killing seven people and injuring nearly 19. Between 1990 and 2017, terrorists have attacked Amarnath Yatra 36 times, killing 53 terrorists.
Considering threats, more troops have been deployed
Last week, Centre deployed nearly 10,000 personnel including 50 companies of CRPF, 30 companies of Sashastra Seema Bal (SSB), and 10 companies each of the Border Security Force and the Indo-Tibetan Border Police to the valley in a bid to strengthen the CI grid. When asked about this move, J&K DGP Dilbag Singh said this was done keeping in mind the threats.
Grid will remain active, said Singh
DG JK Police:We're getting inputs that violence levels are likely to be increased by militants. So, we've tried to strengthen grid on ground.Also,we've been told that troops must get time to relax.This is time for turnover.But grid will be in as much active form as required.(2/2) https://t.co/hEmhrcpoPg

— ANI (@ANI) August 2, 2019