No decision on nationwide NRC yet, MHA clarifies in Parliament
No decision on nationwide NRC yet, MHA clarifies in Parliament
Feb 04, 2020, 02:45 pm
2 min read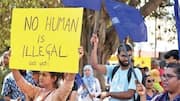 The government hasn't taken any decision yet on implementing the National Register of Citizens (NRC) across the nation, the Ministry of Home Affairs clarified in the Parliament today. This comes amid widespread criticism that the government will use the combination of the Citizenship Amendment Act (CAA) and NRC to alienate Muslims. Evidently, the protests forced the Centre to soften its stand.
A pan-India NRC, just like Assam, was proposed
Last year, the NRC list for Assam was updated for the first time in history, on the orders of the Supreme Court. The list was meant to weed out illegal Bangladeshi immigrants, and when it was published in August, 19,06,657 people were left out. BJP fanned talks of nationwide NRC and even mentioned it in its manifesto for 2019 general elections.
NRC and CAA brought nothing but fear for Muslims
Once Citizenship Amendment Bill became a law, Muslims got anxious about losing citizenship. The amended law says that non-Muslims from Bangladesh, Pakistan, and Afghanistan will be preferred when applying for Indian citizenship. Muslims feared that through CAA, Hindus, Jains, Sikhs, etc., who can't prove their citizenship in NRC will be welcomed, but they will be ignored. This drove them to take to streets demanding a rollback.
No NRC on national level yet, said MoS Home
Clearly hoping to douse tensions, Nityanand Rai, the Minister of State (Home Affairs), submitted in the Parliament, "Till now, the government has not taken any decision to prepare NRC at the national level." Notably, it was Rai's boss, Union Home Minister Amit Shah, who explained the chronology that CAA will be implemented first followed by NRC to "remove" illegal immigrants from India.
PM Modi also said his government isn't thinking about NRC
Earlier, Prime Minister Narendra Modi also attempted to pacify the protesters. He said, "I want to tell the 130 crore citizens of India that since my government has come to power, since 2014, there has been no discussion on NRC anywhere. Only after the Supreme Court's order, this exercise was done for Assam." After his clarification, Shah toed the line as well.
No discussion or debate about NRC: Shah contradicted his statement
"There is no need to debate this (pan-India NRC) as there is no discussion on it right now, PM Modi was right, there is no discussion on it yet either in the Cabinet or Parliament," Shah, seen as number 2 in the government, said.