No pause on demolitions: SC refuses blanket ban on demolitions
No pause on demolitions: SC refuses blanket ban on demolitions
Written by
Manzoor-ul-Hassan
Jul 13, 2022, 07:58 pm
3 min read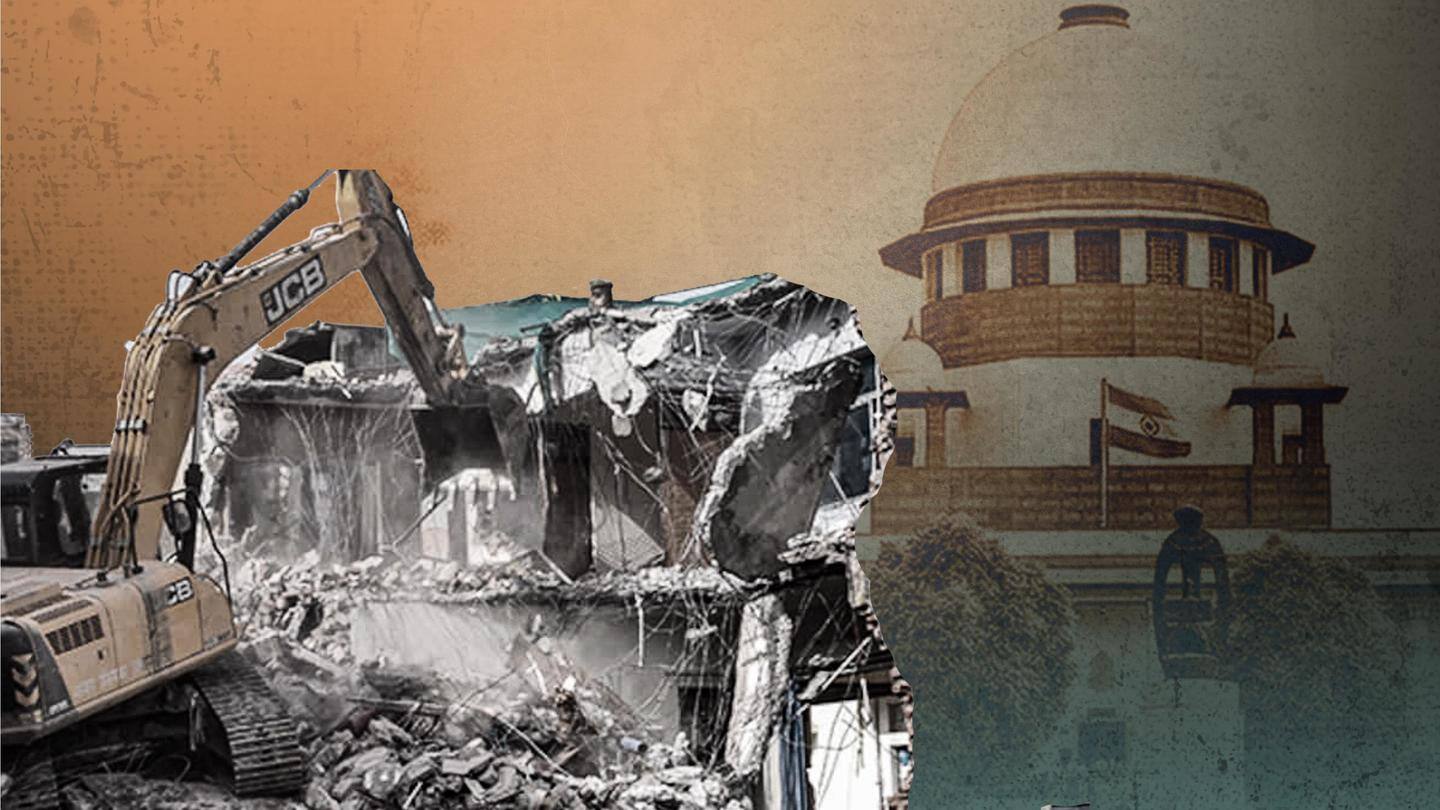 The Supreme Court (SC) on Wednesday refused to pass a blanket ban order against the demolitions taking place across the country. The court stressed that a blanket ban would curtail the rights of municipal authorities. It was hearing a petition by the Islamic organization Jamiat Ulama-i-Hind (JUH) against demolition exercises. The organization had alleged that several governments specifically targeted members of the minority community.
Why does this story matter?
Widespread protests, leading to violence in several cities, erupted across India following former BJP spokesperson Nupur Sharma's controversial remarks against Prophet Muhammad.
Later, the UP government came under attack for allegedly targeting the properties of the accused.
There has been a rise in incidents of administrations demolishing residential/business properties as a punitive measure against people allegedly associated with protests over the last few months.
What did UP government say in response to court notice?
As per reports, the SC earlier issued a notice to the Uttar Pradesh government in this regard. The state administration argued in its response to the court that the demolition drives were routine activities to eliminate encroachments. The court has now requested responses from the governments of Madhya Pradesh and Gujarat as well, where recent demolitions have sparked outrage.
What did the petitioner's counsel argue?
As per NDTV, advocates Dushyant Dave and CU Singh, representing the Jamiat-Ulama-i-Hind, accused the authorities of "picking and choosing" while demolishing the homes of the "other community." The petitioner also argued that "taking advantage" of municipal corporations to demolish properties is wrong. The JUH's counsels further stated that there is a "pattern of demolitions" across the country, which is contrary to the democratic system.
How did the government counsels respond?
In response to the petitioner's claims, Solicitor General Tushar Mehta and Senior Advocate Harish Salve stated that there is no "other community" and that "all communities are Indian communities." They emphasized that there is no link between the demolitions and the rioting and that the anti-encroachment drills began well before the disturbances took place. They stated that "unnecessary sensational hype" must be avoided.
Petitioner demanded blanket ban on demolitions
The petitioner sought a blanket ban on demolitions across the country. However, the government strongly opposed the demand. Urging the court to not impose a blanket ban on demolition drives, Mehta and Salve said the "rule of law needs" must be followed. "Not every riot accused can be protected from demolitions under a blanket order," the UP government counsel said.
Criticism followed action against a local politician
The UP government came under sharp criticism after destroying the residence of Javed Mohammed—the main accused in the Prayagraj riots in response to Sharma's controversial remarks. A bulldozer reported arrived just hours after a notice claiming unlawful construction was stuck outside the local politician's residence. While the government claimed Mohammed did not respond to previous notices, his family claimed they did not get any.