Bipin Rawat wants to cut pension cost, increase retirement age
Bipin Rawat wants to cut pension cost, increase retirement age
Feb 10, 2020, 08:46 pm
3 min read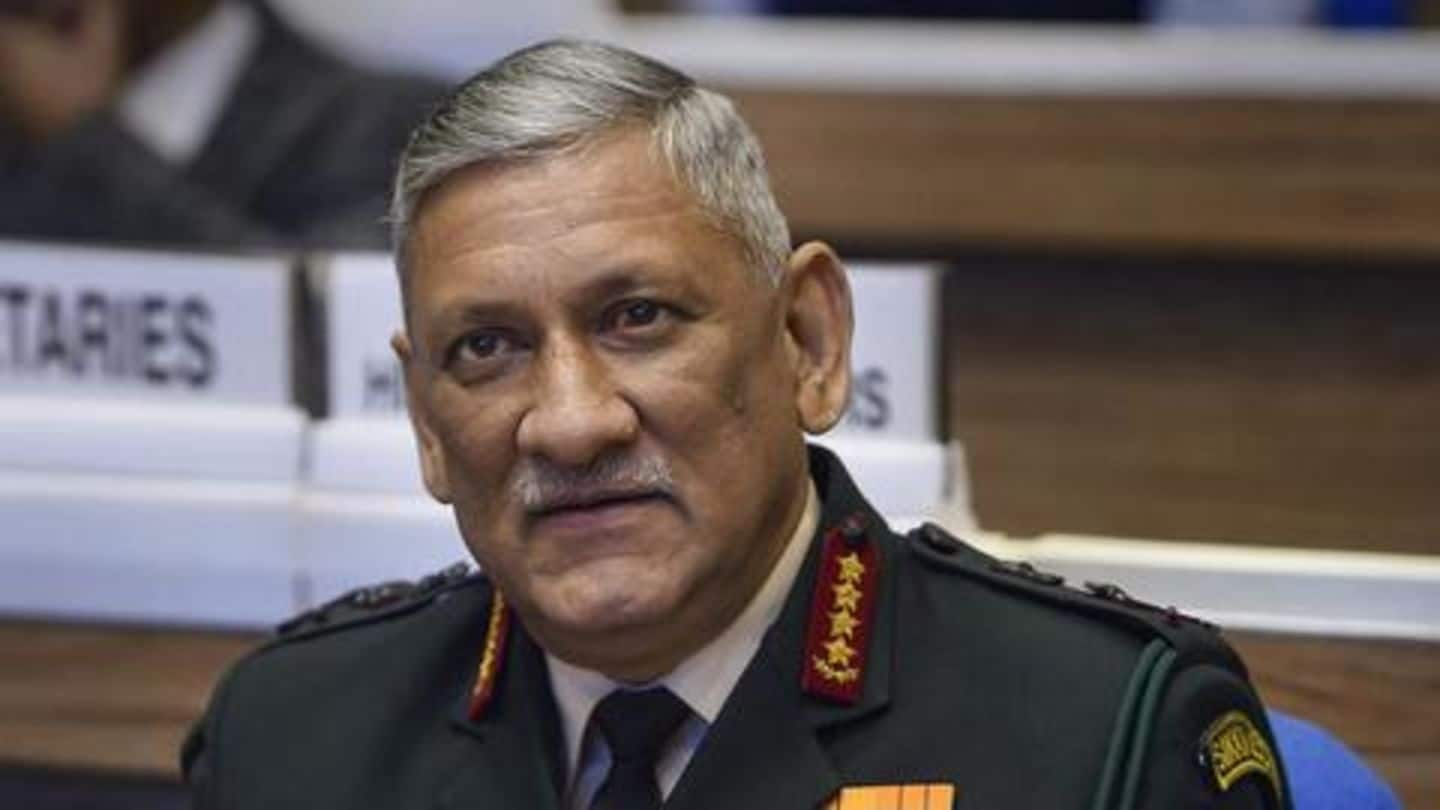 India's first Chief of Defense Staff, Bipin Rawat, wants to decrease the burden that the pension of retired army officers puts on the exchequer and has suggested increasing retirement age for the same. Rawat and the three service chiefs are also in talks regarding hardware purchases and are discussing ways to generate internal resources for housing officers too, HT reports.
Pension cost Rs. 1.33 lakh crore to the country's coffer
For the fiscal year 2020-21, the budget of pension was estimated to be about Rs. 1.33 lakh crore. This is 0.5% of the GDP. In 2010, the corresponding figure was Rs. 41,000 crore and it amounted to Rs. 1.13 lakh crore in 2019-20. To cut this, Rawat reportedly proposed to increase the retirement age of non-combating and medical staff from 39 to 58 years.
Rs. 4,000 crore will be saved by increasing retirement age
Though the idea hasn't been green-lit by the service chiefs yet, increasing the retirement age could save Rs. 4,000 crore. Some 400,000 non-combatants will continue to work if this idea is implemented. As per the plan, 60 non-combats serving in 450 battalions each will retire at 58. The change will happen gradually. However, there are concerns that it will lead to a greying force.
Jawan serves for 20 years, draws pension for 30-35: Rawat
Explaining the rationale behind this, Rawat said, currently a jawan retires at 40 and receives pension till 70. "So, he is serving for 20 years and receiving a pension for 30 to 35 years. I'm not saying that you don't look after the jawan. You must look after him but you have to look after the combatant more than the others," he told News18.
Rawat expressed concern at what happens after retirement
"When a jawan retires and his pension drops to half his income, he loses the free accommodation and ration, he loses the facility of school (for his children) that is next to his unit...where does that jawan stand?" he asked.
Colonial bungalows will be a thing of the past soon
Changes have also been proposed in the housing sector, and if it goes through, the colonial bungalows will make way for vertical homes. The forces are also looking to "generate" funds for these projects. Termed the "New Moti Bagh Model", CDS Rawat wants that infrastructure agencies, like National Highways Authority Of India, take over these projects in return for compensation on cantonment lands.
Military commanders should stay in flats: Officer
"The days of Corps Commander living on a hill with a sprawling bungalow are over. Time has come for military commanders to stay in flats and in one building," a senior officer said. The military hopes to generate Rs. 35,000 crore in 7-8 years.
Separately, Rawat is paying heed to Indian Ocean Region
Rawat, whose job is to streamline military purchases, is batting for indigenization. A lot of attention is being given to the Indian Ocean Region (IOR) and the neighborhood. "The air force is ready to use Tejas fighter with top-of-the-line Rafale fighter deliveries to start this year. The army should be equipping its front-line troops with the best of assault rifles and ammunition," the officer said.
Officer is optimistic India will dominate IOR soon
"The new aircraft carrier INS Vikrant is expected to be ready for sea trials this year and so is the nuclear ballistic missile submarine INS Arighat. India should dominate the IOR with active airbases on both Andaman and Nicobar Islands," the officer went on.