Piyush Goyal wants "mass movement" against NGOs for "obstructing development"
Piyush Goyal wants "mass movement" against NGOs for "obstructing development"
Oct 20, 2019, 01:10 pm
3 min read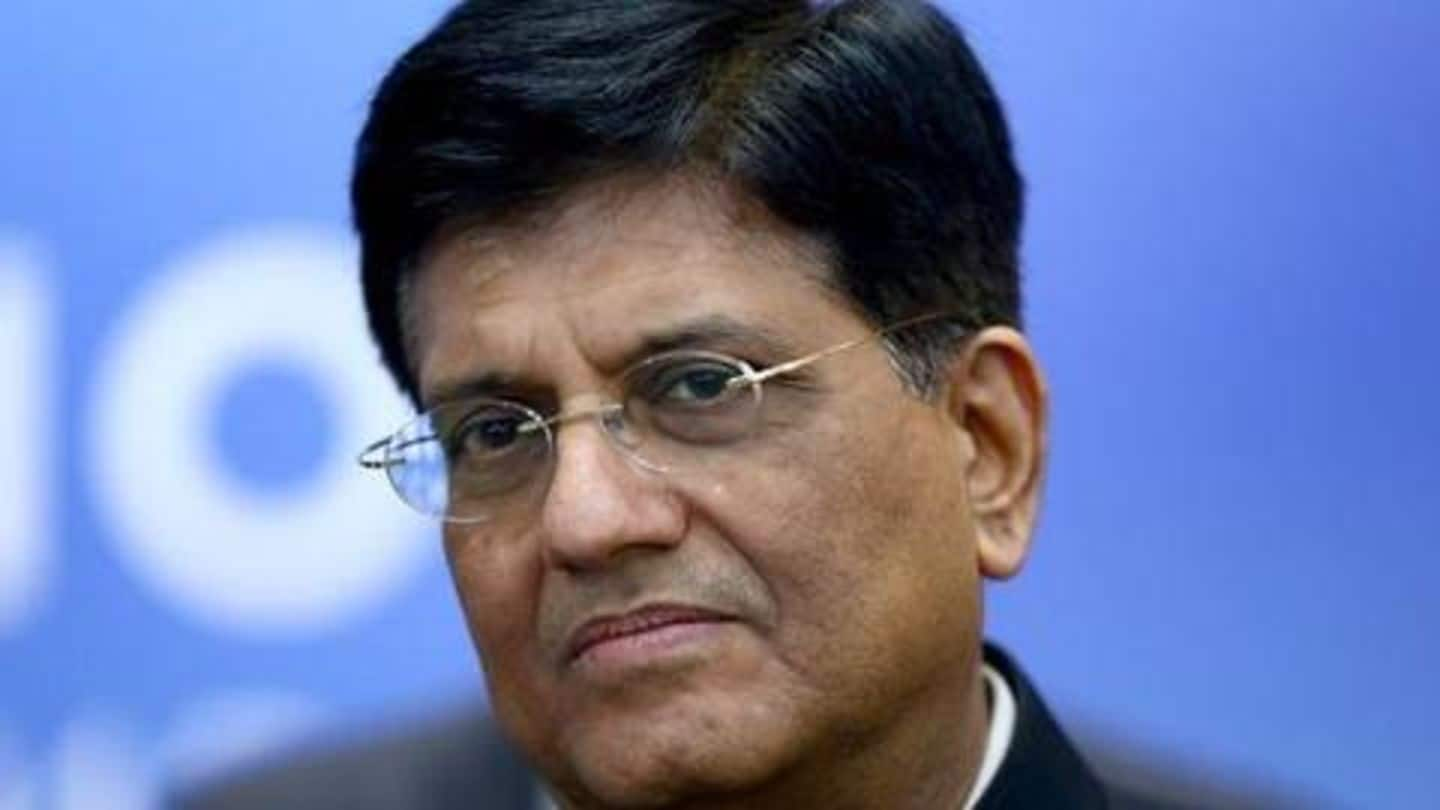 Union Minister Piyush Goyal, whose words ensure he stays in news, made another controversial remark on Saturday. In Goa, he said there should be a mass movement against NGOs which "obstruct the development of poor". He went as far as saying that he was ready to fold hands in front of NGOs on a public platform too. Here's more on what he said.
It seems Goyal is not a fan of court cases
Goyal was speaking on the last day of "Vibrant Goa Global Expo and Summit" where he expressed his displeasure for NGOs. Citing the example of Mopa greenfield airport, whose construction has been stalled due to litigation in court, the minister said a mass movement is needed against those who aren't "allowing good roads, hotels, airports, and expansion of ports".
A bit about the Mopa airport and its controversy
It should be noted that the airport is being constructed by GMR Group in association with the state government. The concession agreement was signed on November 8, 2016, but construction didn't take off. In March 2019, the Supreme Court canceled environmental clearance granted to the project and directed the government to "revisit" the issue. The matter is expected to come up for hearing soon.
The delay is costing GMR a whopping amount of money
Notably, GMR has claimed a delay of each day is costing it Rs. 50 lakh. The company has already spent Rs. 230 crore on the construction of the project and the state government, run by BJP, Rs. 240 crore on land acquisition, rehabilitation, etc.
NGOs are not letting poor live better lives: Goyal
Saying he knows that the airport is being delayed due to a court matter, Goyal added, "I don't mind folding my hands and appealing to those NGOs and those few people who are coming in the path of development." He claimed the poor are being devoid of a better lifestyle due to such issues and these people are not letting Goa "grow".
He also hoped this year will be good for tourism
"We are right on the cusp of the tourist season, the flight was completely full, so I can see the rush of tourists coming here and I'm sure this year is going to be a phenomenally good year for tourists," Goyal added.
Unsurprisingly, Congress slammed Goyal for criticizing NGOs
Soon after Goyal made the statement, Congress slammed him. President of Goa Pradesh Congress Committee in a statement said his party condemns Goyal for criticizing NGOs. "The local NGOs are fighting to preserve the identity, cultural heritage, nature and environment of Goa. Goans want sustainable development of the state by preserving its environment and identity," the statement reportedly read.