PM Modi, Saudi Crown Prince issue joint statement on Pulwama
PM Modi, Saudi Crown Prince issue joint statement on Pulwama
Written by
Shiladitya Ray
Feb 20, 2019, 02:50 pm
2 min read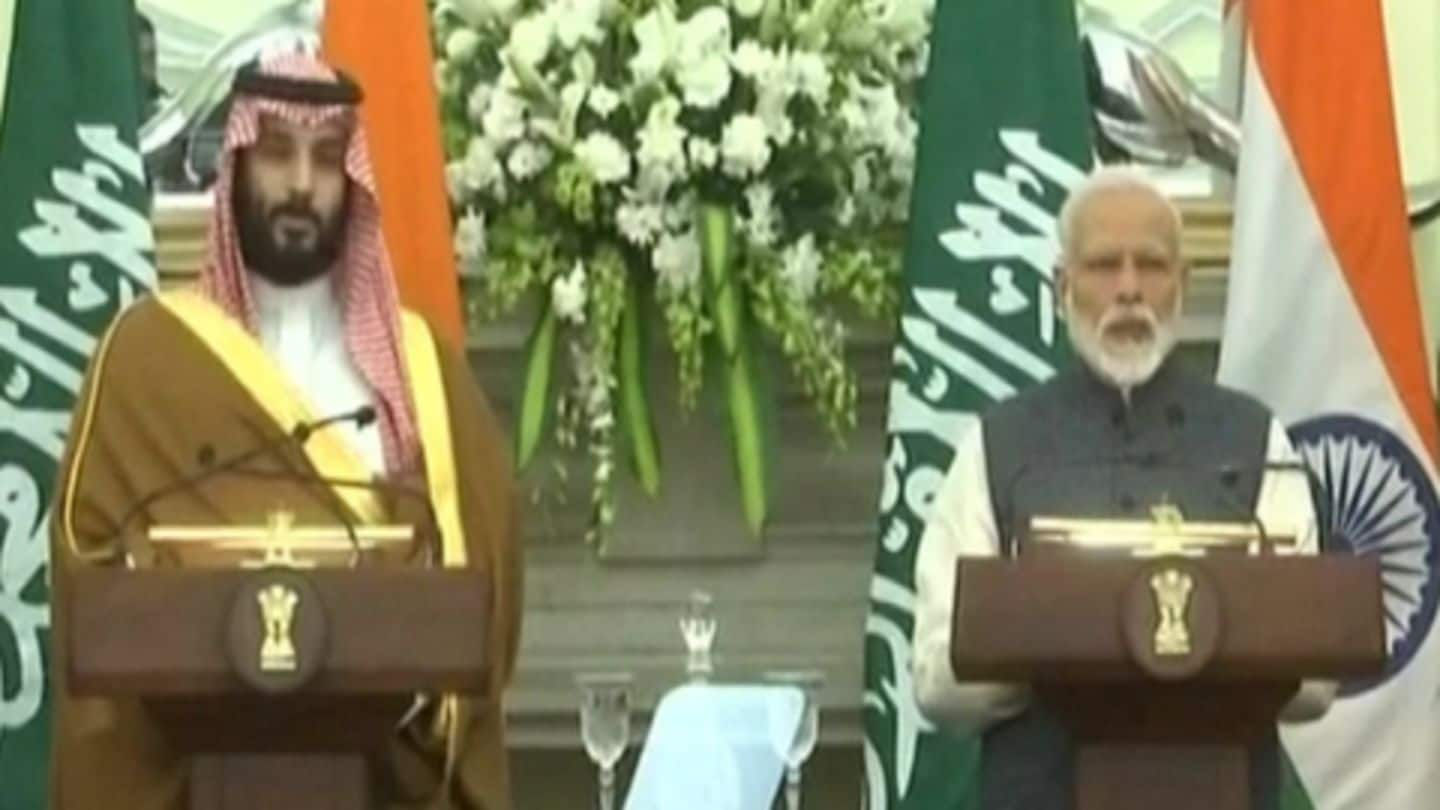 Following the meeting between Prime Minister Narendra Modi and Saudi Crown Prince Mohammad bin Salman, the two leaders, on Wednesday, issued statements on the Pulwama attack, agreeing that countries harboring terrorists need to be pressurized. MbS' visit to India comes on the back of his visit to Pakistan, with whom India's relationship has hit a new low. Here are the details.
India, Saudi Arabia to jointly combat terrorism: PM Modi
Following the meeting, India and Saudi Arabia issued a joint statement on terrorism. In the statement, PM Modi said that Saudi Arabia and India were on the "same page" when it came to the issue of terrorism. He added that it would be "beneficial" for both nations to increase defense and security cooperation to "maintain regional peace and stability".
India, Saudi Arabia vow to increase pressure on terrorist sponsors
"We have also vowed to increase pressure on any country that sponsors terror activities. We are also sure that it will be beneficial for both nations to strengthen our cooperation on maritime security, cyber security and counter terrorism," said PM Modi.
Echoing, PM Modi's words, MbS said that "terrorism and extremism" is a "common concern". He gave an assurance that Saudi Arabia would cooperate with India to curb terrorism, and would also share intelligence to facilitate the same. The Crown Prince concluded by thanking India for its "positive role" in the fight against terrorism.
India and Saudi Arabia are expected to sign five pacts
India and Saudi Arabia are now engaged in delegation-level talks to deepen their relationship in various areas like trade, investment, security, and culture. Further, the two countries are expected to sign five pacts in the areas of investment, tourism, housing, and broadcasting. Notably, India is among the eight strategic partners with whom Saudi Arabia is looking to deepen ties.
India and Saudi Arabia will also step up defense cooperation
Further, the two nations are also expected to set up a 'Strategic Partnership Council' at the ministerial level, which will be responsible for planning joint naval exercises, and improving the overall level of defense cooperation. After concluding his two-day India visit, MbS is slated to head to China on Thursday, to start the last leg of his Asia tour.