Bhima-Koregaon case: Varavara Rao's arrest operation 'illegal', claims Rao's family
Bhima-Koregaon case: Varavara Rao's arrest operation 'illegal', claims Rao's family
Written by
Garima Bora
(PTI desk)
Aug 29, 2018, 05:40 pm
3 min read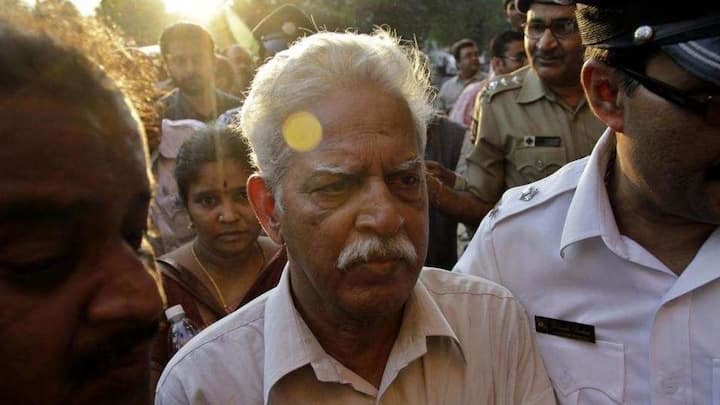 The arrest of Left-leaning poet and writer Varavara Rao and searches at his two daughters' residences were "illegal", claims Rao's nephew, N Venugopal. Venugopal alleged that the Pune Police didn't produce any arrest and search warrants. The activist was arrested from his residence in Hyderabad yesterday by a Pune Police team for his alleged links with Maoists, uncovered from the Bhima-Koregaon case in Pune.
Brief history of the Bhima-Koregaon incident
Five people made provocating speeches in an event called Elgar Parishad event held on December 31, 2017, to commemorate 200 years of the Koregaon Bhima battle in 1818. This had later triggered violence at Koregaon-Bhima village in Pune district of Maharashtra.
Panchnama written in Marathi was given to the Telugu family
The police team conducted searches at the residences of Rao's two daughters and a journalist before arresting him. "At the end of the whole operation, they (Pune police) gave a 'Panchnama' but that's most untenable and illegal document," Venugopal said today. He claimed that the seven-page Panchnama report was written in Marathi. The police also brought their own staff witnesses from Pune, he alleged.
Venugopal explains how the Panchnama is illegal
"First thing in law is if any seizure is done in any house, it should be given in a language understood by the people whose house is searched. So, this seven-page document is illegal. Even digits were in Marathi," Venugopal said.
Venugopal says no local citizens were witnesses
"In any Panchnama report, local respectable citizens have to be witnesses. On each page of the Panchnama report, Pune Police's two witnesses and a police officer signed but Varavara Rao's and his wife Hemalatha's signatures were taken only on the seventh page," Venugopal alleged. "That means in the first six pages police can write whatever, we don't know it's in Marathi," he said.
Five people arrested in the case for having Maoist links
"Original case is Bhima-Koregaon. They (Pune Police) are now claiming that as part of the investigation, they have found some letter; in that letter, they found something else and on (Narendra) Modi's assassination attempt," Venugopal said. In June, five people were arrested for having close Maoist links after they allegedly made provocative speeches at the Elgar Parishad event, triggering violence at Koregaon-Bhima village.
Maharashtra Police yesterday raided homes of 5 prominent Left-wing activists
Rao's name cropped up in a letter seized by police during searches at the premises of one of the five people arrested in June in connection with Elgar Parishad event. Maharashtra Police yesterday raided the homes of prominent Left-wing activists in several states and arrested at least five of them for suspected Maoist links, sparking a chorus of outraged protests from human rights defenders.
Here are the names of five activists arrested
While prominent Telugu poet Varavara Rao was arrested from Hyderabad, activists Vernon Gonzalves and Arun Ferreira from Mumbai, trade union activist Sudha Bhardwaj from Faridabad, and civil liberties activist Gautam Navalakha was arrested from New Delhi.