Dassault CEO on Rafale-Deal: We chose Reliance, I don't lie
Dassault CEO on Rafale-Deal: We chose Reliance, I don't lie
Written by
Shiladitya Ray
Nov 13, 2018, 12:12 pm
3 min read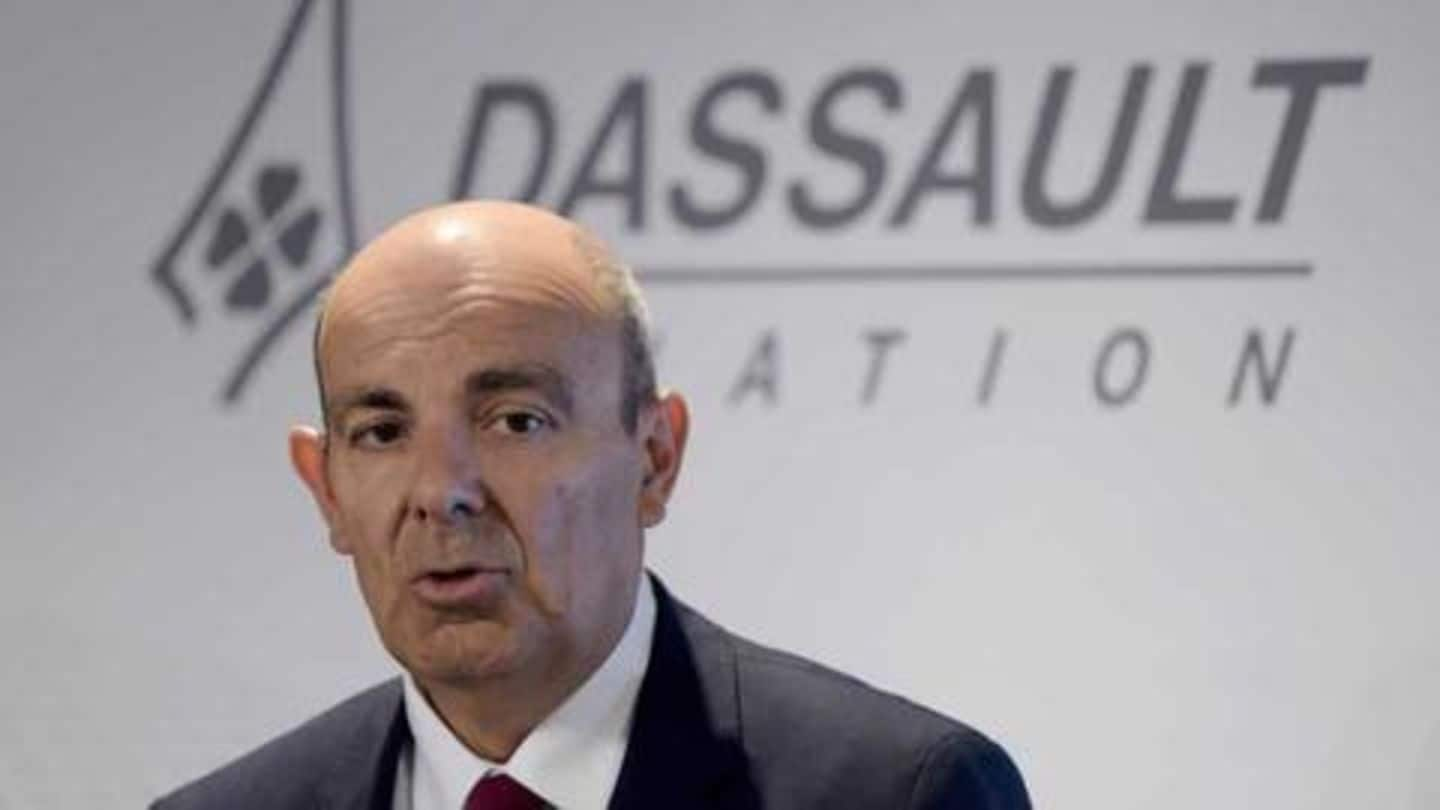 Eric Trappier, the CEO of Dassault Aviation has rubbished allegations made by Congress chief Rahul Gandhi about the selection of Reliance Defence as an offset partner in the controversial Rafale deal. In an exclusive interview with news agency ANI, Trappier said that Dassault had chosen Reliance of their own accord, and was not covering up for alleged cronyism in the deal. Here's more.
Trappier: I don't have a reputation of lying
"I don't lie. The truth I declared before and the statements I made are true. I don't have a reputation of lying. In my position as CEO, you don't lie," the Dassault CEO told ANI.
Earlier, Rahul Gandhi had called Trappier a liar
Trappier was responding to allegations made by Rahul Gandhi. Gandhi, on November 2, alleged that Dassault had invested Rs. 284cr in the loss-making Reliance Defence, and that the money had been used to procure land in Nagpur. "It is clear that the Dassault CEO is lying. If an inquiry starts on this, Modi is not going to survive it," the Congress chief had said.
Trappier: Money going to joint venture, not Reliance
Apart from refuting Rahul Gandhi's claims, Trappier made several clarifications in the interview. Speaking on the choice of Reliance Defence, which has no experience in manufacturing jets, as an offset partner, Trappier said funds given by Dassault were not going directly to Reliance, but to a joint venture (JV) between the two companies. Trappier added that Dassault would provide Reliance with the required expertise.
Trappier says Reliance will learn to produce aircraft soon
"I have engineers and workers from Dassault who are taking the lead as far as the industrial side of this deal is concerned. At the same time, I have an Indian company like Reliance who is putting money into this JV as they want to develop their country. So the company is going to know how to produce aircraft," said Trappier.
In 50:50 agreement, Reliance, Dassault to invest Rs. 800cr
Speaking about investment in the joint venture, Trappier said that Reliance and Dassault would collectively invest Rs. 800cr in the company, in a ratio of 50:50. Trappier added that Dassault had already invested Rs. 40cr to start work on the construction of a hanger, and to pay for operational costs. Over the course of five years, it will invest Rs. 360cr more.
Rafale jets are 9% cheaper in NDA deal
Speaking about the pricing of the Rafale jets, the CEO said that at present, the jets were 9% cheaper than they were under the UPA government's deal of procuring 126 jets. "The price of Rafale in flyaway condition is less expensive in the 36 contract than the 126 contract," said Trappier. However, weapons and missiles are excluded from the cost.
What Trappier had to say about Dassault's offset obligations
Additionally, Trappier said that Dassault had seven years to perform the offset. "During the first three years, we are not obliged to say with who we are working," said the Dassault CEO. He further said that the company had entered into agreements with 30 companies, representing 40% of Dassault's offset obligations. "Reliance is 10% of the 40," concluded Trappier.