It's faith: Rajnath defends performing Shastra Pooja on Rafale jet
It's faith: Rajnath defends performing Shastra Pooja on Rafale jet
Oct 11, 2019, 11:40 am
3 min read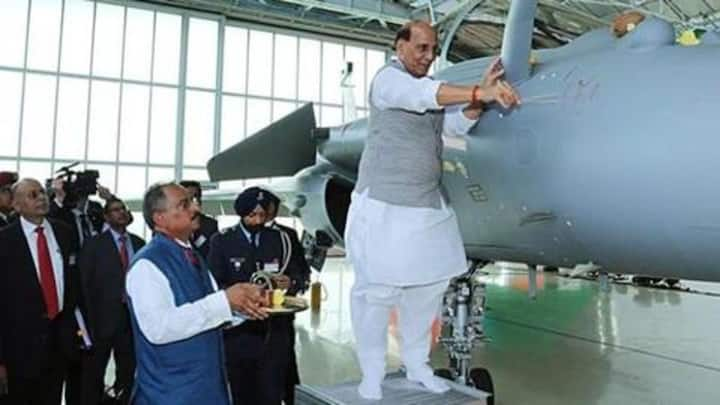 When Defense Minister Rajnath Singh went to France this week to officially receive the first Rafale jet, he perhaps didn't expect that he would be criticized by many back home for performing pooja on the high-tech jet. But Singh remained undeterred by the uncalled-for censure and called it "faith". Surprisingly, the spokesperson of Pakistan's Army also said there is "nothing wrong in it".
First, let's tell you what happened
India has signed a deal with France for 36 Rafale jets, which will exponentially improve the fleet of the Indian Air Force. On Dusshera and IAF Day (October 8), Singh was handed over the first jet by French officials. However, the first batch of jets will arrive in India in May 2020. Meanwhile, IAF is training its pilots to operate the jets.
Singh adorned Rafale jet with "Om", some didn't like it
At the Merignac airbase, where he received the fighter jet, Singh performed pooja. He etched an "Om" on the jet, showered flowers, and also broke a coconut. For reasons unknown, this didn't sit well with many including Congress veteran Mallikarjun Kharge, who called it a "tamasha". Even, Nationalist Congress Party Chief Sharad Pawar likened Rafale to a truck and took a jibe at Singh.
"Would not have objected if someone else did the same"
Reacting to statement of naysayers, Singh, who returned to India on Thursday, said people from different religions pray differently. "I would not have objected if someone else had done the same. I feel there must have been a difference of opinion over the issue in Congress as well, it would not have been everybody's opinion," the 68-year-old Bharatiya Janata Party (BJP) leader said.
"People can say whatever they want. I did what I thought was right and I will continue to do so. This is our faith, that there is a superpower and I have believed it since childhood," the Defense Minister said.
Singh also met Macron, called his trip to France fruitful
Separately, he termed his trip to France a success. He also spoke to French President Emmanuel Macron for over 35 minutes. "Seven Rafale jets will arrive in India by April or May. The aircraft is capable of reaching up to the speed of 1,800 kmph. I flew in a Rafale jet at the speed of 1,300 kmph," he revealed.
He also said India won't intimidate anyone
"After induction of Rafale fighter aircraft, the combat capability of the Indian Air Force will increase. We don't want to intimidate anyone by doing so. We will neither fear anyone nor will we intimidate," he added.
While some didn't understand Singh's faith, Ghafoor did
While people in India raised questions about Singh's "faith", he found an unlikely ally in Asif Ghafoor, the spokesman of Pakistan Army. In a tweet, he wrote, "Nothing wrong in #RafalePuja as it goes by the religion and that must be respected. Please, remember....it's not the machine alone which matters but competence, passion & resolve of the men handling that machine."
You can read his tweet here
Nothing wrong in #RafalePuja as it goes by the religion and that must be respected.
Please remember....it's not the machine alone which matters but competence, passion resolve of the men handling that machine.
Proud of our PAF Shaheens.#PAFtheMenAtTheirBest

— Asif Ghafoor (@peaceforchange) October 10, 2019