Rajnath Singh reaches France, will receive first Rafale jet
Rajnath Singh reaches France, will receive first Rafale jet
Oct 08, 2019, 11:26 am
3 min read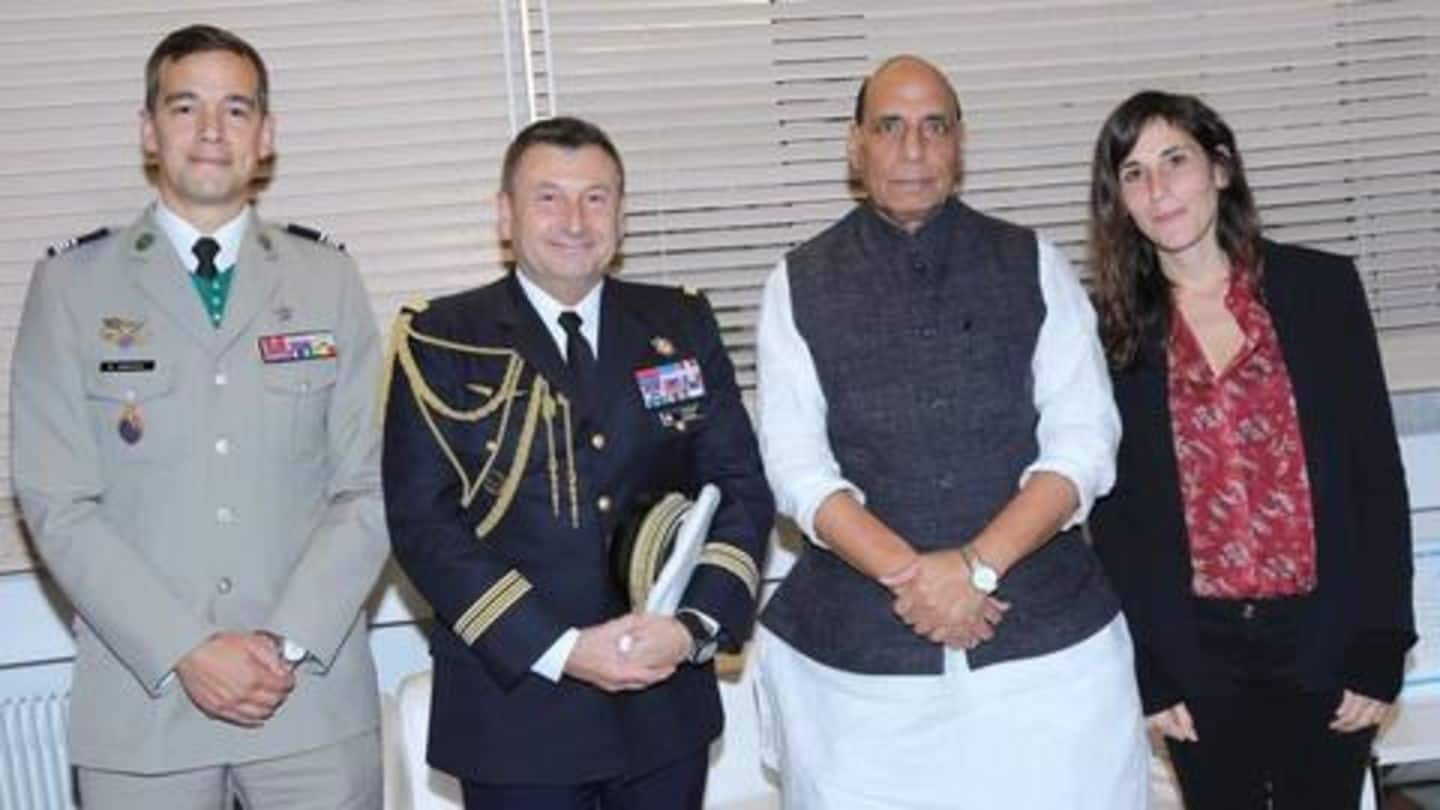 On Tuesday, Union Defense Minister Rajnath Singh landed in France, where he will receive the first Rafale jet on the behalf of Indian Air Force (IAF). India and France have inked a deal for 36 Rafale jets. Singh will be receiving the fighter aircraft on 87th Air Force Day (October 8). He will also perform a Shashtra Pooja today. Here are more details.
Singh will undertake a sortie in Rafale jet
The handing over ceremony will take place at the Merignac airbase near Bordeaux. Reportedly, top officials of the French government will be present at the event. Singh will also undertake a sortie in the two-seater trainer version of the premier jet. He will sit on the rear seat while a French pilot will fly the jet having tail number RB-01.
New IAF Chief has been credited for Rafale deal
Interestingly, the "RB" in the Rafale jet stands for IAF Chief Rakesh Kumar Singh Bhadauria. The newly-appointed head of IAF played an important role in striking the deal between both countries in 2016. Notably, the three dozen Rafale jets cost India Rs. 59,000 crore. While the official hand-over ceremony will happen today, the first batch of four jets will reach India in May 2020.
Apparently, officials of Dassault Aviation will also attend the "pooja"
To note, Singh will perform the Shashtra Pooja on the day when India is celebrating Dusshera. Apart from the top brass of the French military, officials of Dassault Aviation, the company which manufactures Rafale, will also attend the ceremony. According to the makers, Rafale "is a fully versatile aircraft which can carry out all combat aviation missions to achieve air superiority and air defense".
Singh will also meet Macron and discuss important matters
During his important trip to the European nation, Singh will also hold a meeting with the country's President Emmanuel Macron. Both leaders will have talks about cooperation in defense-related matters. As he was leaving New Delhi for France, Singh had tweeted, "India-France bilateral relations have made tremendous progress in recent years. Looking forward to further and deepen these ties."
Singh hopes French industry will participate in "Make In India"
Subsequently, on Wednesday, Singh will meet the French Minister of Armed Forces. Reports have it that he will request the country's defense industry to participate in "Make In India" initiative. An invitation for DefExpo in Lucknow, which will happen in February, will also be extended.
Meanwhile, Defense Minister praised IAF for its impeccable service
Greetings to all @IAF_MCC personnel and their families on the 87th IAF Day. The IAF is the shining example of exemplary courage, fortitude, determination and impeccable service to our nation.

These men and women in Blue have the ability to touch the sky with grit and glory.

— Rajnath Singh (@rajnathsingh) October 8, 2019