Kailaasa: Here's what we know about Nithyananda's new 'Hindu nation'
Kailaasa: Here's what we know about Nithyananda's new 'Hindu nation'
Dec 04, 2019, 05:08 pm
3 min read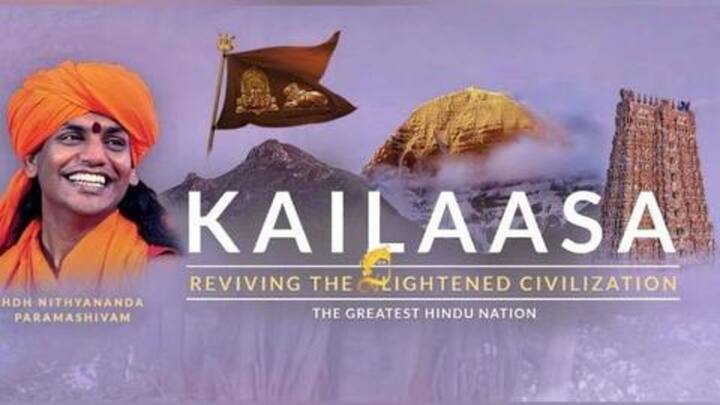 Last month, it was reported that controversial self-styled godman Nithyananda has fled India on an expired passport, however, his whereabouts remained unknown. That's probably because Nithyananda has been busy establishing his own country 'Kailaasa', the "greatest Hindu nation." Nithyananda has declared a private island an independent nation, which allegedly has its own government, flag, and even its passport. Here are more details.
Where is the 'greatest Hindu nation' located?
According to reports, Nithyananda has bought a private island from Ecuador, close to Trinidad and Tobago. A website states Kailaasa is intended for "dispossessed Hindus from around the world." The website is registered in Panama and its IP address is located in Dallas, United States, IANS reported, adding that the website was created on October 21, 2018, and last updated on October 10, 2019.
'Kailaasa' has its own government, too
'Kailaasa' apparently has its own "government," complete with a 547-page Constitution and Departments of Homeland Security, Defense, Commerce, etc. There is also a Department of Enlightened Civilization, which aims at reviving the Sanatan Hindu Dharma, which is unsurprisingly the nation's main religion. The offices are yet to be filled up though, so if you're interested, 'Kailaasa' is seeking applicants for government officials and citizens.
Has a South Indian actress been made Kailaasa's PM?
However, if you were gunning for the post of Prime Minister, you may be out of luck. Unconfirmed reports suggest that a South Indian actress has already been appointed PM. Nithyananda is also allegedly trying to have the United Nations recognize 'Kailaasa' as a nation.
Apparently, 2 billion Hindus are already 'Kailaasa' citizens
Since the website claims 'Kailaasa' has a population of 2 billion Hindus, chances are you're already a citizen and just didn't get the memo. You can apply for a passport, which gives you access to "11 dimensions and 14 lokas." #VisaWho No wonder Nithyananda could flee India on an expired passport. Reportedly, three prominent personalities from Ahmedabad are already planning on making the move.
Here's some GK about 'Kailaasa'
If you're planning on signing up too, like a good citizen, you should brush up on the nation's GK: The national animal of 'Kailaasa' is the Nandi bull (Lord Shiva's mount). The nation's flag is called the "Rishabha Dhvaja" which, of course, bears a picture of Nithyananda. National bird: Sharabam. National flower: Lotus. National tree: Banyan. National languages: Sanskrit, Tamil and English.
Nithyananda accused of rape, child abduction, criminal intimidation, etc.
By the way, while Nithyananda was busy setting up an entire country, the Gujarat police is reportedly yet to approach the international policing agency, Interpol, to locate the Godman. Nithyananda is under trial for rape, unnatural sex, cheating, and criminal intimidation. He was recently also booked for the abduction and wrongful confinement of children, child labor, voluntarily causing hurt, among other charges.