#SabarimalaStandoff: Two women of menstrual age stopped 1km from shrine
#SabarimalaStandoff: Two women of menstrual age stopped 1km from shrine
Written by
Shiladitya Ray
Dec 24, 2018, 11:49 am
3 min read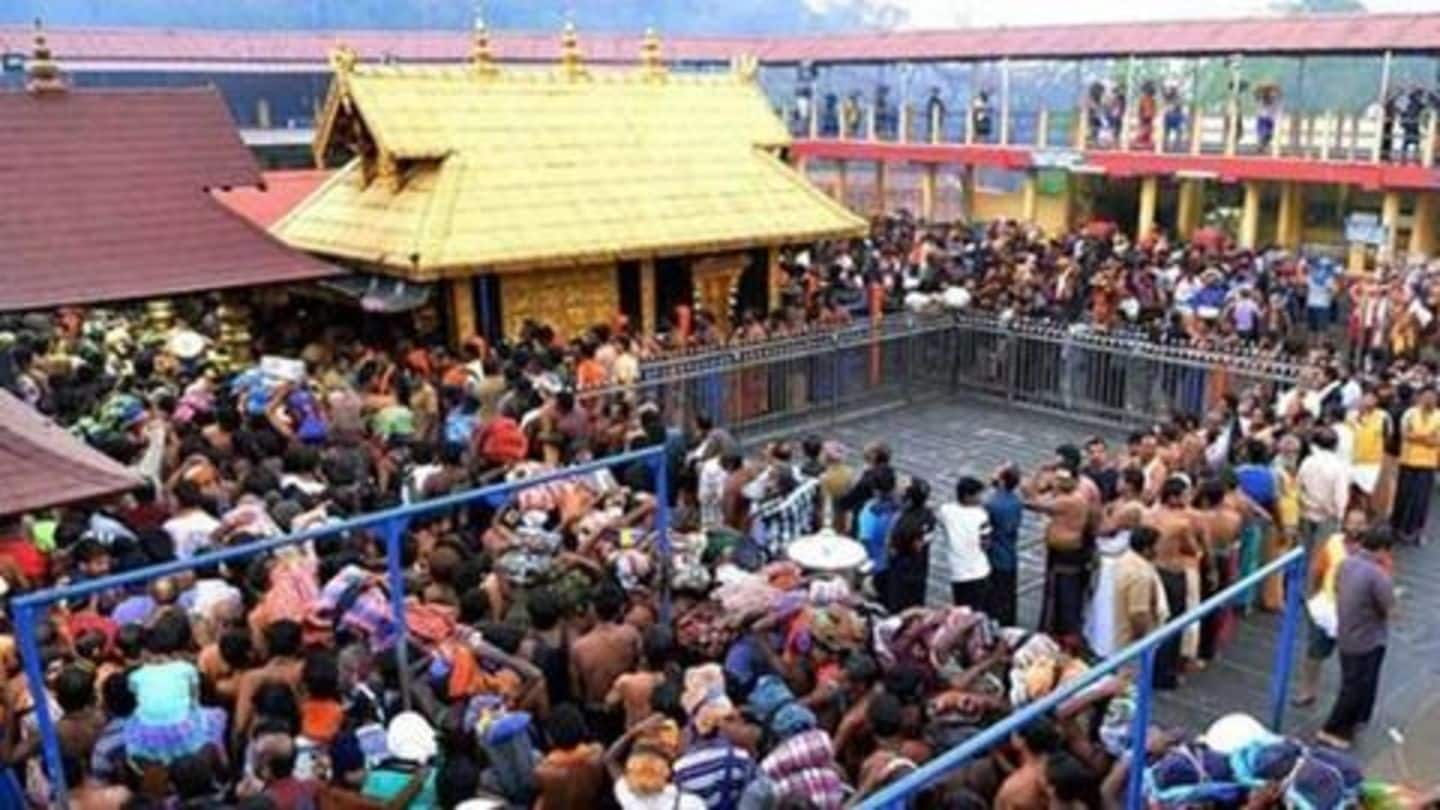 A day after 11 women of menstrual age from a women's rights group were barred from making the climb to the Sabarimala temple, two more women had to turn back after violent protests from Ayyappa devotees. It's been almost three months since the Supreme Court allowed women of menstrual age to enter the temple, but till date, not one has made it. Here's more.
Details of the women's unfulfilled journey
The two women, Bindu and Kanakadurga, hailed from Kozhikode and Malappuram respectively. They began their trek to the hill shrine with a police escort, but were stopped a kilometer from the shrine. A large number of protesters gathered at the spot and blocked their progress, and police, who aren't allowed by the government to use force on the protesters, had to retreat with the women.
On Sunday, six women were forced to turn back
A day earlier, on Sunday, 11 women from Chennai-based women's rights group, Manithi, had made an unsuccessful attempt to reach the temple. While all 11 had arrived for the journey, only six of them attempted the climb as the rest were not carrying the traditional irumudikettu that is mandatory for climbing the holy steps to the sanctum sanctorum of the temple.
Five aggressive protesters were detained by the police
Yet, again, while the women were accompanied by a police escort, they were unable to make the climb. As news of their arrival spread, throngs of protesting Ayyappa devotees gathered at the spot, and prevented them from leaving the base camp itself. The women persisted for six hours, but so did the protesters, thereby forcing the women to retreat. Five aggressive protesters were detained.
Subramanian Swamy has blamed Naxals for women approaching the temple
Thus, as it stands, the Sabarimala temple remains off-limits to women of menstrual age, courtesy of protesting Ayyappa devotees and right-wing groups led by the BJP. After the six women turned back, BJP MP Subramanian Swamy sparked controversy by saying that women of menstrual age were being instigated by people with Naxalite leanings "who hate Hinduism". He urged the Kerala government to take action.
Battleground Sabarimala: The fight rages on
Ever since the September 28 Supreme Court verdict, the temple has become battleground between women's rights activists and conservative believers, and between Kerala's Left government and right-wing groups. While the Kerala government, in theory, has extended support to women, they have not been able to quell the throngs of protesters who have, so far, denied women entry to the temple.