Supreme Court dismisses all review pleas regarding Ayodhya judgment
Supreme Court dismisses all review pleas regarding Ayodhya judgment
Dec 12, 2019, 05:20 pm
3 min read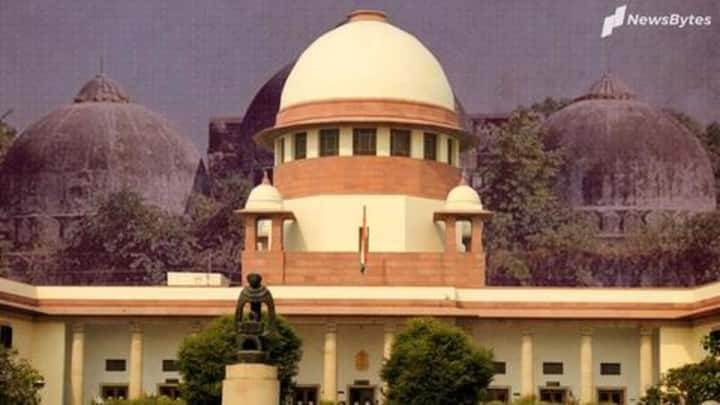 After it ended decades-old Ayodhya case, the Supreme Court received a flurry of petitions seeking a review of the judgment. This showed not everyone was happy with the verdict. But the top court seems satisfied with its decision as today, it junked all 18 review pleas. The decision was taken by a bench headed by Chief Justice of India SA Bobde. Here's what happened.
Last month, SC unanimously gave verdict in Ram Mandir's favor
A five-judge constitutional bench, headed by former CJI Ranjan Gogoi, had on November 9 announced that the disputed 2.77 acres of land will be used for Ram temple's construction. Additionally, the bench ordered that an alternate 5 acres should be allotted to Muslims to build a mosque. By doing so, SC put a full stop on one of the most sensitive cases of India.
Same bench looks through review pleas, but not this time
Notably, review pleas are taken up by the same bench, and are more often than not, dismissed. But in this case, the bench changed as CJI Gogoi retired. The five-judge bench decided to take a call on whether the review pleas merit a hearing or not. The bench included CJI Bobde, Justices DY Chandrachud, SA Nazeer, Ashok Bhushan, and Sanjiv Khanna.
So, who were the ones who filed review pleas
Eight petitioners were those who were parties, while the rest weren't directly involved. Litigants including Mufti Hasbullah, Moulana Mahfoozur Rehman, Mohammad Umar, Haji Mehboob, Misbahuddin, Haji Asad Ahmed, Shia Central Board of Waqfs and Akhil Bharat Hindu Mahasabha had filed the pleas. Separately, the Nirmohi Akhada, whom the apex court declared was not a sebait, also filed a plea seeking clarity on its role.
Reportedly, Muslim parties dismissed SC's "balancing act"
The Muslim parties said the verdict was based on Hindu beliefs and they reportedly condoned "serious illegalities of destruction, criminal trespass, and violation of rule of law including damaging the Mosque and eventually destroying it". They also said they were not looking to disturb the peace but claimed they have become victims of violence. The "balancing act" done by SC was also questioned.
The review pleas lack merit, concluded SC
After going through the pleas, the bench concluded it lacked substance and dismissed all of them. Regarding 40 academicians and activists, including Irfan Habib, Jayati Ghosh, Nandini Sundar, and Prabhat Patnaik, who said they were aggrieved with the verdict, CJI Bobde-led bench said they weren't parties to the case directly, hence, can't be given permission to file a review.