#RIPManoharParrikar: 5 things the Goa CM should be remembered for
#RIPManoharParrikar: 5 things the Goa CM should be remembered for
Written by
Ramya Patelkhana
Mar 18, 2019, 12:11 am
3 min read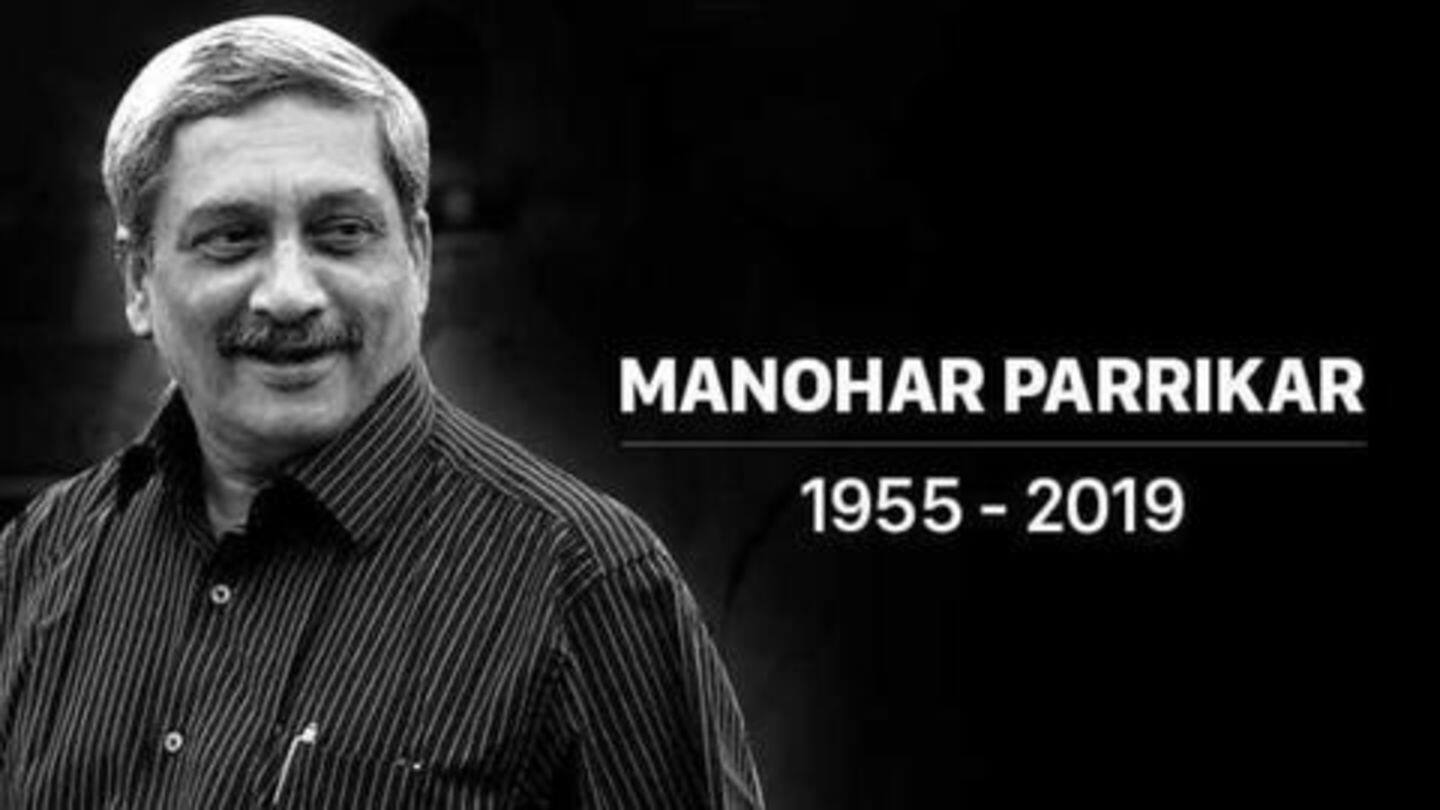 Four-time Goa CM and former Defense Minister, Manohar Parrikar, passed away on Sunday at 63 after battling a prolonged illness. The senior BJP leader was suffering from pancreatic cancer and had been in and out of hospitals since February 2018. Parrikar was also often referred to as the "common man's chief minister". Here are five things the four-time Goa CM should be remembered for.
For his simple lifestyle, administrative acumen, and clean image
Manohar Parrikar was known as the "common man's chief minister". Apart from his "impeccable record", he was known for his simple lifestyle, administrative acumen, and clean image. Despite being a CM, he was accessible to the public. He, however, kept his professional life separate from personal life. It's because of his commitment and dedication that Parrikar is considered one of the most successful CMs.
For his two-and-a-half-year stint as the Defense Minister
Because of his clean image, tech background, and strong decision-making skills, Parrikar was persuaded to take charge as the Defense Minister in the Modi cabinet in 2014. He is known for overseeing India's "surgical strikes" across the LoC against terror launch pads in Pakistan-occupied-Kashmir (PoK) after the 2016 Uri attack. Also, it was during his tenure that the renegotiated India-France Rafale deal was signed.
For 'serving Goa till his last breath'
In January, Parrikar had said he "will serve Goa" till his "last breath" and he did. He didn't let his battle with pancreatic cancer come in the way of his commitment to duties as the CM and to serve the public. In the past few months, he made public appearances, looking frail with a nasal tube, and even presented the State Budget in January.
For helping the 'lotus' bloom in Goa
Manohar Parrikar had played a crucial role in raising the BJP's profile in Goa. He helped the "lotus" bloom in the state - from when the BJP had only four MLAs in 1994 to increasing its strength to 17 in the State Assembly in 2002 to the party's current status as the state's ruling party. He was instrumental in "building" the BJP in Goa.
For being the first IIT alumnus to become a CM
Manohar Parrikar was an alumnus of the Indian Institute of Technology, Bombay (IIT-B) where he graduated in metallurgical engineering from in the year 1978. Notably, Infosys co-founder and technocrat, Nandan Nilekani, was a batchmate of Parrikar at IIT-B. Parrikar was the first ever IIT alumnus to become an MLA of a state and also serve as a Chief Minister later.