Protesters attack UP-minister's house for saying Rajputs,Yadavs consume more liquor
Protesters attack UP-minister's house for saying Rajputs,Yadavs consume more liquor
Apr 29, 2018, 02:00 pm
2 min read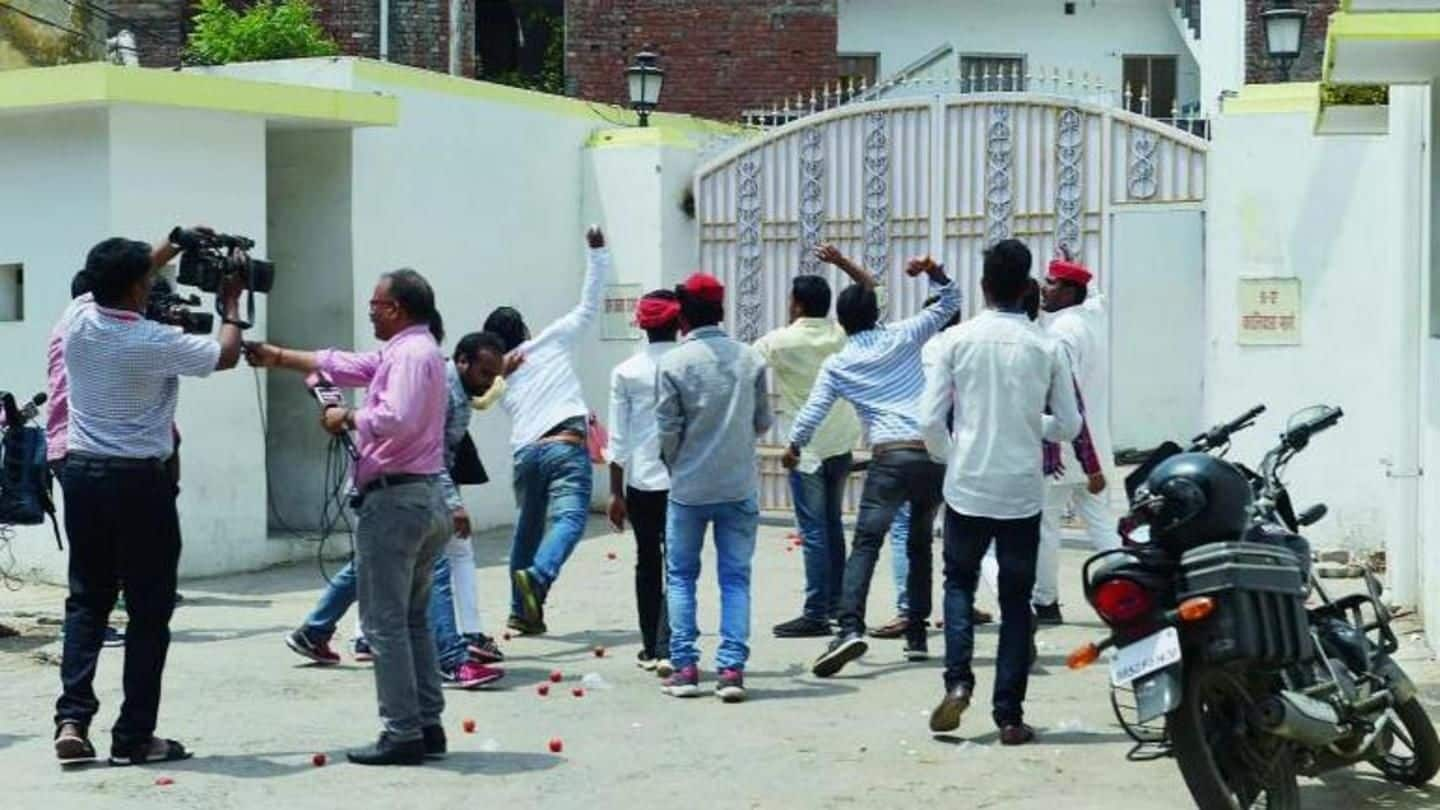 Two persons were arrested today for hurling tomatoes and eggs at Uttar Pradesh Minister Om Prakash Rajbhar's official residence in high-security Kalidas Marg area in Lucknow yesterday for saying that Rajputs and Yadavs consumed more liquor than others. Youths, some of them wearing red caps, also raised slogans and damaged his name plate. Accused were identified as Amit Kumar Yadav and Pramil Yadav.
Drinking alcohol is ancestral business of Rajputs and Yadavs: Rajbhar
Rajbhar had made the remarks in Varanasi on April 27 while arguing against drinking. "The maximum blame is put on Rajbhars, but the maximum liquor is consumed by Yadavs and Rajputs," the minister had said. "This is their ancestral business," he is heard saying on television. But he added that people from his own Rajbhar and all other castes also drink.
It's people who use intoxicants, not any caste: Akhilesh Yadav
Rajbhar, who heads the backward class' welfare portfolio in UP Cabinet, is a leader of BJP ally Suheldev Bharatiya Party. Reacting to minister's remarks, Samajwadi Party President Akhilesh Yadav tweeted, "It is people who use intoxicants, not any caste. Why only liquor?" He said campaigns should also be run against consumption of other intoxicants, listing "ahankar" or ego along with ganja, charas and tobacco.
Akhilesh Yadav's tweet quoting the news
केवल शराब ही क्यों गांजा-चिलम, ताड़ी, तम्बाकू, चरस, अफ़ीम की पुड़िया और अहंकार के ख़िलाफ़ भी आंदोलन होने चाहिए... ये नशे भी तो आजकल ख़ूब चल रहे हैं. नशा लोग करते हैं, कोई जाति नहीं. pic.twitter.com/5NaOW4gLHL

— Akhilesh Yadav (@yadavakhilesh) April 28, 2018