Kamlesh Tiwari's family meets Adiyanath, demands death penalty for murderers
Kamlesh Tiwari's family meets Adiyanath, demands death penalty for murderers
Oct 20, 2019, 07:54 pm
3 min read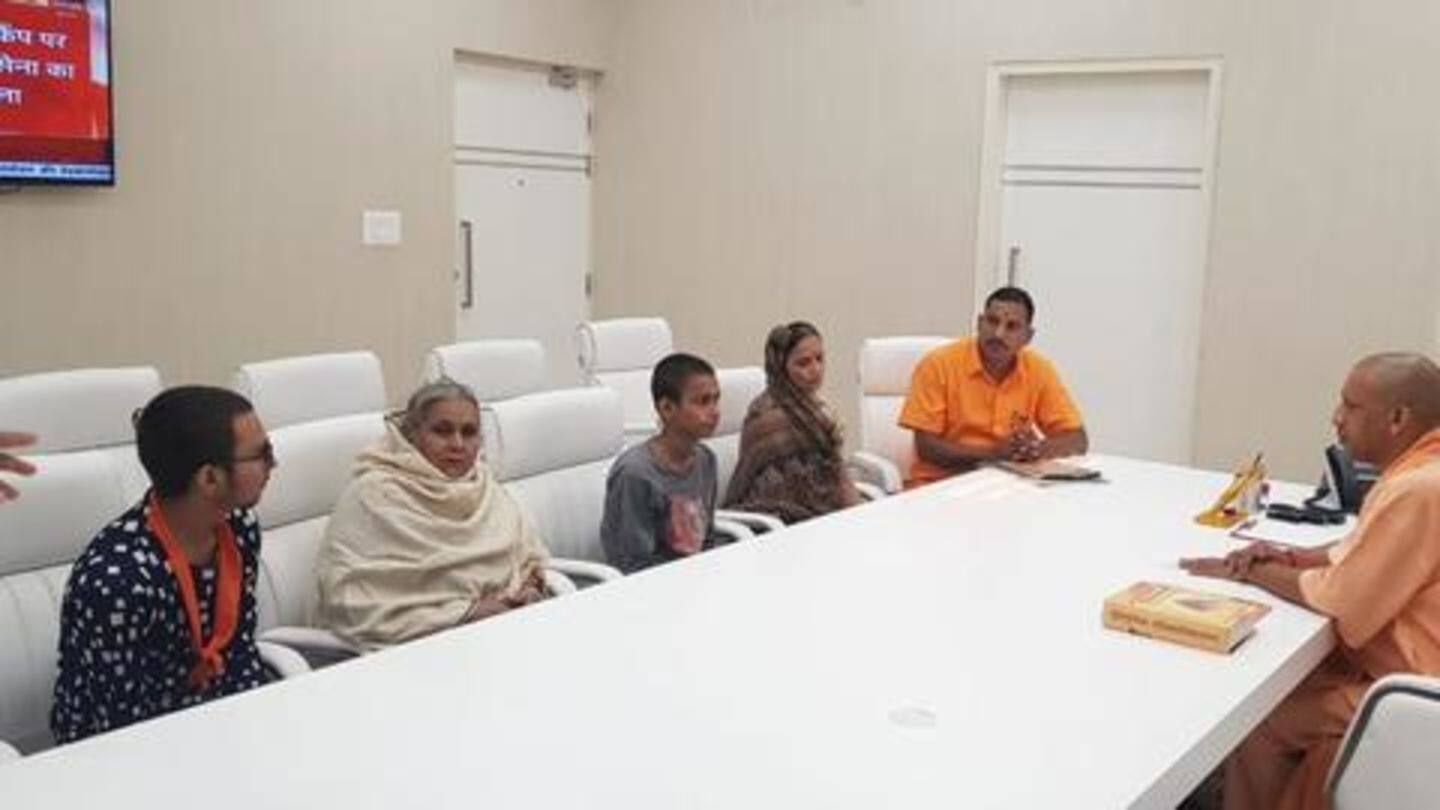 Two days after a leader of a Hindu outfit was murdered at his office-cum-residence in Lucknow, his family met Chief Minister of Uttar Pradesh Yogi Adityanath. The family of Hindu Samaj Party's founder Kamlesh Tiwari met the BJP politician and demanded capital punishment for the killers. Meanwhile, Tiwari's party has said a road should be named on him, and his statue should be installed.
Tiwari's murder got BJP ire from several quarters
To recall, Tiwari was murdered at Khursheed Bagh area of the state capital. His death sparked outrage with many slamming the governance of Adityanath. Former UP CM Akhilesh Yadav said his successor has created a crime-friendly environment in the state. The CM on his part promised justice. Acting swiftly, police arrested three accused but two men are still at large.
Don't know whom to trust: Tiwari's son Satyam
To note, the bereaved family said it didn't have faith in the administration and demanded NIA probe. "My father was killed although he had security guards. How can we possibly trust the administration then," Tiwari's son Satyam asked. Reiterating his demand today, he said, "Don't know whom to trust and if the killers are actually those whom the police and the administration are pointing to."
Adityanath assured us justice, said wife of slain leader
Adityanath, who returned to UP after campaigning in poll-bound Maharashtra, met Tiwari's family and assured that the perpetrators will be brought to book. "We demanded capital punishment for the murderers. He (Adityanath) assured us that they will be punished," said Kiran Tiwari, the wife of the deceased leader. An office-bearer of the Hindu Samajh Party was also present at the meeting.
Separately, his mother blamed BJP leader for murder
It's important to note that Tiwari's mother Kusum has claimed her son was killed over a land dispute. "I have been crying myself hoarse since my son's murder that a local BJP leader was behind it. I have been taking his name openly. But the police didn't bother to listen to me," she said and added that Tiwari was "better protected" in the SP regime.
Meanwhile, police claimed it made some headaway in the case
On a related note, UP police has reportedly recovered clothes worn by the suspects on the day of murder from a hotel in Lucknow. These suspects were captured by CCTV cameras installed near Tiwari's house. Apart from clothes, a few other bags were also found from the hotel. Police believe the suspects used their real addresses while checking-in at the facility.
Hotel manager informed cops about possible suspects
Lucknow police:Received inputs about 2 suspects, Sheikh Ashfaq HussainPathan Moinuddin Ahmed were staying at Hotel Khalsa. A saffron coloured garment a towel with blood stains were found in room.Hotel Manager says,'After seeing the footage on TV,we checked IDsinformed police' pic.twitter.com/FlOC1ElKZ5

— ANI UP (@ANINewsUP) October 20, 2019
Killers came to UP from Gujarat, believe police
The footage purportedly shows the alleged killers checking-in at the hotel on Thursday night and leaving on Friday. They carried a box of sweets that facilitated their entrance into Tiwari's house. Apparently, the accused boarded a train from Surat to Kanpur, and then came to Lucknow via another train or car. Their last known location is somewhere in NCR, reports said.