Vets remove 52 kg plastic from cow after 5-hour-long surgery
Vets remove 52 kg plastic from cow after 5-hour-long surgery
Written by
Siddhant Pandey
Oct 20, 2019, 07:37 pm
3 min read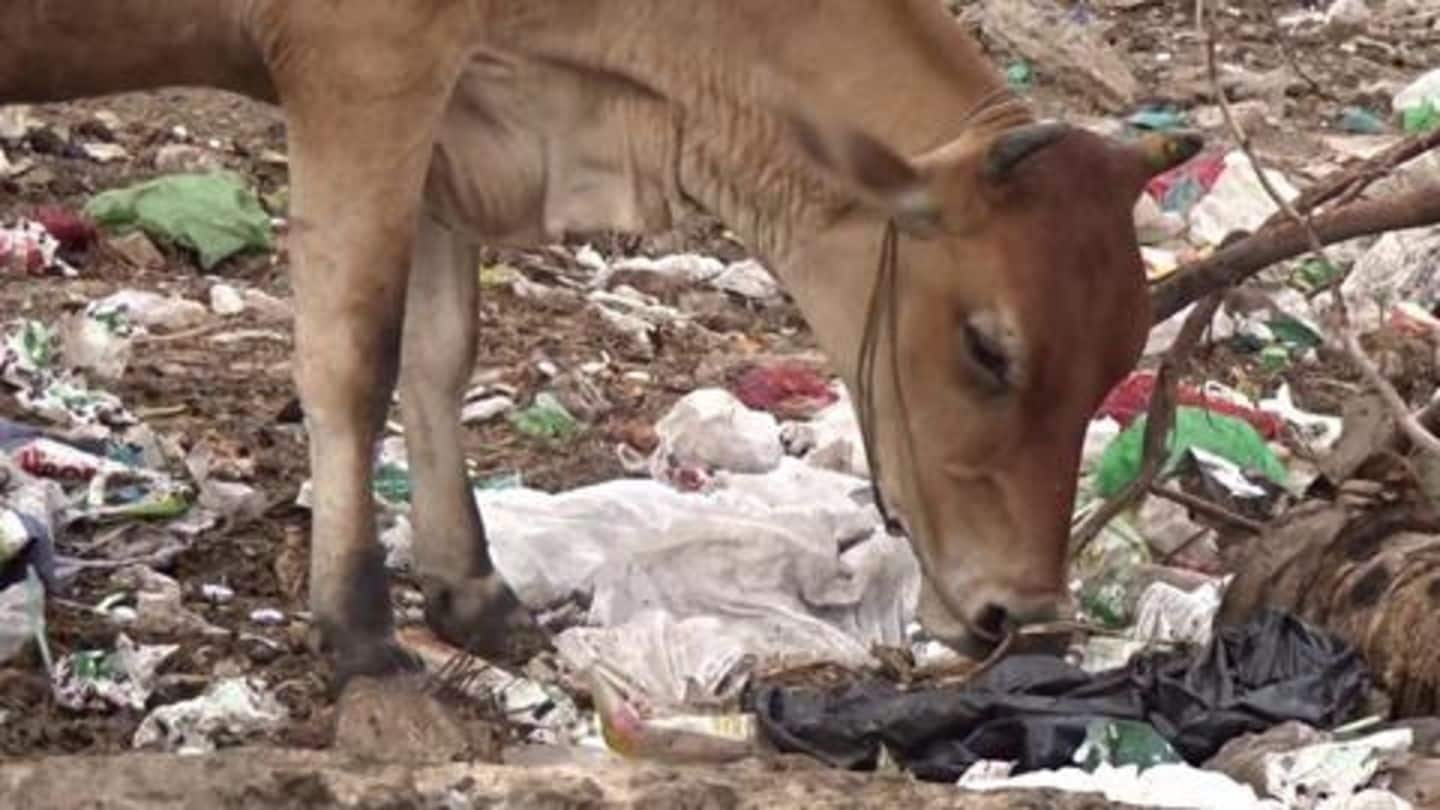 In a distressing incident, a cow in Chennai was found to have a whopping 52 kilograms of plastic waste in its stomach. Fortunately, the cow was taken to the Tamil Nadu Veterinary and Animal Sciences University (TANUVAS) in Vepery in time where it underwent a five-hour-long surgery to remove the waste, which threatened its life. Here are more details.
Cow's milk yield dropped; kept kicking own stomach in pain
According to The Hindu, one P. Munirathanam bought the cow six months ago, however, the owner noticed that the cow struggled to defecate or urinate and was often seen trying to kick its stomach. Further, despite giving birth to a calf, the cow was only yielding 3 liters of milk. Munirathanam took the cow to a local veterinarian, who directed him to TANUVAS.
'Could feel plastics even during manual rectal examination'
Selvaraj, Veterinary Clinical Medicine Professor at TANUVAS, told The Hindu, "We could feel the presence of plastics even during a manual rectal examination. Plastics could have accumulated in the rumen over a period of two years." After an X-ray and an ultrasound scan, they found that 75% of the cow's rumen, one of the four chambers of a cow's stomach, was filled with plastic.
Plastic was 'attached' to walls of cow's stomach: Dr. Velavan
The veterinarians decided to perform a surgery, which was conducted on Friday. The surgery, which also involved post-graduate students, went on for five hours, starting at 11 am and ending at 4:30 pm. Assistant Professor of Surgery A. Velavan, who performed the surgery with R. Sivasankar, described the procedure as "complicated" as the waste was "attached to the walls of the rumen."
Veterinarians also found needles inside cow
Further, Dr. Velavan said they also found needles amid the plastic waste, adding, "In some cases, the needle could prove dangerous to the animal as it could move to the heart." S. Balasubramanian, Director of Clinics at TANUVAS, told the publication, "The incident exemplifies the threat to animals posed by plastics discarded indiscriminately by the public," adding that the amount of waste was "unprecedented."
Vets continue to help nourish cow back to health
The veterinarians said that because of the severe accumulation of waste, the cow lost its cud (partly digested food cows and other ruminants regurgitate from the rumen for further chewing). Hence, the cow's rumen was filled with 5 kg of bran, jaggery, and pro-biotic bolus, Dr. Velavan said. The veterinarians also transplanted cud from another animal to rejuvenate the cow's gut health.
The whole procedure just cost Rs. 70!
Dr. Balasubramanian said, "At a private hospital, the cost of such a procedure would be around Rs. 35,000, half the cost of the cow." However, at TANUVAS, the entire procedure cost a meager Rs. 70- Rs. 20 for registration and Rs. 50 for the surgery.