Uttarakhand: BJP MLA raises objection on Muslim-man's presence in temple
Uttarakhand: BJP MLA raises objection on Muslim-man's presence in temple
May 28, 2018, 02:41 pm
2 min read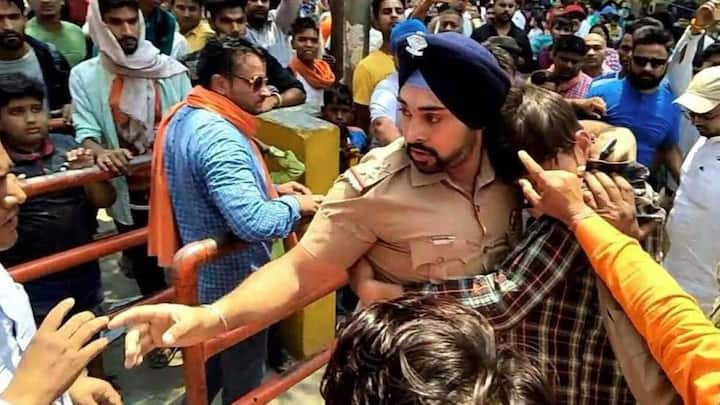 In the wake of a sub inspector's heroic deed of saving a Muslim man from a fanatic mob in Ramnagar, Uttrakhand, BJP MLA Rajkumar Thukral said the 'destroyers of Hindu culture' will be taught a lesson by right-wing outfits. Thukral objected to the presence of a Muslim man in the temple premises while speaking to media on Saturday. He even raised the concern of love-jihad.
Why are they roaming with Hindu girls, asked Thukral
Thukral complained about meetings between Muslim boys and Hindu girls. The 19-year-old Muslim boy Irfan was seen with his Hindu friend on May 22, when the mob attacked him. "They tried to ignite the emotions of the Hindu community. We will fight the ongoing plans of destroying Hindu culture, of forced religious conversions, and of strengthening the roots of love jihad," the MLA said.
Hindu sena will fight, warned Thukral
"It is time to teach a lesson to people who want to destroy the atmosphere of Ramnagar. If (Ramnagar) police and administration doesn't wake up then Hindu Sena (army) will have to come out and fight the people who wish to destroy Hindu culture," Thukral said.
Police looking for miscreants who heckled Muslim man
The heroic act of Sikh cop Gagandeep Singh hugging the Muslim man and averting a tragic incident was appreciated by everyone. On the basis of the viral video, the police are looking for culprits who heckled the man. Vikram Rathod, SHO, Ramnagar police station, said an FIR was registered on Friday against unknown people. No arrests have been made so far.