The-hero-we-need: In Uttarakhand, Sikh cop saves Muslim man from angry-mob
The-hero-we-need: In Uttarakhand, Sikh cop saves Muslim man from angry-mob
May 25, 2018, 02:35 pm
2 min read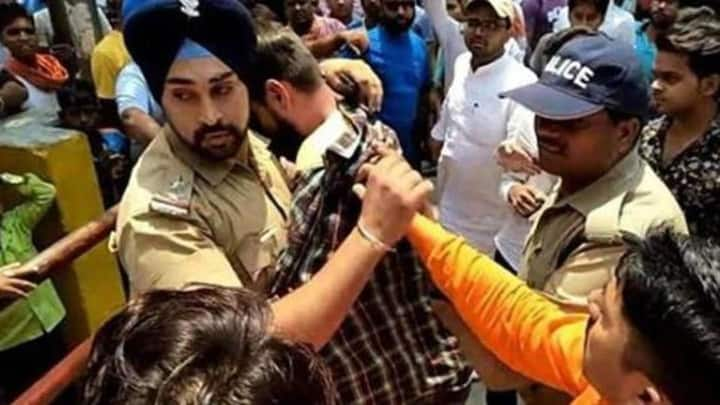 What could have turned into another tragic incident of mob-lynching was averted, all thanks to a Sikh cop deployed in the area. An angry mob attacked a Muslim man in Ramnagar, Uttarakhand, after he was found meeting with his Hindu girlfriend at the famous Girija temple. When the mob tried beating the man, sub-inspector Gagandeep Singh hugged him and took him away.
Locals learnt couple belonged to different communities
The Girija temple is frequented by couples because it is situated in a secluded area. On May 22, when this Muslim man met his girlfriend at the temple, somehow locals got a whiff about their religions. Soon the couple was surrounded by a furious mob who intended to hurt the boy. The presence of police and most importantly, Gagandeep Singh saved his life.
Cop attempted to save man, mob criticized him
A video of the incident, that has gone viral on social media, shows how Gagandeep fought hard against the group to save the man. As the crowd heckled the man and even slapped him, Gagandeep held on to him tightly and took him away from the spot. When the mob's greed couldn't be fulfilled they started yelling 'Police prashasan murdabad'.
Here's the video of the incident
This brave #Sikh police officer saved a #Muslim boy from the fanatic #Hindu mob, who was trying to lynch him. Because he was there to meet his #Hindu girlfriend. How can someone deny the fact that these extremist Hindu groups are trying to terrorise the minorities? pic.twitter.com/htN9pHVZwA

— Simranjit Singh Mann (@SimranjitSADA) May 24, 2018
Mob alleged they found couple in compromising position
Speaking about the incident, Ramnagar police station in-charge Vikram Rathore said members of Bajrang Dal and Vishwa Hindu Parishad (VHP) were a part of the crowd. They alleged they found the couple in a 'compromising' position. "By the time our team reached, the crowd had started manhandling the youth and his friend," he said. Officer Singh can't be thanked enough for his bravery.