Delhi odd-even scheme: Arvind Kejriwal announces rules, dates and fine
Delhi odd-even scheme: Arvind Kejriwal announces rules, dates and fine
Written by
Siddhant Pandey
Oct 17, 2019, 02:41 pm
3 min read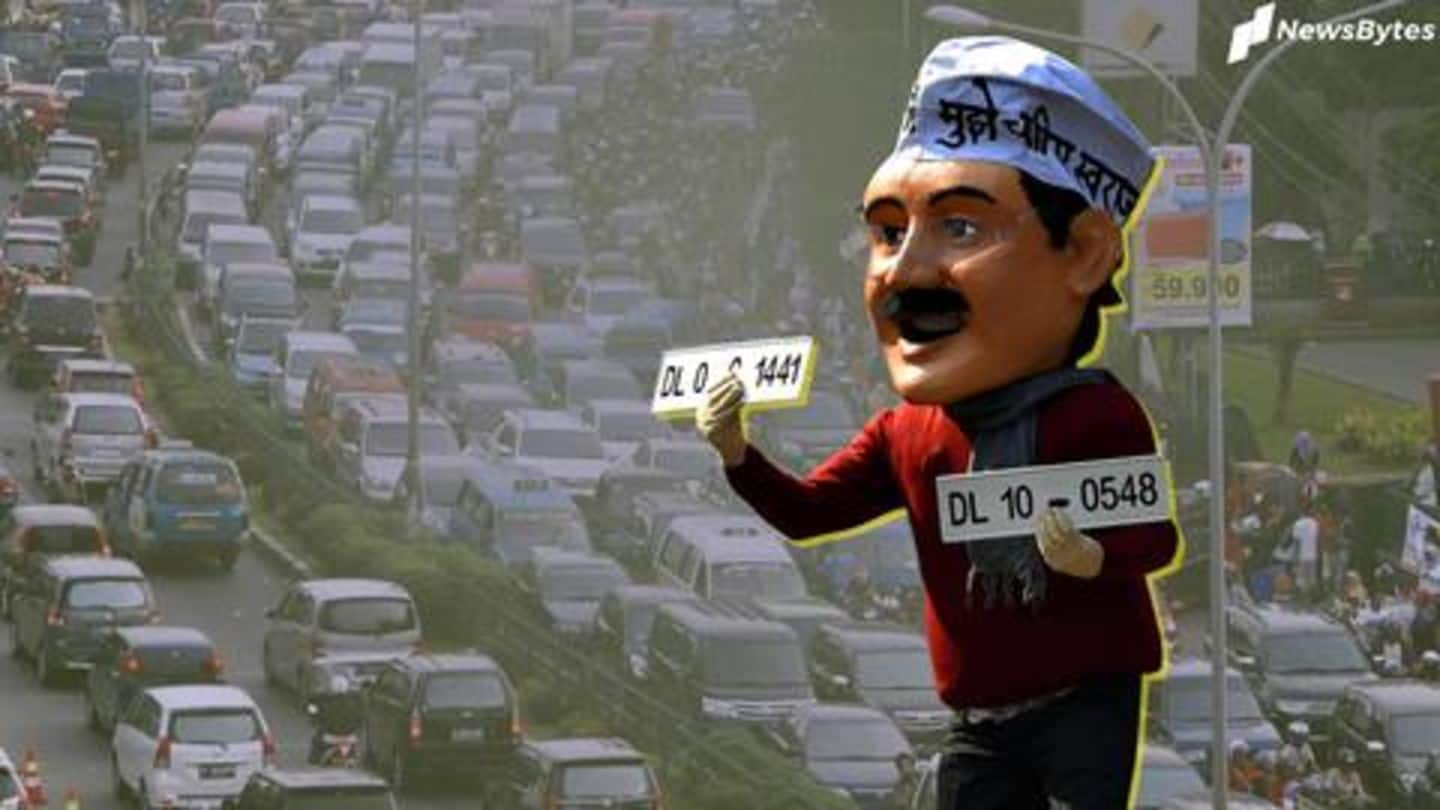 On Thursday, Delhi Chief Minister Arvind Kejriwal announced that private vehicles carrying schoolchildren will be exempt from the restrictions of the odd-even scheme. He made the announcement at a press briefing where he detailed the contours of the road-rationing scheme, which is to be implemented from November 4-15. He also announced that violations under the rule will attract a fine of Rs. 4,000.
Odd-even scheme returns from November 4-15
The scheme will be applicable from 8 am to 8 pm, except on Sundays. Violations under the odd-even scheme will land you with a Rs. 4,000 fine, up from the Rs. 2,000 fine that was previously imposed. Under the scheme, vehicles are to ply alternatively on odd and even dates depending on whether their license plate number ends in an odd or even number.
Vehicles ferrying schoolchildren, women drivers, two-wheelers exempted
Last week, Kejriwal had announced that private CNG vehicles will not be exempt under the scheme, however, "women driving alone, cars having all women as occupants and women accompanied by children aged less than 12 years will be exempted." Speaking on Thursday, Kejriwal said that two-wheelers will also be exempted under the scheme. He said private vehicles ferrying schoolchildren will also be exempt.
Kejriwal to offer more clarification soon on exemption of schoolkids
Importantly, schoolchildren need to be in their uniforms for the vehicle to be exempt under the scheme. Answering a query on what would happen if a vehicle was returning after having dropped schoolchildren, a Delhi government official said the vehicles must return before 8 am, when the scheme comes into force. Kejriwal said that they will offer more clarification soon.
The following people are also exempt under odd-even
Further, following people are also exempted from the scheme: President, Vice President, Prime Minister, Governors, Speaker of Lok Sabha, vehicles of Union Ministers, Rajya Sabha and Lok Sabha Leaders of Opposition, vehicles of chief ministers of states & UTs. CJI, Supreme Court Judges, UPSC Chairperson, Chief Election Commissioner, Election Commissioners, CAG, Dy Chairman Rajya Sabha, Dy Speaker of Lok Sabha, Lt Governor of Delhi, Judges of Delhi High Court, Lokayukta.
Kejriwal, AAP MLAs not exempt from odd-even
Interestingly, Kejriwal said his vehicle and those of Aam Aadmi Party MLAs will not be exempted from odd-even scheme. The MLAs of other states are also not exempt. Additionally, vehicles from outside Delhi are also not exempt from odd-even rules when they enter the city. Hence, vehicles from Noida, Gurgaon, Faridabad or elsewhere will have to abide by the rules.
Odd-even first introduced in Delhi in 2016
To recall, this is the third edition of the odd-even scheme. It was previously introduced in Delhi in January and April 2016. Violation of the scheme in 2016 warranted a Rs. 2,000 fine. According to Dr. Ken Lee, executive director of Energy Policy Institute at University of Chicago, India, the 2016 odd-even scheme helped reduce particulate air pollution concentrations by 14-16%.