AAP office attack to beef-ban: Hindu Raksha Dal's violent past
AAP office attack to beef-ban: Hindu Raksha Dal's violent past
Written by
Siddhant Pandey
Jan 08, 2020, 01:02 pm
4 min read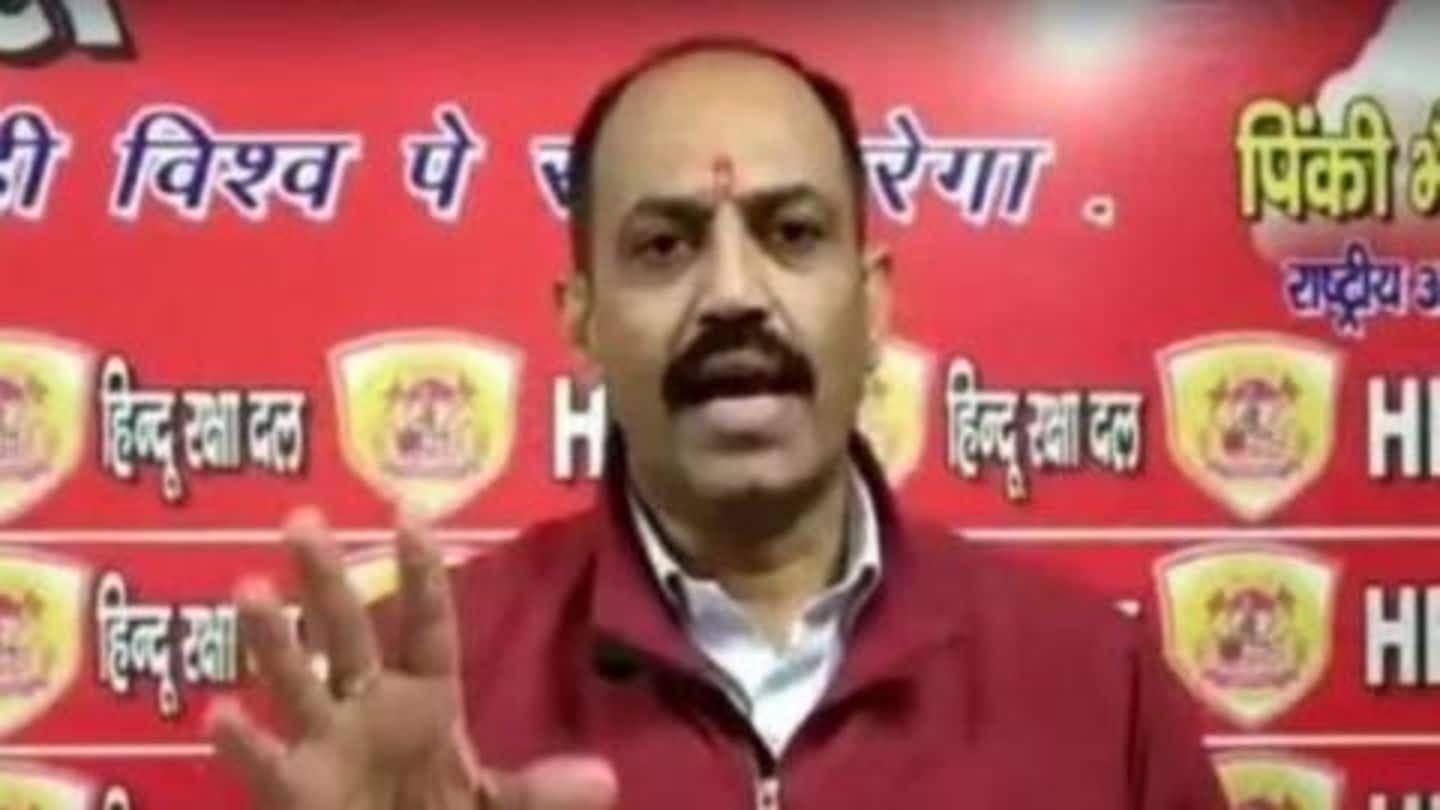 After Sunday's dreadful attack at the Jawaharlal Nehru University, several fingers were pointed amid a flood of fake news online. While activists from the Left (and JNU students) accused the RSS-backed ABVP, the latter leveled similar allegations against its accusers. In an oddly convenient turn of events, the Hindu Raksha Dal took responsibility for the attack, begging the question, who are they?
What is the Hindu Raksha Dal?
The Hindu Raksha Dal is a fringe right-wing outfit. The man who is seen claiming responsibility for the attack on JNU is Bhupendra Tomar alias Pinky Bhaiyya, the outfit's National President. In the past, Tomar has worked with the Bajrang Dal and RSS for over a decade, according to a 2015 Hindustan Times report. He is also behind the Hindu Kranti Dal.
Outfit focuses on cow protection, love jihad, etc.
Tomar's groups are reportedly among several others that share the hardline Hindutva ideology, focusing on cow protection, love jihad, and ghar wapsi. These groups work to mobilize people aged 18-30 to further propagate their cause through protests, social media, etc.
Hindu Raksha Dal threatened anti-CAA protestors
Before taking responsibility for the JNU attack and deeming the university a "hub of terrorists," the Hindu Raksha Dal was actively supporting the Citizenship Amendment Act. On December 17 at a temple in Delhi's Nand Nagri, the organization's Amit Prajapati urged people to "crush the skulls" of anti-CAA protestors in Tomar's presence. Prajapati also claimed that CAA is "for the betterment of Hindus."
In 2014, the Dal attacked AAP's Kaushambi office
The Hindu Raksha Dal initially made headlines when Tomar led an attack on the Aam Aadmi Party's office in Kaushambi in January 2014. Around 40 Dal activists smashed windows and attacked the AAP office with bricks after the party's Prashant Bhushan called for a referendum on Army presence in Kashmir. Tomar had then said that Bhushan's remark was "very sad for Hindus."
Tomar was arrested for attack on AAP office
Tomar was arrested along with 12 others in connection with the incident. However, his arrest triggered protests outside the AAP office—staged by the Hindu Raksha Dal, Sri Ram Sena, and the Bajrang Dal's Ghaziabad unit. A week later, the outfit's Vishnu Gupta disrupted Bhushan's presser.
Hindu Raksha Dal also sought ban on beef export
Later in 2014, Tomar and Hindu Raksha Dal members submitted a memorandum to Indirapuram's Deputy Superintendent of Police, seeking a ban on surreptitious packaging and export of beef across the district's meat packaging units. Tomar alleged that police officers were in cahoots with meat factory owners and furthering the illicit beef trade. He threatened to stage protests if the alleged beef trade continued unchecked.
Tomar wanted case against Dadri lynching victim's family
After the infamous 2015 Dadri lynching, where Mohammad Akhlaq was killed by a mob over allegations of cow slaughter, Tomar went to Bishahra and held a panchayat. He demanded a case to be filed against the Akhlaq's family for cow slaughter. This, on the same day, when BJP leader Sangeet Som had vowed to get bail for the lynching accused in a communally-charged speech.
'We killed in Muzaffarnagar, we'll do it again'
Days after his visit, Tomar told HT, "I support what Sangeet Som said. We will fight and resort to all means, including killing. We did it in Muzaffarnagar, and we will do it again." Notably, Som, who was charge-sheeted for violating prohibitory orders in Bishahra last month, is also an accused in the 2013 Muzaffarnagar riots.
Akhlaq deserved death: Tomar said in 2015
Speaking about the Dadri lynching incident to HT, Tomar said, "Akhlaq was treated like a martyr. What was the need to give any compensation to someone who was killed for cow slaughter? He deserved death."