Chaliye beta: Akshay's reply when asked why he didn't vote
Chaliye beta: Akshay's reply when asked why he didn't vote
May 01, 2019, 05:20 pm
3 min read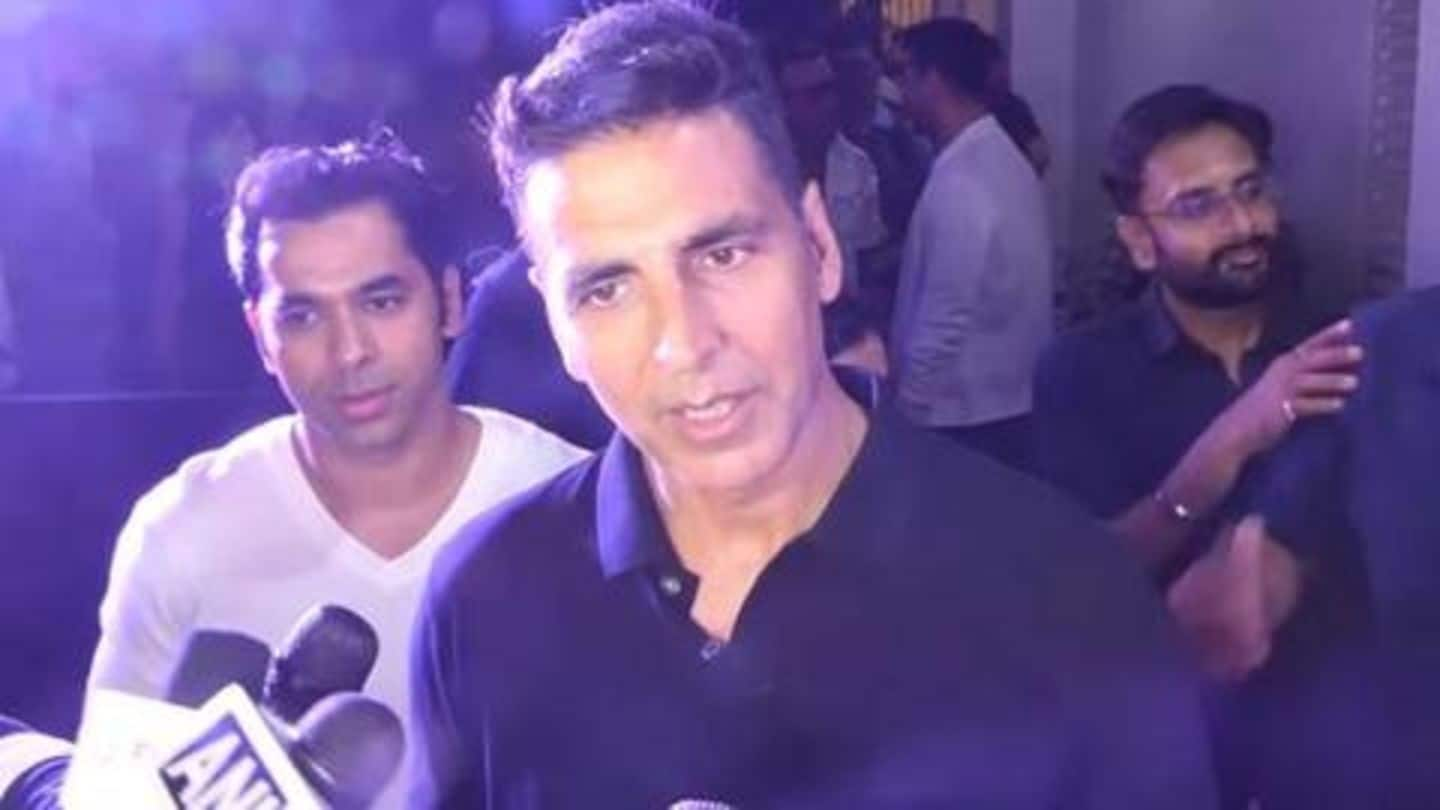 When Akshay Kumar didn't join his fellow Bollywood stars to cast his vote in the ongoing Lok Sabha polls, many eyebrows were raised. Mumbai voted on Monday, April 29, and Akshay was nowhere to be seen near polling booths. So, on Tuesday, when Khiladi Kumar was asked about his absence, all he said was "Chaliye Beta". A video of Akshay's clip went viral.
Akshay can't vote because he holds Canadian passport
As celebrities including Twinkle Khanna (Akshay's wife), Aamir Khan, Salman Khan, Shah Rukh Khan, Amitabh Bachchan, Varun Dhawan among others, got inked, people on Twitter looked for Akshay. So did he deliberately miss the process? No. Akshay can't vote in India because he holds a Canadian passport. Since India doesn't allow dual citizenship, Akshay needs to leave his Canadian one to vote.
Watch: Akshay Kumar dodges question on voting rights
Akshay drew flak for saying he would settle in Canada
Notably, Akshay's citizenship has been discussed widely. At the success party of his movie Jolly LLB 2, Akshay had said he has honorary citizenship of Canada, and it is not "what people think". Last year, a video emerged on social media in which Akshay was seen saying that Toronto is his home and he will settle in Canada post-retirement. The video had received flak.
Akshay Kumar miffed many with his statement
I also must tell you one thing, This is my TORONTO is my home. When I retire from Bollywood Industry, I'll shift here with all my wealth. (2018) pic.twitter.com/pFZLBi8SUp

— History of India (@RealHistoryPic) December 23, 2018
Many celebrities can't vote but they escaped criticism
It's pertinent to note Akshay is not the only celebrity who can't participate in democracy's biggest festival. Alia Bhatt and Katrina Kaif have British passports prohibiting them from casting votes. Similarly, Imran Khan of Jaane Tu Yaa Jaane Na fame has an American passport. However, none of these celebrities garnered attention which Akshay did, probably because he has emerged as Bollywood's poster-boy for patriotism.
Akshay's 'apolitical' interview with PM Modi raised questions too
Just last week, Akshay was all over the news after he conducted an "apolitical" interview of Prime Minister Narendra Modi. The questions ranged from whether PM Modi ate mangoes to his fashion sense and his friendship with opposition leaders. The timing of the conversation, bang in the middle of election season, irked many. It was seen as nothing more than a propaganda video.
Earlier, non-voter Akshay, urged everyone else to vote
To recall, PM Modi had tagged Akshay Kumar in a tweet asking him to urge voters to get inked. In his reply, Akshay wrote, "Voting has to be a superhit prem katha between our nation and its voters." While Akshay knows how important voting is, the fact that he can't vote was bound to get attention. Maybe it's time for him to do something to change that.