From Mamata's kurtas to anger-management, 7 things Modi told Akshay
From Mamata's kurtas to anger-management, 7 things Modi told Akshay
Apr 24, 2019, 11:21 am
4 min read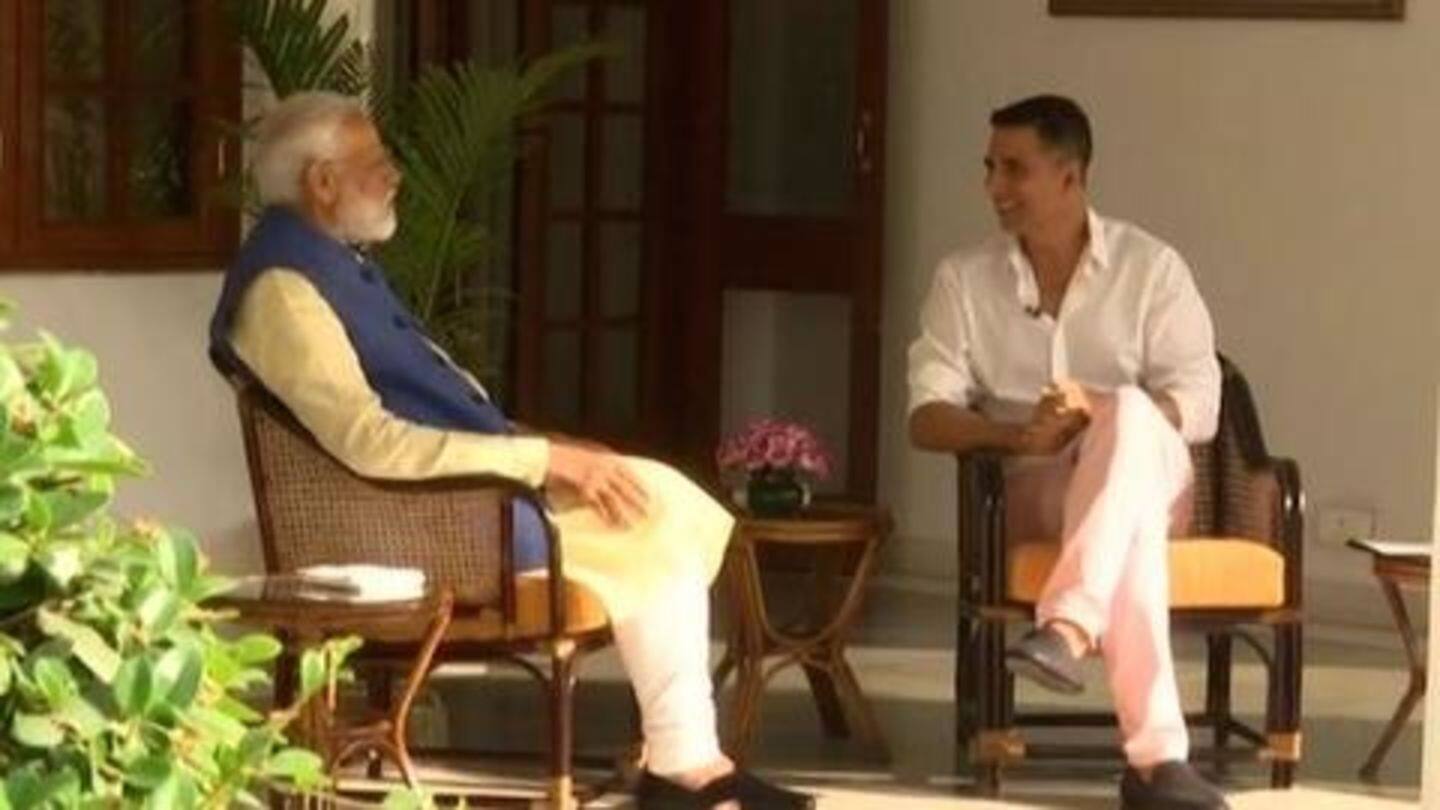 Prime Minister Narendra Modi sat down for a free-wheeling conversation with actor Akshay Kumar on Wednesday where he touched many subjects, beyond politics. The Khiladi Kumar of Bollywood seemed at ease around PM Modi as the duo discussed his equation with opposition leaders, his bond with former US President Barack Obama, and his thoughts on his family. Here are the highlights.
Animosity aside, PM Modi revealed Mamata Banerjee sends her kurtas
While West Bengal Chief Minister Mamata Banerjee isn't holding any punches to slam PM Modi, the latter divulged details of a lesser-known relationship. PM Modi said the Trinamool Chief still sends him gifts. "Mamata didi saal me aaj bhi mere liye ek-do kurte khud select karne jati hain (Even today Mamata didi herself selects one-two kurtas for me in the year)," he said.
Obama suggested me to sleep longer: PM Modi
Giving out details of his schedule, PM Modi said he sleeps for only 3-4 hours and this concerns his well-wishers. "Whenever Barack Obama meets me, we share jokes, there is a friendly exchange. And he often tells me I should ensure I sleep for a longer duration. But this is how my body clock has become," he added.
PM Modi said he never had bank accounts
Further, PM Modi said he didn't have a bank account before he became Gujarat's Chief Minister. "When I was in school, people from Dena bank came and gave us a piggybank. Never had enough money. Later, the bank officials tracked me they wanted to close it due to inactivity," he revealed. He added that he gave away his salary to people in need.
PM Modi gave money to peon and driver
"When I became the PM, I asked them to give away the money which came as a salary of the CM. A senior officer explained to me that I should not give away all the money. So I gave Rs 21 lakh for the education of the daughters of the peon and the driver of the Secretariat," he said.
PM Modi's mother doesn't want him to waste time
On the bond he shares with his mother, PM Modi said he probably would have been more attached if he hadn't left his home early on. "After leaving the house when I was young, I got such training that I don't feel too attached. Even today when I call my mother, she would say why am I wasting my time on her," he explained.
PM Modi has peculiar way of dealing with anger
Further, PM Modi revealed he rarely gets angry. Anger is a human emotion but he never takes it out on people, he stressed. "If something which I don't like has happened, I would sit alone and write everything on a paper. I would write what I did and why I did that. Then I would tear that paper and throw it away," he revealed.
There's a reason why PM Modi wears short-sleeved kurtas
When asked about his fashion statement (which includes crisp kurtas), PM Modi said he dresses carefully because of "psychological reaction to an inferiority complex he felt growing up poor". He added he washed his clothes till he became CM and cut long-sleeves because they caused a hindrance. "I wear the watch with the dial towards me to ensure I don't disrespect people," he added.
PM Modi's jokes are restricted to his friends
On having a sense of humor, PM Modi said he tries to be funny around friends. But doesn't crack jokes in public because they can be molded for TRPs. He also said that he isn't a strict administrator as portrayed. "I come early in the morning and leave late at night. So when they see I work so hard, they also feel like working," he said, and added he can only set an example.