#HealthBytes: 5 reasons to quit soft drinks now
#HealthBytes: 5 reasons to quit soft drinks now
Sep 07, 2018, 02:25 pm
3 min read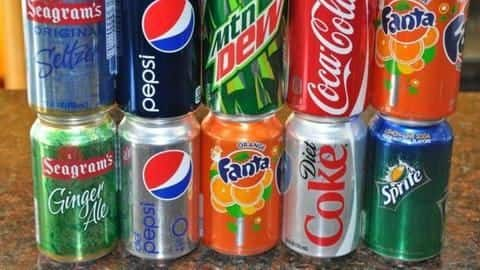 You might be in love with your sodas and may consider them the best accompaniment to your burgers and fries (we'll get to that later), but they perhaps don't go as well with your health. To be honest, soft drinks are tempting, but they bring with them the risk of numerous dreadful health conditions. Here's why you (seriously!) need to stop drinking fizzy drinks.
Soft drinks are bound to make you fat
Regular consumption of soft drinks has shown to cause obesity in both adults and children. That's because (non-diet) fizzy drinks are loaded with sugar, that eventually add unwanted calories to your diet. Excess fat and a high body mass index are risk factors for chronic health problems like diabetes, heart disease etc. You better throw those cola cans out of the fridge already!
Drinking fizzy drinks increases your risk of heart disease
Countless studies have shown that drinking fizzy drinks regularly raises our risk of dying from cardiovascular disease. And the reason is simple- the extremely high amounts of sugar in these drinks lead to build-up of bad fats that may block our arteries, and increase risk of strokes, cholesterol, and heart attacks. Moreover, soda intake also promotes simultaneous consumption of fast food. (How evil!)
Soft drinks corrode our teeth
Studies have consistently shown that drinking fizzy drinks corrodes our teeth. That's because the heavy quantity of processed sugar in them convert to acid when bacteria enters our mouth and mixes with it. Dental erosion wears away enamel (that acts as a protective layer to the teeth), further leading to pains and sensitivity. So, to ensure long-term dental health, cut down on fizzy drinks.
Sugar-loaded soft drinks increase your risk of becoming a diabetic
A 2005-published 'American Academy of Family Physicians' article claimed that consuming soft drinks regularly considerably raises one's chances of getting diabetes. That's because, artificial sweeteners and coloring added to these drinks reduces our insulin sensitivity, that can be a good enough reason for blood sugar levels to take a jump, ultimately leading to diabetes. Swapping sodas with low-fat milk and juices can help.
Fizzy drinks adversely affect our brain and mental health
As if making us fat, corroding our teeth, and making us diabetic weren't enough, soft drinks take a toll on our mental health as well. These can alter the protein levels in our brain, leading to hyperactivity. Furthermore, obsessive consumption has been linked with higher risk of depression, poor memory, and learning disorders. Recent studies have pointed to fizzy drinks even leading to Alzheimer's.