Can't take back chocolate from kid immediately: Mahajan on SC/ST Act
Can't take back chocolate from kid immediately: Mahajan on SC/ST Act
Written by
Aakanksha Raghuvanshi
Sep 07, 2018, 01:47 pm
2 min read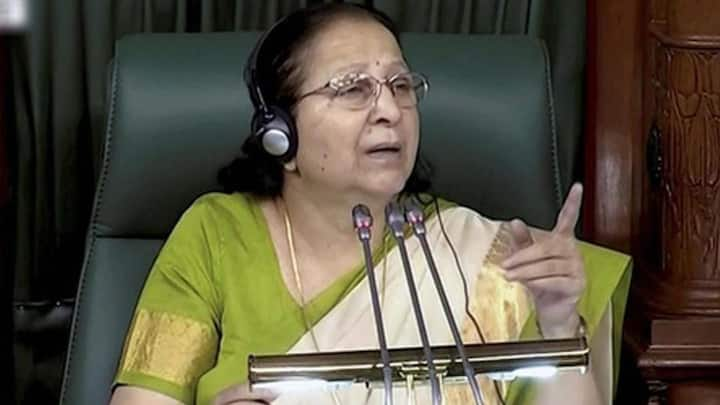 Amid widespread anger, including calls of 'Bharat bandh', against the amendment to the SC/ST (Prevention of Atrocities) Act, Lok Sabha Speaker Sumitra Mahajan said that the issue must not be politicized and all political parties should get together to discuss the issue. A Bharat bandh was called on Thursday by some anti-reservation bodies against the amendment to the SC/ST Act last month. Here's more.
Mahajan was attending BJP's traders cell meet
The Lok Sabha (LS) and the Rajya Sabha (RS) had, on August 6 and August 9 respectively, passed the Scheduled Castes and the Scheduled Tribes (Prevention of Atrocities) Amendment Bill to overturn a Supreme Court order concerning certain safeguards against arrest under this Act. Mahajan was speaking at a programme of Bhartiya Janata Party's (BJP) traders cell meet in Indore.
Mahajan stressed that MPs should discuss legal changes
"The Parliament's work is to enact laws but all MPs should think on this subject (amendments made in the SC/ST Act). It is the responsibility of all the people in society to create a proper environment for this discussion," Mahajan said. To explain her point, the LS Speaker took the example of a child and stressed on the need for discussions regarding legal changes.
A sensible person can make the child understand: Mahajan
Mahajan said, "Suppose if I give a big chocolate to my son and I later realize that it is not good for him to have so much of it at one go, one will try to take back the chocolate from the child." "But you cannot take it...he will get angry and start crying. Some sensible person can make the child understand," she added.
The consequences of snatching something
"If anybody immediately tries to snatch anything given to a person, there may be an explosion," Mahajan said.
Shouldn't do injustice to settle the score: Mahajan
"The prevailing social situation is not correct. If injustice was done earlier with a section (of society), it does not mean that injustice should be done with other sections to settle the score," she said. The BJP leader said that justice must be done with everybody and this could only be achieved only by explaining it to people.