Why is Karunanidhi being buried and not cremated?
Why is Karunanidhi being buried and not cremated?
Aug 08, 2018, 05:23 pm
2 min read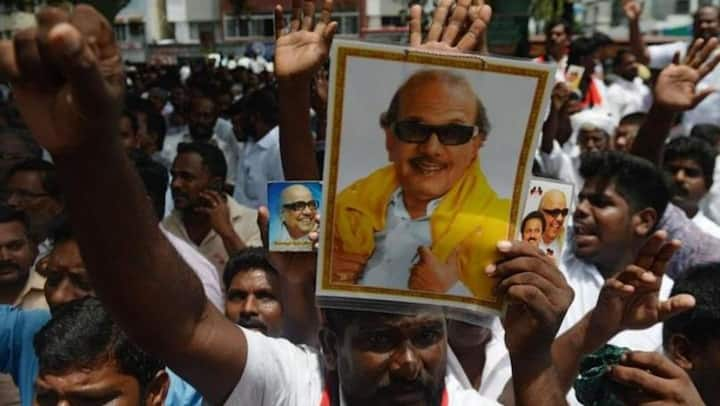 The death of M Karunanidhi, DMK chief, yesterday evening sent the state of TN into a tizzy, but what followed was more chaos. The DMK and the ruling AIADMK got into a legal battle over his burial space, one which had to be resolved quickly. As the controversy erupted, one question intrigued many: why was Karunanidhi being buried and not cremated? Here's the answer.
Karunanidhi was one of the top Dravidian movement leaders
Karunanidhi was one of the biggest leaders of the Dravidian movement, which believed that Brahmins were originally from the north, and had imposed their language, religion and traditions on the southern people. Most of the popular Dravidian leaders before Karunanidhi had been buried, including Periyar, CN Annadurai and MG Ramachandran. Followers believe this practice helps keep their legacy alive.
He was also a self-declared atheist
From a religious perspective, Hindus are mostly cremated while Christians and Muslims are buried. But like most leaders of the Dravidian movement, Karunanidhi too was an atheist. The last rites of atheists generally depend on what practices the family or community follows.
Karunanidhi had personal reasons to seek a burial
Apart from ideological beliefs, there were personal reasons why the DMK founder was buried. Karunanidhi was a loyal follower of Periyar and CN Annadurai, the founder of the Dravida Munnetra Kazhagam (DMK), which Karunanidhi was presiding over at the time of his death. With Annadurai, his mentor, he shared a close relationship, and had expressed the desire to be buried next to him.
Why is he being buried at Marina Beach?
The DMK wanted Karunanidhi to be buried at Marina. Apart from the fact that Annadurai, his mentor, is buried there, the site is also home to some of the biggest names in TN's political history, including MG Ramachandran and J Jayalalithaa. Ramachandran lies next to Annadurai. Jayalalithaa is buried next to Ramachandran. The DMK wants their chief to go in the same books.
Permission for Marina came after an emergency hearing
The DMK had to fight an urgent legal battle to get Karunanidhi buried at Marina. After his death yesterday, the state government had refused to allow space at the beach for his burial. DMK took it to court, which held an emergency hearing at 10:30 pm yesterday. Today, it dismissed petitions against the construction of memorials at Marina and allowed DMK to go ahead.