Toxic bluebottles in action: Avoid Mumbai beaches for now
Toxic bluebottles in action: Avoid Mumbai beaches for now
Aug 08, 2018, 03:04 pm
2 min read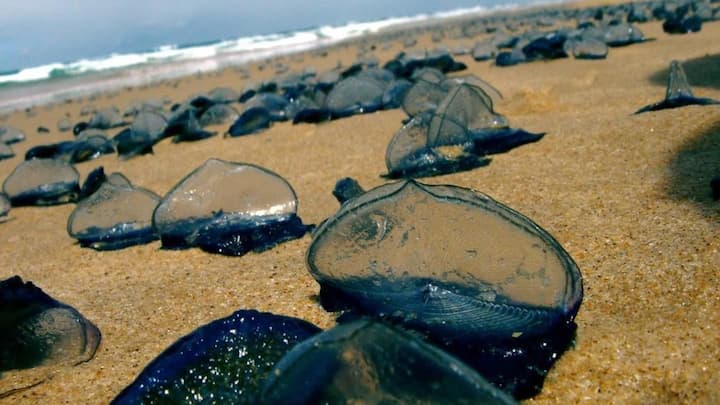 Advisories have been issued warning people not to venture near shoreline in Mumbai, lest they get stung by bluebottles. The sting of bluebottles, also known as the "Portuguese man o' war," can kill a fish, but not humans, though its sting causes burning pain, scar and muscle weakness. Though bluebottles are regular every monsoon, this year, the number has increased manifold.
'As bluebottle sting is not fatal, people need not panic'
While BMC put up banners yesterday, the fisheries department did so a day earlier, asking people to stay away from the sea and beach. And even if they do, they shouldn't walk barefoot, said officials. "However, as a bluebottle sting is not fatal, people need not panic," said Rajendra Jadhav, Joint Commissioner, Fisheries, adding that if stung, people shouldn't touch or rub the area.
No official record, but 150 have been stung already
Meanwhile, lifeguards, experts and beach shopkeepers claim that nearly 150 have been stung by these pelagic creatures on Girgaum Chowpatty, Aksa, Juhu, and Versova beaches since last Friday. Although the creatures may appear to lie dead, it can still sting on contact, said marine expert Pradip Patade. In that case, "gently wash the affected area with sea water and visit the nearest government hospital."
Myth-breaker: Bluebottles are NOT jellyfishes. Know why
Bluebottles, though they look like jellyfish, aren't one, as it's multicellular, unlike jellyfishes. The name "Portuguese man o' war" is because it resembles an 18th-century armed sailing ship at full sail. Tentacles form their main defense and offense system, which can stretch up to 160ft!
Global warming behind spike in bluebottles' number
Regarding the reason behind the spike in the number, scientists attributed it to global warming. "Global warming is resulting in warmer oceans including that of Arabian Sea, which makes the situation conducive for their breeding thus increasing their numbers," said Dr. Deepak Apte, Director, Bombay Natural History Society. Echoing Apte, a senior marine scientist said it's worrisome, as it indicates a flaw in ecosystem.