Delhi: Mamata, Chandrababu, other opposition leaders attend AAP's mega rally
Delhi: Mamata, Chandrababu, other opposition leaders attend AAP's mega rally
Feb 13, 2019, 10:30 pm
3 min read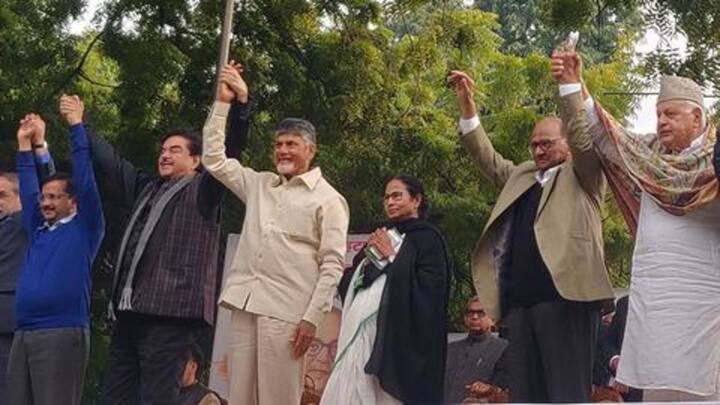 Aam Aadmi Party (AAP) today held a mega opposition rally "Remove Dictatorship, Save Country" against the BJP-led NDA government in Delhi's Jantar Mantar. Many senior opposition leaders, including WB CM Mamata Banerjee and AP CM Chandrababu Naidu, attended the rally. This comes three weeks after Trinamool Congress organized an anti-BJP mega rally in Kolkata attended by leaders from over 20 opposition parties. Here's more.
BJP, a threat to democracy: Opposition leaders at rally
Opposition leaders at the rally slammed BJP saying the party was a "threat to democracy" and urged it must be defeated in the Lok Sabha elections. Apart from Mamata and Chandrababu, Delhi CM and AAP chief Arvind Kejriwal, Nationalist Congress Party's Sharad Pawar, LJD chief Sharad Yadav, Lok Sabha MP Shatrughan Sinha, Samajwadi Party's Ram Gopal Yadav, among others were present at the rally.
'Is Modi India's PM or Pakistan's PM?' asks Kejriwal
Delhi CM Kejriwal took a jibe at the Modi government, saying, "Modi is trying to tear apart Constitution, destroy democracy." "Is Modi India's Prime Minister or Pakistan's Prime Minister?" asked Kejriwal, adding if he's India's PM, then he must act like one but not destroy the country. He said people should vote for a literate Prime Minister and think about the country before voting.
Expiry date of Modi sarkar is over: Mamata Banerjee
Attacking PM Modi at the rally, Mamata Banerjee said that the democracy has become "Modicracy". "Everyone is afraid of Gabbar Singh, there are two of them - Modi and Shah," she said adding the situation in India is worse than the emergency. The WB CM also said that the Modi government's expiry date is over as today was the last day of the Parliament.
Opposition has united to bind the nation: Mamata
At the rally, Mamata also said, "Modi knows to break the nation, we know to bind the nation and this is why opposition today has united to bind the nation and fight nationwide." "Whoever is strong wherever should fight in their areas. This way we will throw them out. AAP should fight in Delhi, SP-BSP alliance in UP, Chandrababu Naidu in Andhra," she said.
BJP in power is threat to Constitution, democracy: D Raja
CPI leader D Raja, at the rally, said that under the Modi government, the Constitution is under attack, asserting that the Parliament has been undermined and bypassed while its role has been minimized. "Can you allow a Germany-like situation where Hitler overpowered Reichstag (German parliament)?" he asked. "BJP in power is a threat to constitution and democracy. It must be defeated," he added.
Need to replace Modi government for better India: Sitaram Yechury
Meanwhile, CPI(M) leader Sitaram Yechury said: "There is need to replace this (Modi) government for a better India. This chowkidar (Modi) needs to be removed to save the country. BJP is like Kaurava Sena but the Pandavas (Opposition) will defeat them and save the country."
Modi government is against the people of Northeast: Ex-Arunachal CM
At the rally, former Arunachal Pradesh CM Gegong Apang said a "minimal, illiberal and monotheistic idea is being imposed" under the current government. "The Centre has a 'Look East' policy but it is against the people of Northeast," he alleged. Meanwhile, DMK Rajya Sabha MP Kanimozhi said, "...BJP government has to go if the economy, farmers, deprived people, freedom of expression...(are) to be protected."