Mahagathbandhan 2.0: At AAP's rally, Chandrababu Naidu to unite opposition
Mahagathbandhan 2.0: At AAP's rally, Chandrababu Naidu to unite opposition
Feb 13, 2019, 09:52 am
3 min read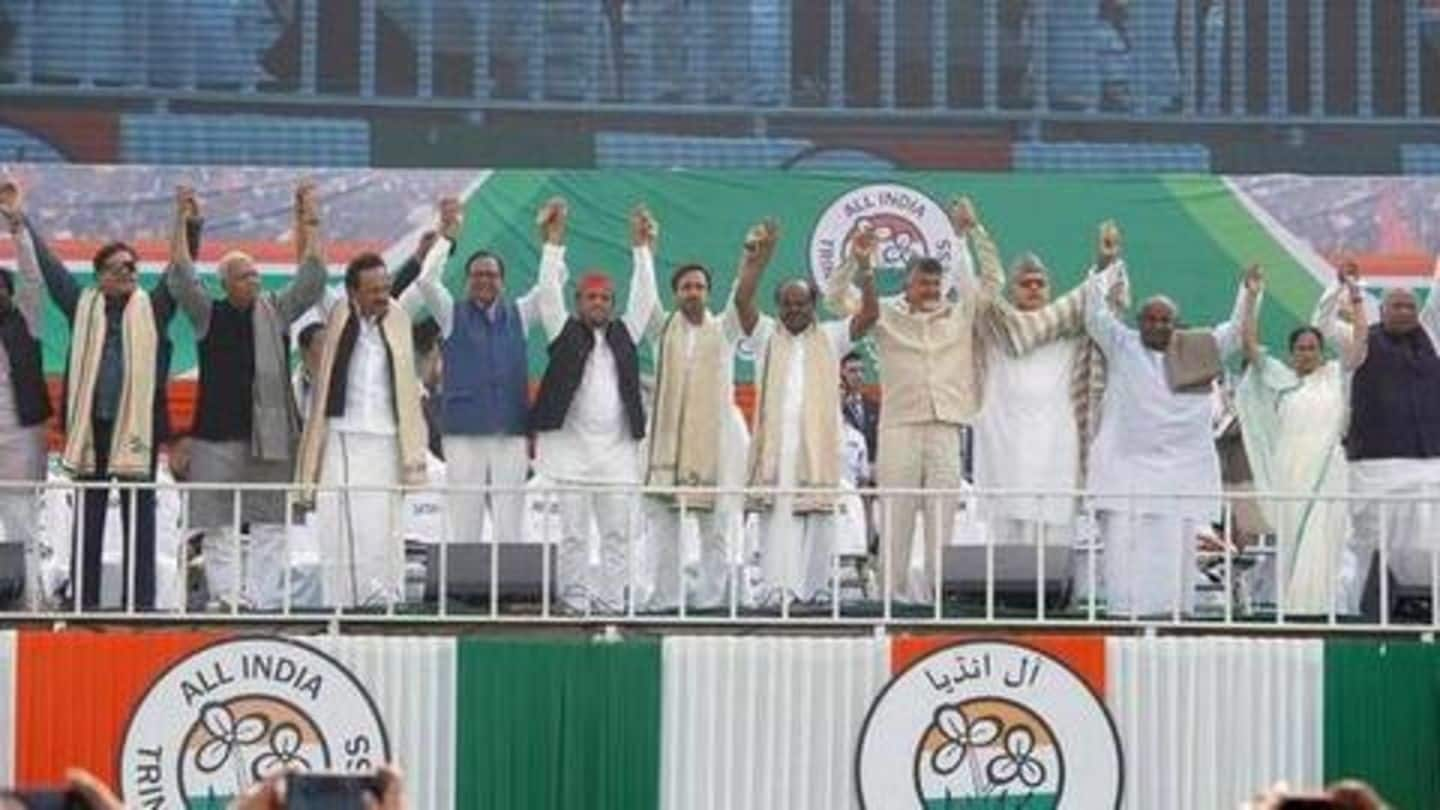 Almost a month after various opposition parties came together in Kolkata, West Bengal, to attend a mega rally organized by Trinamool Congress, the Aam Aadmi Party is all set to host another political event in Delhi on Wednesday. At the event called 'Remove Dictatorship, Save Democracy', whose venue is Jantar Mantar, opposition parties will up their ante against ruling BJP. Here's what to expect.
Let's take a look at the guest list
AAP convenor Gopal Rai said West Bengal Chief Minister Mamata Banerjee, former Prime Minister HD Deve Gowda, National Conference stalwart Farooq Abdullah, and NCP Chief Sharad Pawar could attend the event. He added leaders of DMK, RJD, and RLD could also mark their presence. Notably, Congress has also been invited. While senior leaders could give the rally a miss, someone from Congress might attend.
Naidu could be the busiest leader today
While one can expect a lot of statements against the saffron party later today, it is Andhra Pradesh Chief Minister Chandrababu Naidu who has a mammoth task at hands. Naidu, who is in Delhi demanding special status for his state, hopes the parties reach a broad understanding that they may fight one another in states but will later unite to oust BJP at Centre.
Notably, Congress and TDP decided to fight solo in Andhra
Naidu is applying the Andhra formula to pan India. In his home state, Naidu's TDP and Congress decided to fight polls alone after the humiliating defeat in Telangana assembly elections. A pre-poll alliance could dampen their prospects in Lok Sabha and assembly elections, the parties feel. TDP also faces staunch competition from the YSR Congress and Naidu clearly doesn't want to take any risks.
Andhra was easy, other states won't be
While reaching a consensus in Andhra was easy, other states pose a problem. Congress doesn't want to join hands with TMC in Bengal and AAP in Delhi, and Naidu is likely to remind the parties of the common goal. This understanding could also extend to NCP, Naidu said. He added BSP and SP could also come on board with the plan after elections.
Earlier, Naidu asked PM Modi what he did for Andhra
Naidu, who walked out of NDA last year, is searching high and low to ensure his dream sees the light of the day. On Monday, he sat on a day-long fast and attacked Prime Minister Narendra Modi. He claimed people of Andhra Pradesh will not tolerate attacks on 'self-respect' and asked PM Modi what he had done for the state.
Separately, Banerjee says PM Modi knows he won't win again
Apart from Naidu, Banerjee's presence would be another highlight of the AAP organized rally. Leaving for Delhi, Banerjee said PM Modi knows he won't return for a second term. "The country wants a change, the country wants to see a united India, where democracy and inclusiveness will be sustained," she added. This is her first visit to the national capital after the CBI-Kolkata police controversy.