UP: Akhilesh Yadav "detained" at airport; war of words erupts
UP: Akhilesh Yadav "detained" at airport; war of words erupts
Feb 12, 2019, 03:55 pm
3 min read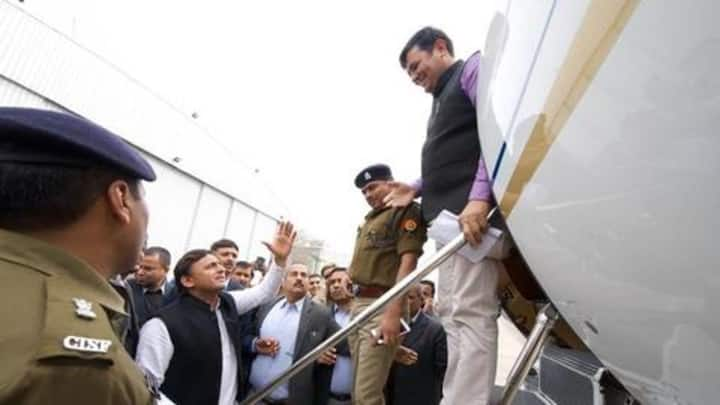 On Monday, former Uttar Pradesh Chief Minister and Samajwadi Party chief Akhilesh Yadav tweeted that he had been "detained" by police at the Lucknow airport as he was about to catch a special flight to Prayagraj to attend a function. Subsequently, Yadav accused the Yogi Adityanath-led government of wrongfully stopping him. Police, however, said that they had grounds for their actions. Here's more.
READ: Akhilesh Yadav's tweet about getting "detained"
I was prevented from boarding the airplane without any written orders. Currently detained at Lucknow airport.

It is clear how frightened the govt is by the oath ceremony of a student leader. The BJP knows that youth of our great country will not tolerate this injustice anymore! pic.twitter.com/xtnpNWtQRd

— Akhilesh Yadav (@yadavakhilesh) February 12, 2019
Yadav was to attend an Allahabad University Students' Union function
Yadav was slated to attend the oath-taking ceremony of the recently-elected Allahabad University Students' Union president, who happens to be a member of the SP's youth wing. At a press conference after his detention, Yadav said that he had, in December last year, notified the government that he would be attending the function. He further alleged that the Adityanath government was afraid of an "oath-taking ceremony of a student".
CM Adityanath is to blame: Ram Gopal Yadav
"I directly blame the Chief Minister. Akhilesh (Yadav) had the permission. It was at the directions of the chief minister that he was stopped. They didn't even let him reach Allahabad," said senior SP leader and Yadav's uncle, Ram Gopal Yadav.
Government says it upheld the Allahabad University's wishes
However, Allahabad University, on Sunday, had written to Yadav's personal secretary, informing that politicians are not allowed for functions held within the university grounds. Echoing the same, Prayagraj Police said that Yadav had been stopped from attending the function as his presence at the university could lead to unrest and law and order problems. Adityanath said the same.
SP should refrain from its anarchist activities: Adityanath
"The Samajwadi Party should refrain from its anarchist activities. Allahabad University requested that Akhilesh Yadav's visit may create law and order problem because of the dispute between student organizations. Hence, the government took this step," said Adityanath.
How the Opposition reacted to Yadav being stopped
The incident, understandably, rocked the UP assembly too. After Opposition leaders got the news, they tried to raise the issue during the Question Hour in the Assembly. Meanwhile, Bahujan Samaj Party (BSP) chief Mayawati, who recently forged an alliance with Yadav, labelled the government's move as "undemocratic" and promised that the BSP-SP alliance would fight it at all levels.
What goes around comes around?
Incidentally, under the Yadav-led UP government in 2015, Adityanath, who was then a BJP lawmaker, had been stopped from paying a visit to the Allahabad University for a similar students' union program. During that time, permission for Adityanath's visit had been revoked after prolonged protests by the SP's youth wing. This time, it was the BJP's youth wing which held prolonged protests against Yadav's proposed visit.