Two months later, Jammu politicians released. Kashmir's remain under detention
Two months later, Jammu politicians released. Kashmir's remain under detention
Oct 02, 2019, 06:36 pm
3 min read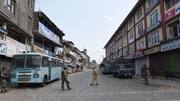 Nearly two months after they were detained, politicians of Jammu were released by the state administration. However, their counterparts in Kashmir weren't as lucky as their detention didn't end. The politicians were set free just days after the government announced polls for Block Development Council. This decision was taken because Jammu has largely been peaceful since Article 370 was abrogated. Here's what went down.
Why were politicians detained in the first place?
In August, before it went ahead with its gigantic decision to strip J&K of its special status, Centre increased security in the border state. To keep politicians from making controversial statements that could fan violence, almost all leaders were put under house arrest. This included former Chief Ministers Mehbooba Mufti and Omar Abdullah. J&K People's Conference's Sajjad Lone also met the same fate.
Released on Gandhi Jayanti, politician spoke about upholding democracy
Some of the leaders who were released were NC leaders Devender Rana and SS Salathia, Congress' Raman Bhalla and JKNPP politician Harshdev Singh. Speaking to ANI, Rana said he was informed about the decision last night. "On Gandhi Jayanti, we reiterate our firm resolve to uphold democracy, secularism, communal harmony, and brotherhood which has been the cornerstone of the glorious ethos of J&K," he added.
Rana mentioned the "ray of light" which Mahatma saw
"We pray to God to give strength to be the torchbearers of the ray of hope that Mahatma Gandhi saw in J&K in 1947. We will work to ensure that the ray of light always emanates from J&K," he went on.
Separately, J&K official claimed politicians were never "detained"
Meanwhile, Bhalla fumed at his detention and called it "undemocratic". Further, Singh said police officials told him last night that he is free to roam about. He was, however, advised against making controversial statements. Surprisingly, Divisional Commissioner Jammu, Sanjeev Verma, claimed these politicians were never detained. He said they were moving freely earlier as well and were not stopped from participating in political activities.
Reportedly, BJP will participate in BDC elections
Interestingly, the first-ever BDC elections will be held on October 24. The results will be announced on the same day. Earlier, Union Minister Dr. Jitendra Singh had said BJP "is ready" to participate in it. Referring to Emergency, he had also said no leader would remain in custody beyond 18 months. Talking about the "facilities" given, he said politicians aren't under house arrest but they are "house guests".